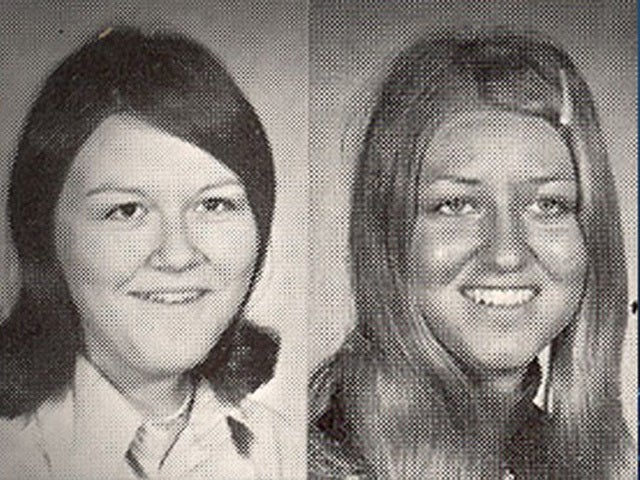 Pam Jackson, Cheryl Miller Update: Family members overwhelmed by discovery of Studebaker, remains believed tied to 1971 South Dakota cold case
(CBS/AP) WATERTOWN, S.D. - Sisters of one of two 17-year-old girls who disappeared in South Dakota in 1971 say the discovery of a car with skeletal remains has stirred up many emotions, including relief.
Cheryl Miller and Pamella Jackson were last seen May 29, 1971, driving a 1960 Studebaker Lark on their way to a party. Authorities this week pulled a rusted Studebaker from an embankment in Brule Creek near Elk Point -- including a hubcap and a license plate matching the car once owned by Miller's grandfather -- and are conducting an autopsy on the remains and processing other evidence.
Rita Allen, Miller's sister told CBS affiliate KELO-TV the discovery is "very overwhelming."
"You go through your life from then until now and the biggest wish from our mother was never give up, never give up," Allen said.
"And no one ever has," said Dawn Hewlett, another sister. Both women live in Watertown.
The old car was discovered and reported to authorities by an angler who came across it and remembered the 42-year-old case.
The bridge near where the vehicle was found had been inspected every two years for at least two decades, the Argus Leader reported. The creek otherwise sees little traffic at that site, according to Union County Public Works Superintendent Ray Roggow. Attorney General Marty Jackley said record flooding followed by a drought brought the vehicle into view.
Allen and Hewlett said they are grateful for the development and will wait to see what answers they get. They are not setting any expectations.
"We will wait, you know, for more information as it comes and deal with that piece by piece and deal with that as we have dealt with this through the years, piece by piece," Allen said.
The Vermillion High School juniors' disappearance was one of the first cases that the state's cold case unit took on after it was formed in 2004. A search that September of a Union County farm turned up bones, clothing, a purse, photographs, newspaper articles and other items. Authorities have never said if the bones were the girls'.
At one point, prosecutors filed murder charges in the case against David Lykken, who lived at the farm in 1971 and is serving an unrelated 227-year prison sentence for rape and kidnapping. The charges later were dropped when authorities discovered a prison snitch made up a supposed admission.
The discovery of the car could bring relief to the Lykken family as well, Richard Stene, a friend and neighbor of the family, told KELO.
"I'm glad they found it. If the girls' bodies are in the car, it will sure be a relief to the families and especially the Lykkens," Stene said.
Complete coverage of the Studebaker cold case case on Crimesider
Thanks for reading CBS NEWS.
Create your free account or log in
for more features.