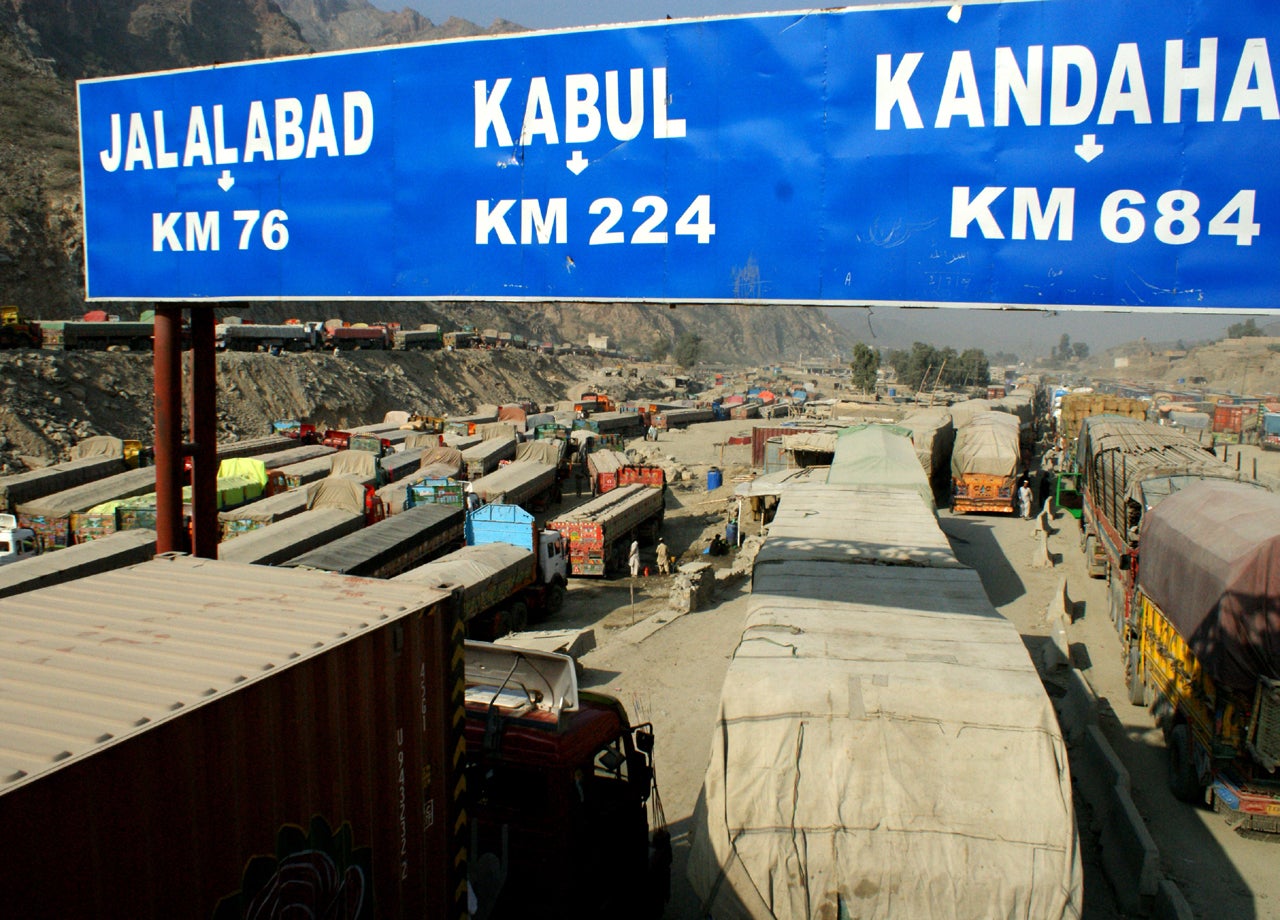 Pakistan retaliation puts NATO in lurch
PESHAWAR, Pakistan - Hundreds of trucks carrying supplies to U.S.-led troops in Afghanistan backed up at Pakistani border crossings Sunday, leaving them vulnerable to militant attack a day after Islamabad closed the frontier in retaliation for coalition airstrikes that allegedly killed 24 Pakistani troops.
As Pakistan army chief Gen. Ashfaq Pervez Kayani attended the funerals of the victims, including a major, the U.S. sought to minimize the fallout from the crisis, which plunged Washington's already-troubled relationship with Islamabad to an all-time low.
Pakistan also ordered the U.S. to vacate an air base that is used by American drones to target al Qaeda and Taliban militants in the country's tribal region along the Afghan border. The U.S. has relied heavily on drone strikes in the past few years, partly out of frustration with Pakistan's refusal to target militants using its territory to stage attacks against American and NATO troops in Afghanistan.
Pakistan orders U.S. to shut major down air base
Anti-NATO tension builds in Pakistan
NATO: "Highly likely" it killed Pakistanis
There are forces working against a total rupture in the relationship. Pakistan still relies on billions of dollars in American military and civilian aid, and the U.S. needs Islamabad's help to push Afghan insurgents to engage in peace talks.
But tensions could rise further if militants unleash attacks against the stranded trucks ferrying NATO supplies to Afghanistan.
Suspected militants destroyed around 150 trucks and injured drivers and police a year ago after Pakistan closed one of its Afghan border crossings to NATO supplies for about 10 days in retaliation for a U.S. helicopter attack that accidentally killed two Pakistani soldiers.
The situation could be more dire this time because Pakistan, outraged at the alleged NATO attack before dawn Saturday, has closed both its crossings. Nearly 300 trucks carrying coalition supplies are now backed up at Torkham in the northwest Khyber tribal area and Chaman in southwestern Baluchistan province. Last year, Pakistan only closed Torkham.
"We are worried," said driver Saeed Khan, speaking by telephone from the border terminal in Torkham. "This area is always vulnerable to attacks. Sometimes rockets are lobbed at us. Sometimes we are targeted by bombs."
Khan and hundreds of other drivers and their assistants barely slept Saturday night because they were worried about potential attacks, he said.
Some drivers said Pakistan had sent paramilitary troops to protect their convoys since the closures, but others were left without any additional protection. Even those who did receive troops did not feel safe.
"If there is an attack, what can five or six troops do? Nothing," said Niamatullah Khan, a fuel truck driver who was parked with 35 other vehicles at a restaurant about 125 miles (200 kilometers) from Chaman.
NATO ships nearly 50 percent of its non-lethal supplies to its troops in Afghanistan through Pakistan. The trucks are periodically targeted by suspected militants as they travel through the country, and their drivers are sometimes killed. NATO has said these attacks do not significantly impact its ability to keep its troops supplied.
An official closely involved with the Afghan war said there will likely be no immediate negative effect from Pakistan's decision to close its border crossings. NATO has built up a large stockpile of military and other supplies that could enable operations to continue at their current level for several months, said the official, speaking on condition of anonymity because of the sensitivity of the matter.
NATO has reduced the amount of non-lethal supplies it ships through Pakistan from a high of around 80 percent by using routes through Central Asia. The northern logistics link could be expanded to make up for the Pakistani closure, but it would leave NATO heavily dependent on Russia at a time when ties with Moscow are increasingly strained.
Some critical supplies, including ammunition, are airlifted directly to Afghan air bases.
Pakistan eventually relented and reopened Torkham last year after the U.S. apologized. But the number of alleged casualties is much higher this time. The relationship between the two countries has also severely deteriorated over the past year, especially following the covert U.S. raid that killed Osama bin Laden in a Pakistani garrison town in May. Islamabad was outraged because it wasn't told about the operation beforehand.
Pakistani Foreign Minister Hina Rabbani Khar told U.S. Secretary of State Hillary Rodham Clinton on Sunday that the alleged NATO attack negated all progress in improving the tattered alliance between the two countries.
She told Clinton in a phone call that the alleged NATO attack was unacceptable, showed complete disregard for human life and sparked rage within Pakistan, according to a press release issued by the Pakistani prime minister's office.
In addition to closing its border crossings, Pakistan gave the U.S. 15 days to vacate Shamsi Air Base in Baluchistan. The U.S. uses the base to service drones when they cannot return to their bases inside Afghanistan because of weather conditions or mechanical difficulty, U.S. and Pakistani officials said. They spoke on condition of anonymity to discuss sensitive matters.
The Pakistani army said Saturday that NATO helicopters and fighter jets carried out an "unprovoked" attack on two of its border posts in the Mohmand tribal area before dawn, killing 24 soldiers and wounding 13 others.
Pakistan held funerals for the soldiers Sunday at the army's headquarters in Peshawar, the most important city in the country's northwest. Mourners said prayers in front of caskets wrapped in green and white Pakistani flags.
A spokesman for NATO forces, Brig. Gen. Carsten Jacobson, said Saturday that Afghan and coalition troops were operating in the border area of eastern Afghanistan when "a tactical situation" prompted them to call in close air support.
Afghan officials said Sunday that the call was made after Afghan soldiers came under fire. The officials spoke on condition of anonymity because of the sensitivity of the incident.
Jacobson told BBC television that it was "highly likely" that the airstrikes caused Pakistani casualties, but an investigation is being conducted to determine the details.
U.S. officials have expressed their sympathies over the incident and have promised to work closely with Pakistan as NATO carries out its investigation.
NATO's top official, Secretary-General Anders Fogh Rasmussen, offered his "deepest condolences" and said the coalition was committed to working with Pakistan to "avoid such tragedies in the future."
"We have a joint interest in the fight against cross-border terrorism and in ensuring that Afghanistan does not once again become a safe haven for terrorists," Rasmussen said in Brussels.
Thanks for reading CBS NEWS.
Create your free account or log in
for more features.