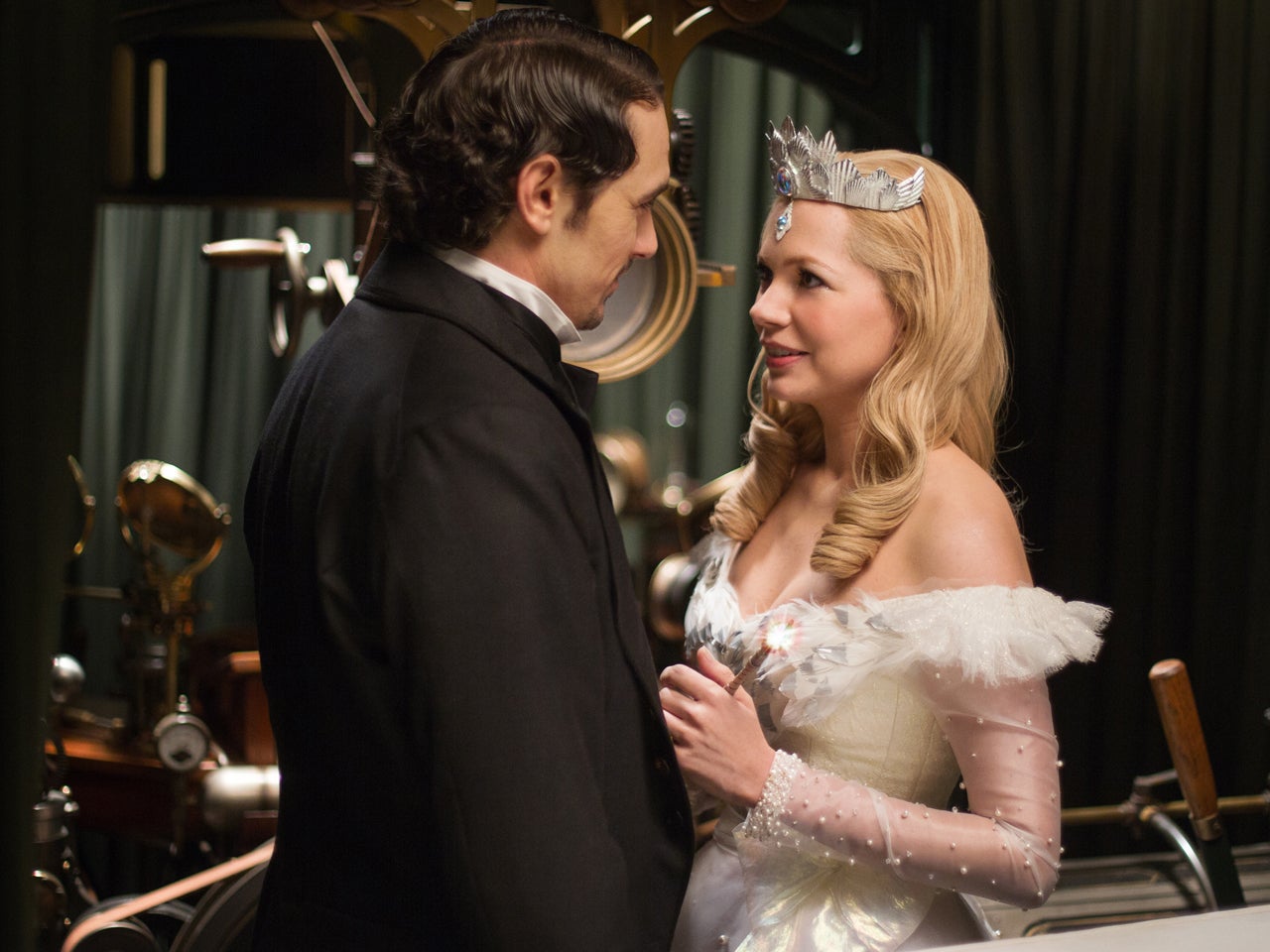 "Oz the Great and Powerful:" Critics agree, not so great and not so powerful
The reviews are in, and things aren't looking too bright at the end of the rainbow for Sam Raimi's prequel of the classic "Wizard of Oz."
Disney's "Oz the Great and Powerful," imagines the origins of L. Frank Baum's iconic wizard character. When a shallow and selfish small-time circus magician, Oscar Diggs (James Franco), is hurled away Kansas to the colorful Land of Oz, he thinks he's found his answer to fame and fortune, until he meets three witches, Theodora (Mila Kunis), Evanora (Rachel Weisz) and Glinda (Michelle Williams), who believe he is there to save them and their beloved Emerald City. He is eventually persuaded to help solve the problems facing the Land of Oz, and is forced to uncover who is good and who is evil in the magical land. Oscar eventually transforms himself into the great wizard, and ultimately into a better man.
The film, which opened Friday, scored a not-that-dismal 58% on Rotten Tomatoes, but has predominantly received poor critiques from reviewers, with the overall conclusion that "Oz" was far from magical. New York Magazine's David Edelstein summed up the general feelings of the critics, when he said: "'Oz the Great and Powerful' is a peculiarly joyless occasion."
Here's what other's had to say:
Ann Hornaday of the Washington Post: "['Oz'] qualifies as a cautionary tale, not about the perils of ambition and selfishness, but about the movie industry's misguided belief that it can distract the audience from a film's narrative weaknesses with little more than flash and spectacle."
Kenneth Turan of The Los Angeles Times: "A partially effective jumble whose elements clash rather than cohere, this solid but not spectacular effort stubbornly refuses to catch fire until it's almost too late."
Christy Lemire of the Associated Press: "'Oz the Great and Powerful' aims for nostalgia in older viewers who grew up on 'The Wizard of Oz' and still hold the classic dear while simultaneously enchanting a newer, younger audience. It never really accomplishes either successfully."
Christopher Tookey of the Daily Mail [UK]: "The movie's strengths are its flamboyantly kitsch design and ingenious, humorous screenplay, calculated to please parents and grandparents at least as much as their progeny."
Peter Travers of Rolling Stone: "'The Wizard of Oz' is a certified classic, a generation-spanning favorite. Mess with it at your peril. And Franco's 'Oz' vehicle, pimped out in 3D and every computer trick in New Hollywood's digital playbook, is a mess indeed. There's no Judy Garland songs, no Scarecrow, no Tin Man, no Cowardly Lion. There's also no simplicity, no magic, no truth."
Rene Rodriguez of the Miami Herald: "Franco fares badly when he's forced to hold conversations with characters who aren't really there: He looks as bored and distracted as he did when he hosted the Oscars, and he relies too much on a wide grin that makes him look manic instead of charming (imagine what Robert Downey Jr. could have done with this role). Things don't get any better when Oscar meets actual people, either. Mila Kunis (as a gentle witch), Rachel Weisz (as her conniving sister) and Michelle Williams (as Glinda the Good Witch) are all talented actresses, but they come off as disengaged as Franco, because most of the film was shot on green screen, and the leading man doesn't give them much to work with (Williams, who plays Glinda as a passive, soft-spoken willow of a woman, fares particularly badly)."
Tell us: Do you plan on seeing "Oz the Great and Powerful," or would you rather stick with the original?
Thanks for reading CBS NEWS.
Create your free account or log in
for more features.