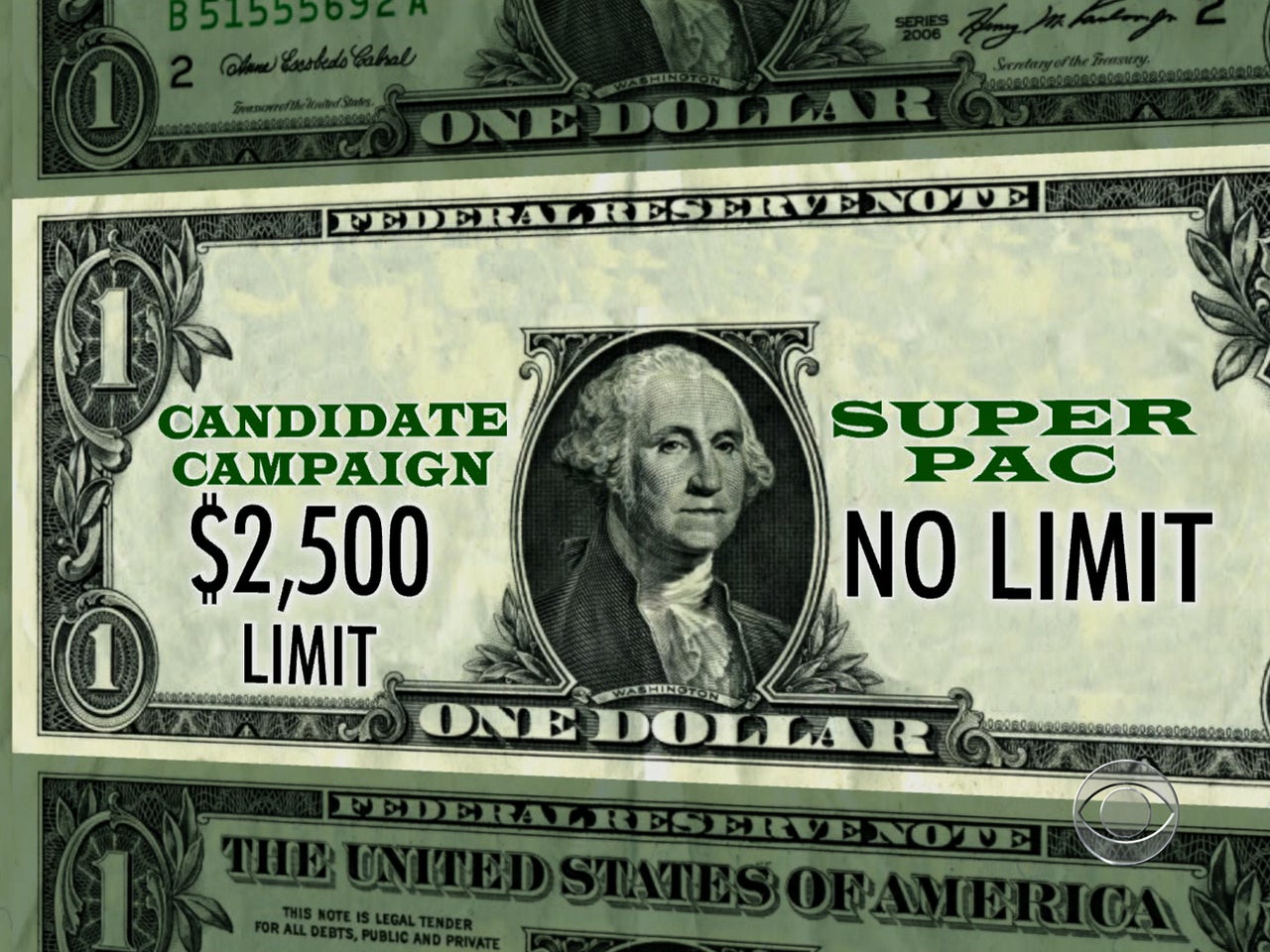 Outside spending on 2012 elections reaches $1 billion
In addition to what candidates have raised and spent on their own campaigns, spending by independent groups on 2012 races for federal office - the presidency, the U.S. Senate, and the U.S. House of Representatives - has now topped $1 billion, according to the Sunlight Foundation and the Center For Responsive Politics, two nonpartisan group tracking election spending.
As of October 27, half of the outside spending, or $502 million, has come from "super PACs," the political action committees permitted to receive unlimited sums from individuals, companies, and organizations and then spend money without limit.
No super PAC has spent more than the $119 million spent by the pro-Mitt Romney Restore Our Future, which is more than double the amount spent by the leading pro-Barack Obama super PAC, Priorities Action USA.
All super PACs had at least another $160 million in the bank on October 17, based on contributions reported Thursday in the final required pre-election reports to the Federal Election Commission.
A quarter of the outside spending, or $229 million, has come from groups registered with the Internal Revenue Service as tax-exempt foundations or non-profits, sometimes known by their IRS codes as 501(c)3s or 501(c)4s.
In a legal quirk that troubles watchdog organizations, these groups are not required to disclose their donors and are required to report to the FEC only spending that occurs in the 60 days before an election. Eighty percent of the known political spending by these so-called "dark money" groups favors Republicans, the Sunlight Foundation found.
The leader of these conservative-leaning groups is Crossroads Grassroots Policy Strategies, co-founded by former George W. Bush adviser Karl Rove and former Republican National Committee Chairman Ed Gillespie, now a Romney campaign senior adviser. Crossroads GPS, a sister organization of the American Crossroads super PAC, has spent $57 million, with $50 million opposing Democrats, and the rest supporting Republicans.
Crossroads GPS has spent heavily against numerous Democratic Senate candidates - $8 million against Tim Kaine in Virginia; $5 million each against Sherrod Brown in Ohio, Shelley Berkley in Nevada, and Tammy Baldwin in Wisconsin; $3 million each against Joe Donnelly in Indiana, and Jon Tester in Montana; and $1 million against Heidi Heitkamp in North Dakota.
The business-backed U.S. Chamber of Commerce has spent $32 million opposing Democrats. In addition to targeting Senate candidates Kaine, Brown, Baldwin, and Tester, the Chamber has spent $4 million opposing Democratic Senator Bill Nelson of Florida and $1 million each opposing Democratic New Mexico Senate candidate Martin Heinrich and Maine Independent Senate Candidate Angus King, who is expected to caucus with Democrats, if elected.
Americans For Prosperity, supported by energy company billionaire brothers Charles and David Koch, has spent $31 million all on ads opposing President Obama.
Americans For Tax Reform, founded by Grover Norquist, who has obtained pledges from 238 members of the House and 41 senators not to raise taxes, has spent $11 million opposing Democrats.
Americans For Job Security, which describes itself as a "pro-business advocacy organization," has spent $11 million mostly opposing the President, including an ad showing a woman with a stroller running "to forget...the bad economy."
Of the groups that do not disclose their donors, the League of Conservation Voters, with $7 million, is the biggest spender favoring Democrats.
The pro-abortion rights Planned Parenthood Action Fund has spent $5 million, mostly opposing Mitt Romney.
One fifth of the this year's independent expenditures, or $207 million, has come from Republican and Democratic party committees, whose contributions are capped at around $30,000.
Republican committees have spent $82 million backing House and Senate candidates, while their Democratic counterparts have spent $81 million, the Center For Responsive Politics found.
Unions and trade associations are among the rest of the groups that accounted for $86 million independent expenditures. The Service Employees International Union (SEIU) has spent $29 million, and the American Federation of State County and Municipal Employees (AFSCME) has spent $16 million, both unions supporting Democrats.
The pro-gun rights National Rifle Association has spent $16 million supporting Republican candidates.
Breaking down the outside spending by election, $474 million has gone toward the presidential race, the Sunlight Foundation found.
Independent expenditures are pushing the presidential race toward the $2 billion threshold.
The Obama and Romney campaign committees were on the verge of spending a combined $1 billion themselves ten days ago, according to their most recent FEC reports, while super PACS supporting the candidates pushed the total spending even higher.
Thanks for reading CBS NEWS.
Create your free account or log in
for more features.