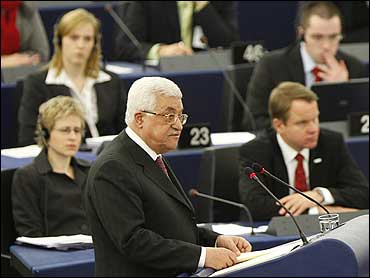 Outcry Against Gaza "War Crimes" Grows
Palestinian President Mahmoud Abbas on Wednesday said the Gaza attacks were war crimes for which Israeli officials should be held accountable, but he insisted he would continue seeking a lasting peace with Israel.
Meanwhile, Benjamin Netanyahu, the front-runner for Israel's election next week, said his country's offensive against Hamas militants did not go far enough.
He said the government stopped the operation before the military could halt Hamas arms smuggling through tunnels under the border with Egypt. He told a security conference Wednesday that the government "did not allow the military to plug the hole in the south."
Critics of the recent violence in Gaza have called for a war crimes investigation into the actions of both Israel and Hamas. Among the questions being raised are whether Israel used disproportionate force and failed to protect civilians.
Human rights groups are seeking to build a case that Israel and Hamas violated the laws of war during the fighting last month in this tiny coastal territory - a charge both combatants reject.
Abbas - who is on a European tour seeking support for a unity government - gave a speech at EU Parliament detailing the suffering of Gaza's civilians during Israel's three-week offensive targeting Hamas militants.
He said he would push for a war crimes investigation into the Israeli attacks, which ended Jan. 18. When he said he held Israel's leaders accountable, he was applauded by European lawmakers.
"People who committed those crimes have to be held responsible so that these crimes cannot be repeated," he told reporters after the speech.
"We do not want to continue to be the enemies of Israel. We are stretching out our hand for peace with Israel. But what was done is regretfully crimes of war."
He also denounced Hamas' rocket attacks from Gaza into Israel, which triggered the Israeli offensive.
"I have condemned such rocket attacks for years, and I still condemn them," he said. "They do not go in the direction of peace."
But Abbas said there was no comparison between the Israeli offensive and rocket attacks such as the one Tuesday morning that hit Israel's coastal city of Ashkelon, about 10 miles north of Gaza. Vehicles and buildings were damaged, but no one in the 122,000-population city was hurt.
Abbas, whose government controls the West Bank, also told European lawmakers he was committed to reuniting Palestinians and reconciling with Hamas, which controls Gaza.
"Our doors are still open" to a unity government with Hamas, he said.
He said such a union would allow Hamas to be part of an effective cease-fire with Israel, but added that "Hamas is capable of respecting a period of calm, whether in government or not."
On Tuesday, the International Criminal Court said the Palestinian Authority had recognized the court's jurisdiction in a move aimed at allowing a war crimes investigation.
Given the clarity of Hamas' violations, such as firing rockets at Israeli cities, organizations are focusing more on Israeli actions, the facts of which they say are harder to establish.
"The Israeli authorities deny everything, so one has to prove what happened in a way that you don't need to do with the Palestinian rockets," said Donatella Rovera of Amnesty International.
In one case, Israeli artillery fire hit near a U.N. school where hundreds of Gazans had sought refuge, killing 42 people. Israeli officials said its troops were responding to fire from militants near the school.
In another instance, Gazans allege Israeli soldiers ordered 110 civilians into a warehouse, then shelled it the next day, killing 30. Israel denies the army targeted the warehouse, saying the building was hit during intense combat with militants in that area.
"The suspected war crimes make for a very long list," said Jessica Montell, head of the Israeli group B'Tselem.
Rights activists say Gaza's Hamas rulers and other Palestinian groups committed war crimes by targeting Israeli civilians with rockets. They also say Hamas' use of human shields, as alleged by Israel, would constitute war crimes.
Groups - which include B'Tselem, the Palestinian Center for Human Rights, Amnesty International and Human Rights Watch - emphasize that investigations will take months and concede few venues exist for any trials. But they have to investigate potential violations on both sides.
Even if no trials result, investigations encourage accountability, the groups say.
"As long as there is no mechanism that can enforce accountability, this cycle will just continue again and again," Amnesty's Rovera said.
The International Criminal Court can only investigate if asked by the U.N. Security Council or an involved state that has recognized the court. Israel has never recognized its jurisdiction, and because only states can recognize the court, it is unclear if the Palestinians can do so.
Israel is preparing for potential legal action, barring the media from publishing pictures of officers' faces and their names for fear of investigations. Last week, Israel's Cabinet promised legal and financial support for any officers facing trial, despite the difficulty of prosecuting Israelis.
Israel says its army took great care to avoid harming civilians in Gaza. The military said it preceded some airstrikes with leaflets or phone calls warning civilians to flee - a contention confirmed by Gaza residents.
An Israeli helicopter pilot told the AP how he avoided civilians when shooting over Gaza.
"The ones I remember are when I have locked in on a target and I fire and then at the last second I see a child in my cross hairs and I divert the missile," said the 25-year-old captain, who only gave his first name, Orr, and was interviewed in the presence of a military censor.
At the same time, Israel acknowledges it loosened its rules of engagement for the Gaza war to lessen military casualties. As a result, ground troops moved under heavy covering fire from tanks and artillery, devastating entire neighborhoods.
Israel has blamed the high civilian death toll on Hamas militiamen fighting from civilian areas.
Hamas spokesman Fawzi Barhoum denied the group's men battled from civilian areas. He also called Hamas rocket attacks on southern Israel towns "a means of self-defense."
"Those are not civilians. They are all soldiers," Barhoum said of the residents of southern Israel. "We are firing at places that bring us the F-16s, the warplanes and the tanks."
Israel launched its offensive Dec. 27, calling it necessary to stop quell rocket and mortar fire that rained more than 10,000 shells on swaths of southern Israel since 2001, some hitting houses, schools and retirement homes.
The rockets had killed 24 Israelis since 2001 and injured more than 1,000, police said. Thirteen Israelis were killed during the Gaza offensive, including three civilians hit by rocket fire.
The 23-day offensive killed 1,285 Palestinians, nearly 900 of them civilians, according to the Palestinian Center for Human Rights.
The laws of war - as established by the Hague and Geneva conventions - require combatants to target only military targets, make all feasible efforts to avoid civilians and keep military actions in scale with their objectives, said David Crane, professor at the Syracuse University College of Law.
This leaves no ambiguity about Hamas firing rockets at towns or using civilians as human shields, as alleged by Israel, Crane said.
But he added that violations on one side don't excuse them on the other. "Even if the other side is not following the laws, you cannot step away from them," he said.
The United Nations, the European Union and other organizations accuse Israel of using indiscriminate force, particularly in hits on U.N. buildings and Gaza's civilian infrastructure. Some of the attacks proved deadly.
On Jan. 6, Israeli troops responded to militant mortar fire by shooting three artillery shells within 100 yards of a U.N. school, killing 42 people. The Israeli military said the dead included two Hamas militants.
Determining whether the shelling was a violation means asking, "Did they know there were 42 human beings there, or did they just know they were being fired upon?" said Crane, the law professor.
The military responded to requests for comment on the specific cases in this article with a general statement saying Israeli soldiers do not target civilians.
Israel also has been criticized for using white phosphorus weapons, which can be legitimately used in war to create smoke screens or provide illumination. But Fred Abrahams, of Human Rights Watch, said its use over populated areas can indiscriminately burn civilians and constitute a war crime.
Doctors reported phosphorous burns throughout the war.
Abrahams also complained that his group's researchers found 155-mm howitzer shells, which have a 30-yard margin of error and a blast radius of 300 yards. Israel's choice of such weapons over more precise alternatives raises questions of intention, he said.
"When you have an alternative that is GPS-guided and very accurate, why would you use a shell that is much less accurate and has a much larger kill radius?" Abrahams said.
Israel's military said it used all munitions legally, but it has launched an investigation into whether troops used white phosphorus inappropriately.
Thanks for reading CBS NEWS.
Create your free account or log in
for more features.