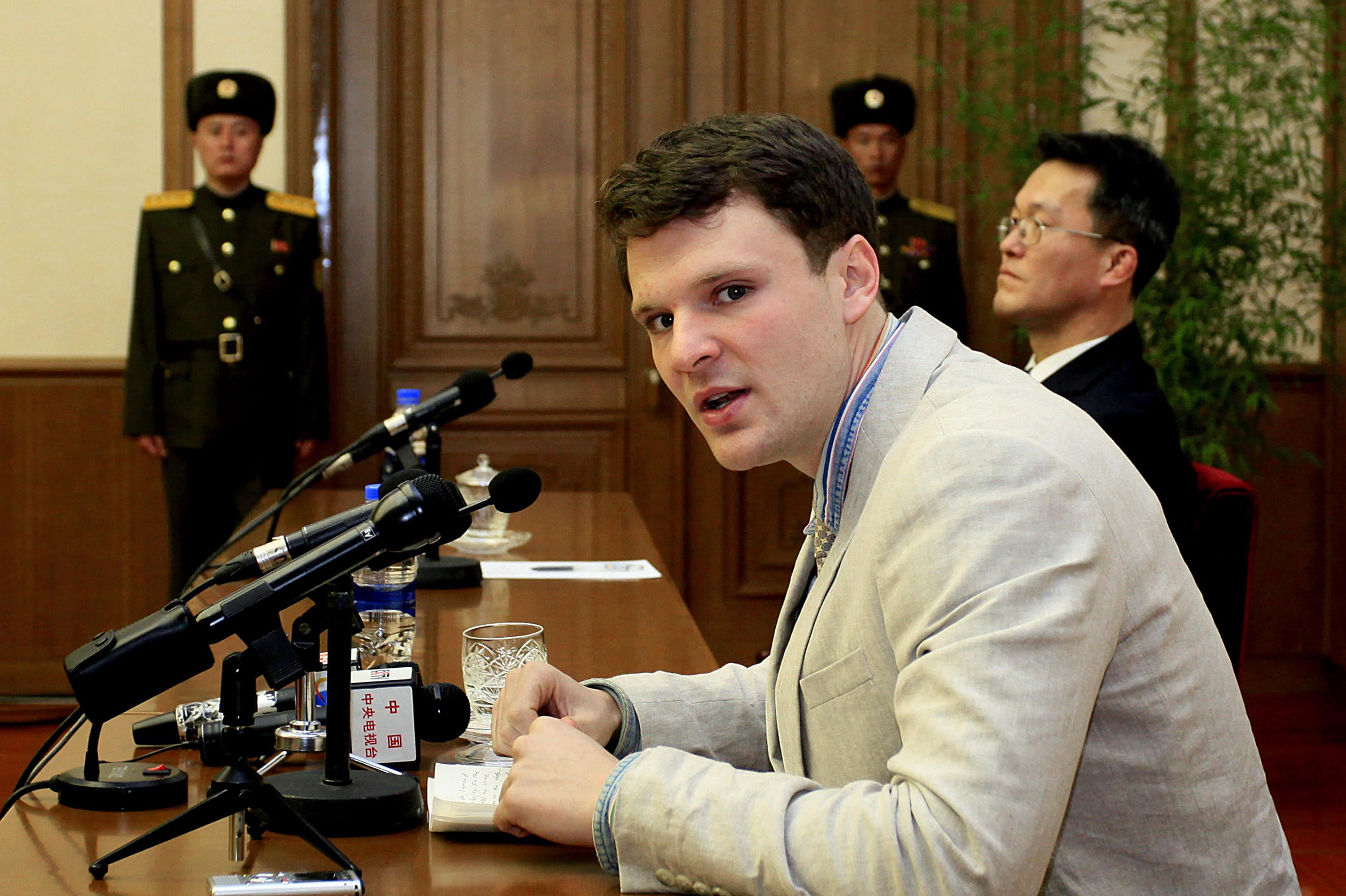 Otto Warmbier's release from North Korea: A timeline
On Tuesday, Otto Warmbier, an American student at University of Virginia, was medically evacuated from imprisonment in North Korea after having been sentenced to 15 years of hard labor more than a year ago.
Warmbier is now on his way home to Ohio, with a State Department representative, to be reunited with his family. The University of Virginia confirmed that the 22-year-old student is in a coma.
"While the entire University of Virginia community is relieved to learn of Otto's release from North Korea, we are deeply concerned and saddened to learn from his family that he is in a coma," university president Teresa Sullivan said in a statement.
Warmbier would have graduated in May.
Warmbier's release was facilitated by State Department Special Representative for North Korea Policy Joseph Yun. Yun and an American delegation traveled to Pyongyang on June 12 and demanded to visit Warmbier and his release on humanitarian grounds. The State Department says this was the first time the United States was able to confirm the status of the student since he was sentenced to hard labor as a result of what North Korea deemed "anti-state acts." He has not been seen in public since he was sentenced in March 2016.
The University of Virginia student, a native of Cincinnati, had attempted to steal a propaganda banner while he was in North Korea for a five-day visit. He was detained at Pyongyang's airport ahead of a flight to China.
In May, Yun met with met high-level representatives from the North Korean Ministry of Foreign Affairs in Oslo, Norway, and the North Koreans agreed that the Swedish Embassy in Pyongyang would be authorized to pay a consular visit to all four detainees. This is the first time the Swedish diplomats were allowed to visit with Warmbier. It is unclear what the status of the other three American citizens held in North Korea is, but this process jump-started the expedited release of Warmbier.
After the Swedish diplomats met with the detained Americans, the North Koreans urgently asked to have a meeting with the U.S. in New York. Then on June 6, Yun met with the DPRK U.N. Mission Ambassador Pak and learned that Warmbier was in a coma. Yun discussed the situation with Secretary of State Tillerson and President Trump, who sent him to North Korea to bring Warmbier home.
Warmbier left North Korea on the same day that Dennis Rodman arrived in the country. However, a State Department official said that the U.S. government led the way in securing Warmbier's release, not the former basketball player, who has now visited the regime on multiple occasions.
Secretary Tillerson told a congressional panel Tuesday that "the Department of State has secured the release of Otto Warmbier from North Korea," during a hearing on the State Department budget. "We continue our discussions with the North Korean regime regarding the release of the three other American citizens that have been detained," Tillerson added.
State Department spokesperson Heather Nauert said it was "an incredible day," in relation to Warmbrier's release, but she did not comment on the state of his health. She added that the government has been concerned about his health from day one.
"We are thankful that he is on his way home. We look forward to him being back in the arms of his parents in his home in Ohio," said Nauert. "We were lucky enough to be able to get a team over there."
Nauert also said it is "too soon to say" how or whether this prisoner release will impact U.S. relations with the North.
Thanks for reading CBS NEWS.
Create your free account or log in
for more features.