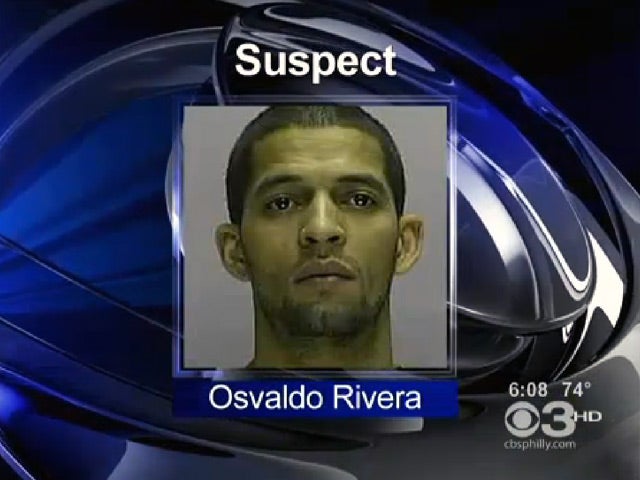 Osvaldo Rivera, NJ man, was high on PCP-laced marijuana when he stabbed two children, police say
(CBS/AP) TRENTON, N.J. - Osvaldo Rivera was charged Monday in connection with the neighborhood stabbings that killed 6-year-old Dominick Andujor and critically wounded his 12-year-old sister while they slept in their New Jersey home, police say.
Rivera, 31, was found hiding between a mattress and a bedroom wall Sunday afternoon inside a Camden apartment, said Jason Laughlin, a spokesman for the Camden County prosecutor's office. Rivera was charged with murder and attempted murder and is being held in jail awaiting arraignment, which Laughlin said will likely be held Tuesday.
Laughlin said police found blood-stained sneakers inside the apartment where Rivera was arrested that matched bloody footprints in the home where Dominick was stabbed to death. The boy's 12-year-old sister had her throat slit while she slept in the same room. She remained hospitalized Monday at Cooper University Hospital in Camden.
The children stabbed Sunday were being watched by a 14-year-old girl, authorities said. The teen, who was unharmed, was caring for them because their mother recently underwent surgery and was still in the hospital.
Laughlin said the 12-year-old, whose name wasn't released, fled the home after the attack and was found at a neighbor's home a few doors down. Police soon went to the girl's home and were met by another child who ran outside, screaming for help for her brother. The 6-year-old boy was found lying on the floor.
Rivera told investigators he smoked a combination of marijuana and the hallucinogenic drug PCP before the attack, Laughlin said.
Laughlin said there were several other murders in recent years in which PCP-laced marijuana apparently played a role. He said the drug combination makes people incoherent, hallucinatory and, in some cases, violent, adding that authorities plan to take steps to curb the drug's market.
More on Crimesider
Sept. 3, 2012 - Six-year-old boy stabbed to death, 12-year-old sister's throat slit in NJ attack
Thanks for reading CBS NEWS.
Create your free account or log in
for more features.