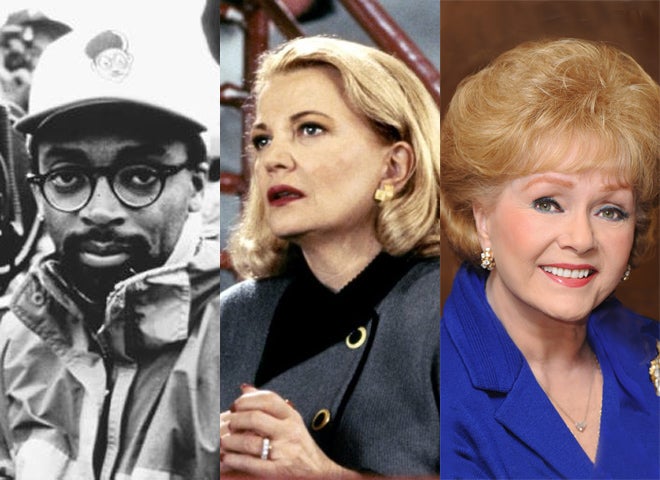 ​Oscar to honor Spike Lee, Gena Rowlands, Debbie Reynolds
LOS ANGELES - Writer-director Spike Lee and actresses Debbie Reynolds and Gena Rowlands will be presented with Honorary Oscars by the Academy of Motion Picture Arts & Sciences.
Recipients of the annual Governors Awards and the Jean Hersholt Humanitarian Award were announced Thursday.
The Governors Award is given "to honor extraordinary distinction in lifetime achievement, exceptional contributions to the state of motion picture arts and sciences, or for outstanding service to the Academy."
All three have been nominated for Academy Awards in the past but have never won.
"The Board is proud to recognize our honorees' remarkable contributions at this year's Governors Awards," said Academy President Cheryl Boone Isaacs, adding that the artists were being celebrated for their "passion, dedication and a desire to make a positive difference."
Lee, a graduate of New York University's film school (where he shot the hour-long "Joe's Bed-Stuy Barbershop: We Cut Heads"), made a remarkable feature film debut with the 1986 comedy-drama of a young woman's sexual liberation, "She's Gotta Have It." It won Best First Feature at the Independent Spirit Awards.
He earned an Oscar nomination for Best Original Screenplay for his 1989 drama, "Do the Right Thing," about the broiling racial tensions in a Brooklyn neighborhood. In 1998 Lee also shared an Oscar nomination for Best Documentary Feature for his film, "4 Little Girls," about the 1963 bombing of a church in Birmingham, Ala.
Lee's other director credits include "School Daze," "Mo' Better Blues," "Jungle Fever," "Malcolm X," "Crooklyn," "Clockers," "Girl 6," "Get on the Bus," "He Got Game," "Summer of Sam," "Bamboozled," "25th Hour," "She Hate Me," "Inside Man," "Miracle of St. Anna," "Passing Strange," "Red Hook Summer," "Oldboy," and "Da Sweet Blood of Jesus."
Lee's documentary films include "The Original Kings of Comedy," "A Huey P. Newton Story," "When the Levees Broke: A Requiem in Four Acts," "Bad 25," and "Mo'ne Davis: I Throw Like a Girl." He currently serves as artistic director of NYU's graduate film program.
To watch a scene from "Do the Right Thing," click on the video player below.
Gena Rowlands has appeared in more than 50 features and TV movies, but is most revered for her work with her husband, director John Cassavetes, including "Faces," "Minnie and Moskowitz," "A Woman Under the Influence" (for which she received the first of two Oscar nominations for Best Actress), "Opening Night" "Gloria" (also Academy Award-nominated), and "Love Streams."
A stage actress who worked steadily in television (on such programs as "Goodyear Playhouse," "Alfred Hitchcock Presents," "Laramie," "87th Precinct," "77 Sunset Strip" and "Bonanza"), Rowlands made her film debut in "The High Cost of Loving," costarring Jose Ferrer (1958).
Her other feature films include "Lonely Are the Brave," "Tony Rome," "The Brink's Job," "Tempest," "Another Woman," "Night on Earth," "Unhook the Stars," "Playing By Heart," "Hope Floats," "The Notebook," "Broken English," and "Six Dance Lessons in Six Weeks."
To watch a scene from "A Woman Under the Influence," click on the video player below.
The Academy will present its Jean Hersholt Humanitarian Award (dedicated to honoring motion picture figures "whose humanitarian efforts have brought credit to the industry") to Debbie Reynolds. A true Hollywood icon, she burst onto the scene as an ingénue in the classic musical, "Singin' in the Rain," and proceeded to win the hearts of film fans for six decades.
She has appeared in more than 40 features, receiving a Best Actress Oscar nomination for "The Unsinkable Molly Brown." Her other film credits include "Three Little Words," "The Tender Trap," "A Catered Affair," "Tammy and the Bachelor," "The Gazebo," "How the West Was Won," "The Singing Nun," "Divorce, American Style," "In & Out," and "Mother."

As a founding member of the Thalians - a charity promoting awareness and treatment of mental health issues - Reynolds has served as the group's president almost continuously between 1957 and 2011. Her fundraising efforts have benefited Cedars-Sinai's Mental Health Center, as well as Operation Mend, a UCLA program to help veterans recover from physical and psychological wounds.
The Academy's 7th annual Governors Awards will be presented on Saturday, November 14, in Los Angeles.
Thanks for reading CBS NEWS.
Create your free account or log in
for more features.