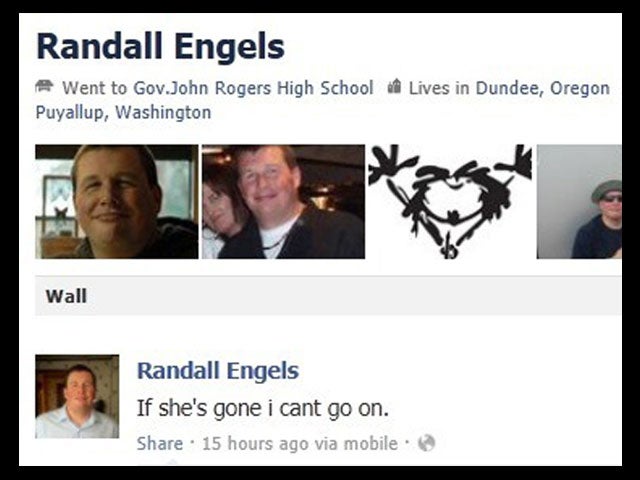 Oregon Triple Murder: Randall Engels created new persona before killing family, self
(CBS/AP) PORTLAND - Randall Engels used a fake name to exchange text messages with his estranged wife in the weeks before he killed her and their two children.
The new detail was released Thursday afternoon as the Yamhill County district attorney closed his investigation into the Independence Day triple murder and suicide.
The bodies of Randall Engels, 37, Amy Engels, 35, and their children - Bailey, 13, and Jackson, 11 - were found at the father's home in Dundee, 28 miles southwest of Portland in Oregon's wine country.
Amy Engels and the children had moved from the home to a nearby town in late April, and she filed for divorce the next month, court records show.
District Attorney, Brad Berry said in a report that Randall Engels created a fake persona named "Brian" and led his wife to believe a mutual friend had given him her number. While pretending to be Brian, Randall encouraged his wife to try to work things out at home.
The pair exchanged frequent text messages until July 3, when Amy made it clear she wouldn't return to her husband, Berry said, and provided information about how the children were feeling about their father.
Also July 3, Amy met Randall for lunch and apparently let him know she wanted to go ahead with the divorce, Berry said.
The bodies were discovered the following day after a friend of Amy's noticed an alarming Facebook post and called police to conduct a welfare check. The post on Randall Engels' page read: "If she's gone i can't go on."
Officers saw the same words written on a white board when they peered through a window blind that was partially bent. They forced their way into the home through the garage and discovered the crime scene.
Autopsy results showed that Amy Engels died from a single gunshot and the children were each shot twice. Randall Engels then died from a self-inflicted gunshot.
More on Crimesider
July 5, 2012 - Father suspected of killing wife, 2 children, self in Oregon murder-suicide
Thanks for reading CBS NEWS.
Create your free account or log in
for more features.