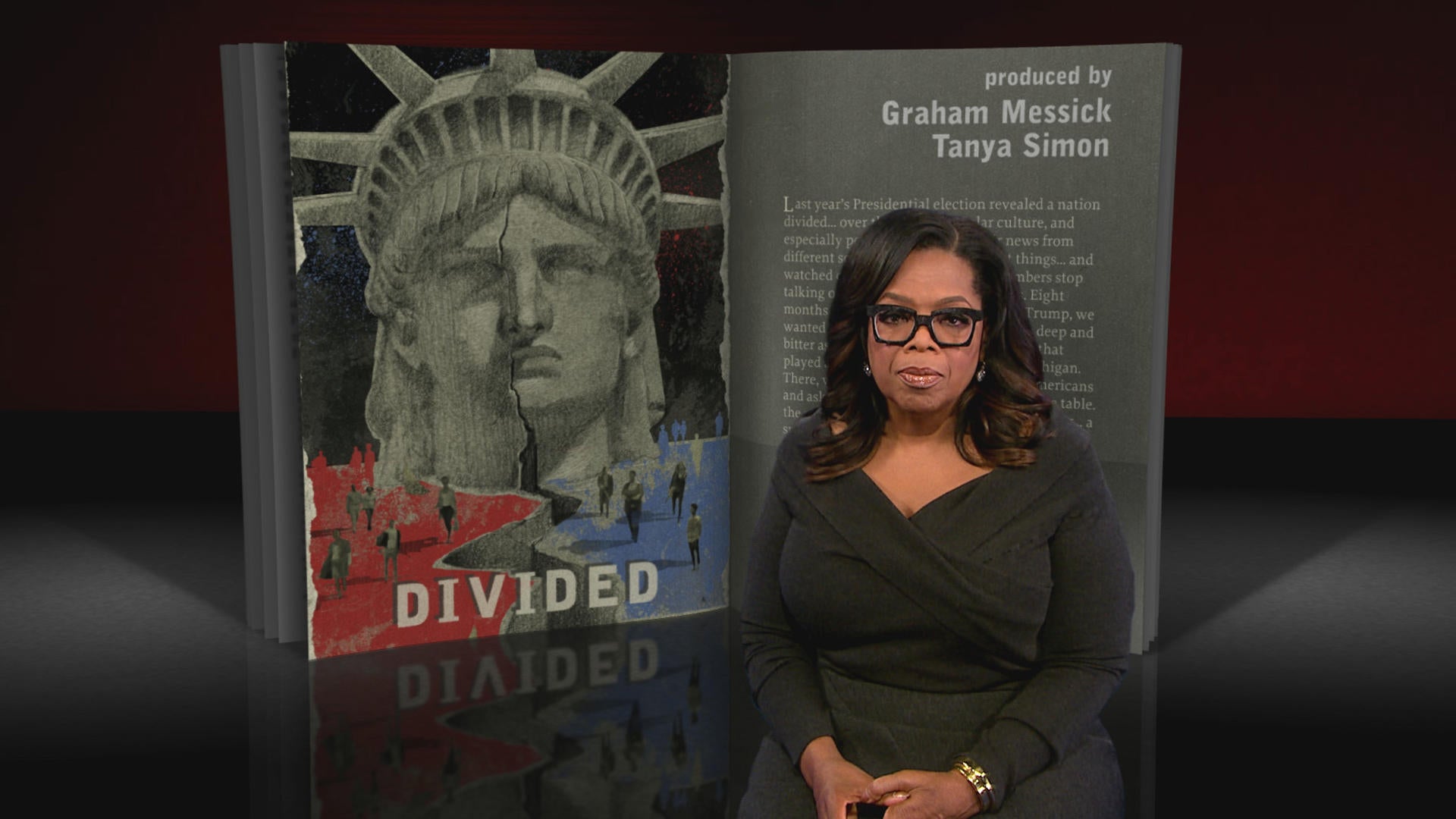 Oprah's first 60 Minutes story "felt like coming home"
In the six years since Oprah Winfrey's syndicated talk show went off the air, she has missed hearing from Americans.
"The thing I miss the most is the connection to the audience," Winfrey tells 60 Minutes Overtime's Ann Silvio in the video above. "I prided myself on having my finger on the pulse of what people are thinking."
Now Winfrey's back in the conversation, as she joins 60 Minutes for the broadcast's 50th season premiere. For her first 60 Minutes report, Winfrey interviewed a diverse group of voters to talk about the deep political divide in America.
"The thing I miss the most is the connection to the audience. I prided myself on having my finger on the pulse of what people are thinking."
The panel of 14 participants was assembled by Frank Luntz, a pioneer in the use of focus groups and a contributor to CBS News. Seven participants voted for President Trump; seven did not. Their conversation took place last month in a converted power plant in Grand Rapids and aired on 60 Minutes this week in a story titled "Divided." Filmed with nine cameras around a table hand-made by the 60 Minutes crew, the story was produced by Graham Messick and Tanya Simon.
Executive producer Jeff Fager says "Divided" is expected to be the first in a series panel discussions with diverse groups of American voters about the country's political divide. Throughout the season, Winfrey and a team of 60 Minutes producers will go on the road to other cities and towns across America to host similar panel discussions, which will air on the broadcast.
"The plan is to do it at least three times a year," Fager tells 60 Minutes Overtime. "We'll decide where we want to go, what we want to talk about, but it doesn't feel like it's going away—this sort of divided America—and we want to stay on it."
For Winfrey, the 60 Minutes shoot in Grand Rapids is a return to her roots as a news reporter.
"I started out in news, roaming the streets, looking for stories, covering courts and fires, and chasing ambulances," Winfrey tells Overtime's Silvio. "Going out with the 60 Minutes crew for the very first time, I had all of these sense memories of sitting with the crew, setting up the interview that I hadn't done since my 20s. So it felt like a full circle moment."
60 Minutes producers did not tell the Grand Rapids roundtable participants—which included a farmer, a drug counselor, and a former auto factory worker—that Winfrey would be moderating their discussion. When she first walked into the room, the table erupted in reaction at the sight of Winfrey. But as soon as the conversation got underway, turning to President Trump and his policies, it became serious, intimate, and, at times, heated.
In her interview with 60 Minutes Overtime, Winfrey acknowledges that viewers of the story may be aware of her own political stripes. In fact, one of the participants of this week's panel told a 60 Minutes producer that he would not have participated had he known in advance that Winfrey would moderate the discussion. But Winfrey says he changed his mind after speaking with her.
Winfrey tells Overtime, "There is a certain level of credibility and trust that I bring to the table, because regardless of who I voted for or didn't vote for, I'm gonna try to be fair."
The mission of the story was to hear from both sides of the divide, and what Winfrey and Fager aim to do with the series is to encourage regular Americans to keep talking politics — and, more importantly, to listen to those who may disagree.
"One of the things that happens when you're in this kind of a divide is that people aren't talking to each other who disagree," says Fager. "So even in your own family, there is a reluctance to bring it up. It's good— I think it's healthy to hear it."
After the 60 Minutes crew left Grand Rapids, a mix of roundtable participants from across political lines continued talking. Some of them also gathered at a shooting range to talk about gun rights. Winfrey found that news encouraging.
"What would be my great hope is that somebody else sees this [60 Minutes story]…and says, 'Maybe I'll try that in my church, in my community,'" Winfrey says. "'Maybe I will just be a little more open to say, Why do you think that way?'"
Video of Oprah Winfrey reporting in Nashville courtesy of WTVF
Photos of The Oprah Winfrey Show courtesy of Harpo, Inc./ George Burns
Thanks for reading CBS NEWS.
Create your free account or log in
for more features.