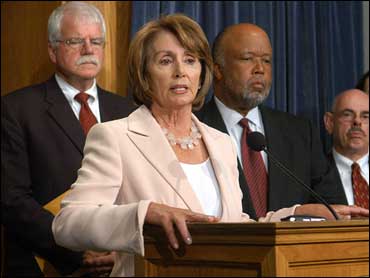 Open Season On Bush Over Katrina
Democrats, divided over President Bush's handling of Iraq, are coming down hard on his administration's response to Hurricane Katrina.
Some of the harshest words are coming from 2008 presidential hopefuls. Sen. Hillary Rodham Clinton of New York ridiculed relief coordinator Michael Brown's suggestions. Former North Carolina Sen. John Edwards said the hurricane's aftermath underscores the "two Americas" theme of his presidential campaign last year.
"It's piling on time," said Rutgers University political scientist Ross Baker.
Democrats, ready with talking points and working closely, went into full battle mode Wednesday.
Clinton sought an independent commission to study the response and made the rounds of four network morning television shows, taking on Brown, director of the Federal Emergency Management Agency.
"I would never have appointed such a person. I would imagine, I don't think that anybody would. You would appoint somebody who has experience," Clinton told CBS News.
Brown spoke with CBS' Harry Smith on The Early Show.
"Did you screw this up?" Smith asked.
"No. No," Brown said.
Senate Democratic leader Harry Reid of Nevada pressed for a broad investigation that would explore questions such as "How much time did the president spend dealing with this emerging crisis while he was on vacation?"
His House counterpart, Rep. Nancy Pelosi, D-Calif., renewed her call for Brown's dismissal. "There were two disasters last week: first, the natural disaster, and second, the man-made disaster, the disaster made by mistakes made by FEMA," she said.
CBS News Correspondent Gloria Borger reports
"Why would I do that?" Pelosi quoted the president as saying.
White House counselor Dan Bartlett challenged Pelosi's account as "inaccurate and unfortunate."
As a party, Democrats had spoken with different voices on Iraq. Some Democrats — including Clinton, Edwards and 2004 presidential nominee Sen. John Kerry of Massachusetts — had voted to support the Iraq war resolution in October 2002.
Many Democrats were careful in their criticism of Mr. Bush's handling of Iraq so as not to appear to undermine U.S. troops or encourage the insurgency.
Democrats also were reluctant to criticize the president as the nation rallied behind him after the attacks of Sept. 11, 2001.
Such caution, however, is not a factor in the open season on Mr. Bush's handling of the hurricane.
"It is different when you face a foreign enemy on the one hand versus a domestic failure on the other," Democratic consultant Mark Mellman said.
"Democrats see a real problem with the way this administration has handled Katrina, and see real needs that have to be addressed. Everybody is trying to do the best they can to help these victims," Mellman said.

When it comes to Mr. Bush's handling of the hurricane, the public is largely divided along political lines.
More than two-thirds of Republicans said Mr. Bush is doing a great or good job, according to a CNN-USA Today-Gallup poll out Wednesday. About two-thirds of Democrats say he is doing a bad or terrible job.
Republicans have accused Democrats of seeking political advantage in attacking the administration's response.
"While countless Americans are pulling together to lend a helping hand, Nancy Pelosi and Harry Reid are pointing fingers in a shameless effort to tear us apart," Republican party chief Ken Mehlman said Wednesday in a statement.
Mr. Bush's spokesman, Scott McClellan, said the White House is "focused on bringing everybody together to help the people in the region. And the president continues to act to make sure that we're addressing the ongoing problems," he said.
McClellan took issue with what he called "personal attacks" by Democrats, particularly Reid's implication that Mr. Bush's Texas vacation may have hindered the federal response to Katrina.
As for Pelosi, Bartlett said she took Mr. Bush's words out of context to make him appear disconnected with the problems on the ground, when in fact he was trying to gather information about lawmakers' views. "Giving an unfair read of President Bush's thoughts and discussion is inappropriate and I think she should clarify," he said.
Adding to the rising partisan temperatures, the liberal advocacy group MoveOn.org announced a protest demonstration in front of the White House on Thursday afternoon by storm evacuees. And Democratic party chairman Howard Dean, speaking at a Baptist convention in Miami, said, "Americans deserve better from their leaders."
Mr. Bush cut short his vacation by two days last week to return to Washington. He has presided over daily meetings, visited stricken Gulf Coast areas twice and was expected to return soon. He has sent Cabinet members to the region; Vice President Dick Cheney planned to be there on Thursday.
On Wednesday, the White House announced Mr. Bush is asking lawmakers to approve another $51.8 billion to cover the costs of federal recovery efforts. That is in addition to $10.5 billion already approved.
Democrats suggest they have been given ammunition for their criticism by seemingly insensitive remarks of some Republicans.
These include House Speaker Dennis Hastert, R-Ill., questioning whether rebuilding New Orleans was worth the cost; comments by Barbara Bush, the president's mother, that "underprivileged" people would be better off in the Houston Astrodome; and a suggestion by Sen. Rick Santorum, R-Pa., that people who do not heed future evacuation warnings may need to be penalized.
Santorum later said he would exempt people who lack cars or other resources.

Thanks for reading CBS NEWS.
Create your free account or log in
for more features.