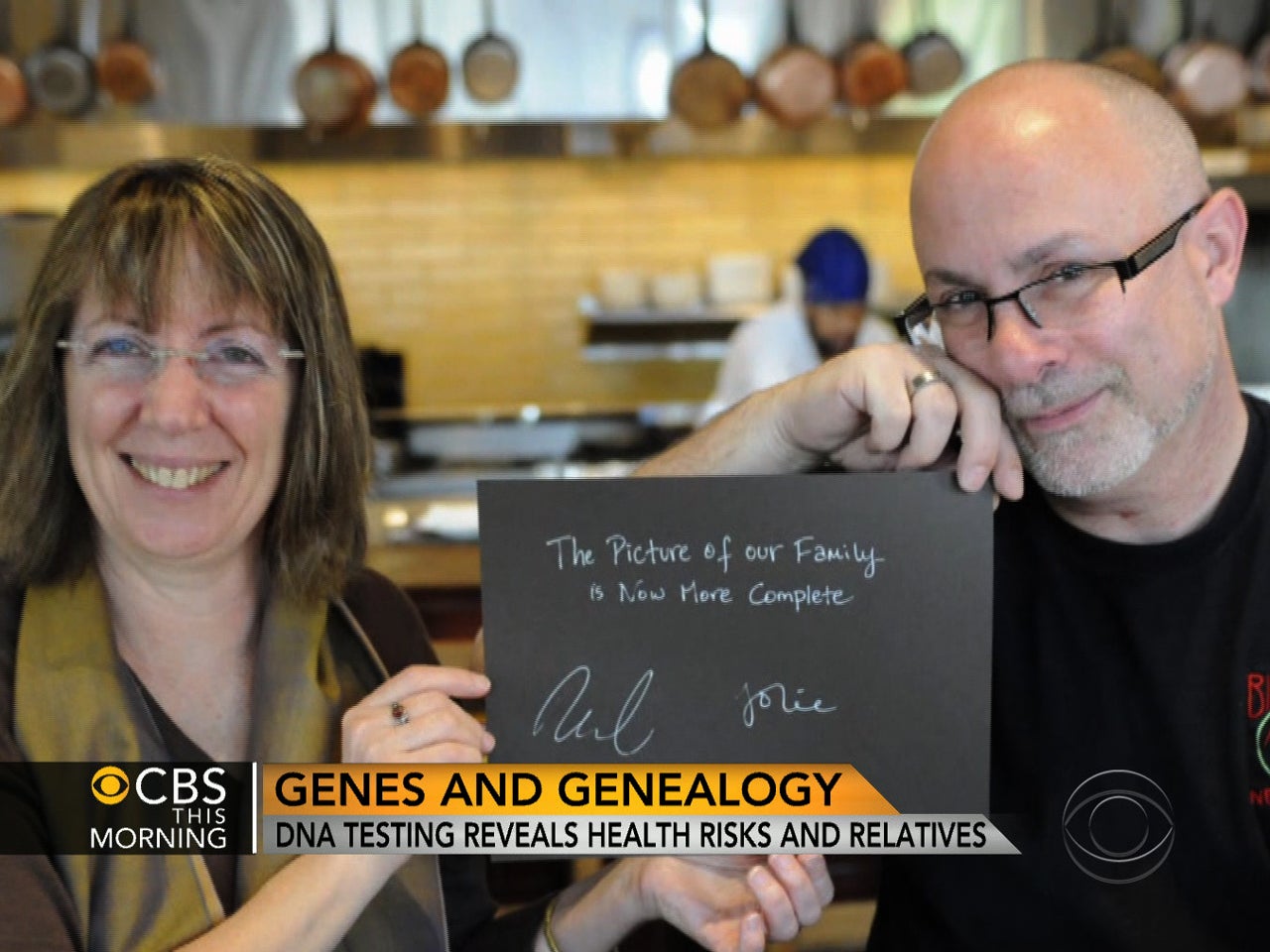 Online DNA mapping helps siblings find each other
(CBS News) It's now easier than ever to map your DNA through online services. The goal is usually to discover more about your body through science, but the technology sometimes yields unexpected results, as Neil Schwartzman discovered.
Schwartzman was just 10 days old when he was given up for adoption in 1960. He looked for his biological mother his entire life. He grew up in Montreal, with loving adoptive parents, but had questions about who he was.
Schwartzman describes the feeling as akin to "having a picture puzzle and two pieces missing."
But then he turned to technology. "I opted to do what some people might find a little strange: I spit in a test tube and sent it off to California."
Schwartzman sent that test tube to the Silicon Valley Company, 23andMe, named after the 23 pairs of chromosomes in human DNA. In this region built on information technology, the information gathered by 23andme is the most personal of all: genetic code.
23andMe co-founder Anne Wojcicki said, "23andMe just really strongly believes this is something that you should get, it's your information."
Wojcicki is married to Sergey Brin, the co-founder of Google. Her goal is to make genetic information as accessible as Google has made so much other information. On the 23andMe website users can learn how their own genetic makeup may play a role in more than 200 diseases and physical traits.
"We started the company really with the idea that we wanted to do something revolutionary, where consumers could come, learn tons of information about themselves and really start to revolutionize health care," Wojcicki said.
That's a mission that grew more urgent for Wojcicki when 23andMe's testing revealed that her husband carries the genetic variant for Parkinson's disease. "Suddenly it became very personal," Wojcicki said. "That my husband is at-risk, and potentially some of my children are at risk. We've got to do something."
But DNA isn't just about health. Online users of 23andMe can sometimes unlock long-hidden family secrets or find long-lost relatives.
Wojcicki, of course, got her mother and sister to take the 23andMe gene test. And when Wojcicki first met Tad Taube, he somehow seemed familiar.
Taube said, "(She said,) 'You know you remind me of my father. And I have this hunch we may be related in some way. Would you be willing to take my genetic tests?' and I said sure, why not?"
It turned out he is part of the family: a not-so-distant cousin.
Taube said, "For me, it was very special because I unfortunately lost most of my family in the Holocaust. All of the sudden, I have this wonderful new family and it's been a very, very emotional and thrilling experience for me."
But it's hard to beat what happened to Jolie Pearl.
"I had been doing family history research, genealogy research for a few years and had developed a fairly extensive family tree," Pearl said.
Her 23andMe results revealed the family tree had a secret branch. One day she received a notice asking if she wanted to find her closest relative. Pearl said, "Suddenly I press a button and here's my brother."
It was a brother she had never known: Neil Schwartzman.
When Schwartzman heard the news that they were potential siblings, he said, "it rocked my world."
Over the next weeks, Pearl and Schwartzman unraveled the story. Pearl said, "My mother had a baby and then she kept this secret, which was terrible, just a terrible secret because it tore her up."
Their mother was pregnant with Schwartzman when their parents separated. She felt she couldn't afford a second child , so she kept Pearl and gave up Schwartzman for adoption.
When the two met face-to-face, they both recognized their similarities, such as their height.
Schwartzman said Pearl had more questions for him when they met. "This was the end of a journey for me," he said. "For Jolie, it was the beginning."
It's a journey they are continuing together. In a lucky coincidence, Schwartzman got a job in California and now lives just a few miles from Pearl. The brother and sister separated for 50 years are finally reunited after Silicon Valley unlocked the secret of their DNA.
Thanks for reading CBS NEWS.
Create your free account or log in
for more features.