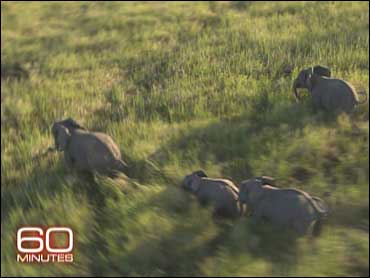 One Man's Plan To Save A Natural Treasure
This story was first published on Oct. 26, 2008. It was updated on June 25, 2009.
How much can one man do to save a desperate nation? American entrepreneur Greg Carr is finding out, throwing himself and much of his fortune into one of the poorest places on earth. Mozambique, in East Africa, is a country of spectacular beauty, but it's been laid waste by decades of war, by malaria and by HIV.
It takes a lot of vision to see opportunity there, but as correspondent Scott Pelley first reported last fall, Carr thinks he's found it, in a wildlife park called Gorongosa, which he believes could be the salvation of a nation, and maybe a model for the world.
---

Greg Carr wanted Scott Pelley's first experience of Gorongosa to be just like his was four years ago - a helicopter ride to see this park's vast size and breathtaking diversity.

"When we flew over this I said, 'This is it.' You know, because, I mean, it's beautiful. It's magnificent," Carr remembers.

It's almost 1,500 square miles of African wilderness - lakes, plains, and even a rain forest.

Gorongosa spreads across the heart of Mozambique, a country that lies along the east coast of Southern Africa on the Indian Ocean.

As Carr and the 60 Minutes flew over the landscape, they saw hippopotami, antelope and elephant. But not many - Gorongosa is a tragedy in two parts, with the loss of its animals and the suffering of its people, whose lives haven't improved much in a few hundred years.
---
Read co-producer Rebecca Peterson's personal account of traveling to and visiting Gorongosa National Park in Mozambique.
---

Asked why he chose this place, Carr tells Pelley, "Gorongosa was, most people consider, the most popular national park in all of Africa and the most density of animals, the most beauty, the most diversity of ecosystems. So, you have one of the most beautiful places in the world and you also have perhaps the worst poverty of anywhere in the world, side by side."

To Carr, that's an opportunity. It's the same kind of business sensibility that made him a fortune. Right out of Harvard in the mid-1980's, he and a partner developed a hot new product called voicemail. In 1998, he cashed out to the tune of $200 million and devoted himself to bringing entrepreneurship to charity.

"So, the idea is take the beauty of the park and use that to do human development. Attract the tourists who will spend the money to create the jobs and lift everybody outta poverty. For an entrepreneur, it's kind of a compelling opportunity to, you know, one plus one equals ten," he explains.

Carr's non-profit foundation has an agreement with the Mozambican government to develop Gorongosa Park over the next 20 years. Carr is putting in $40 million of his own money to try to bring Gorongosa back to what it once was.

In the 1960's, before the region was engulfed by war, Gorongosa was perhaps the best wildlife park in Africa; royalty and Hollywood stars came on safari. There were hundreds of lions. So many, a pride even took over a building.

But that was then. When a documentary film about the park was made in the 1960's, there were 500 lions in Gorongosa, 2,000 elephants, 14,000 Cape buffalo and 3,000 hippos. It took years of war and poaching to get it done, but by the end, almost all of those animals were gone. In one of the world's greatest wildlife habitats, the animals were forced from house and home.

First, it was Mozambique's war for independence from Portugal. Then, a civil war erupted that lasted 16 years, turning Gorongosa into a battleground and a slaughterhouse.

"When we came back, the animals were gone," remembers Baldeu Chande, who was a ranger at the park before the civil war ravaged Gorongosa.

Asked to describe the difference before and after the war, Chande says, "I couldn't believe because I went out, you know, inside the park, you know, to look for the animals. I was excited. And I wanted to see the animals like I used to see before. And then, unfortunately, for the first two or three weeks, I couldn't see a single animal. It was just bush, bush, bush and no animals."

The people fared little better. When the war ended in 1992, Mozambique was the poorest country on Earth; 900,000 had been killed, and millions were run from their homes. Then the HIV/AIDS epidemic hit. Today most people live in villages, farming mostly hand to mouth.

"You know, I noticed a lot of the children, their bellies are distended," Pelley tells Mateus Mutemba, who works with Greg Carr.

"Yes," Mutemba replies. "See, in most cases though, they are not even aware they are sick."

When you come to a village like the one 60 Minutes and Pelley visited, you really begin to understand one of the most shocking things about Mozambique: the average life expectancy in this country is about 40 years old, and in the next few years they are expecting that to drop to about 35 years old.

A lot of that is because of the HIV/AIDS epidemic and malaria, but part of it is because folks like these villagers can't get anywhere close to a nurse or a doctor.

"The clinics are very far away. The nearest is 19 kilometers from here. And when they are sick, they stay at home and pray and hope that they will get better," Mutemba explains.

Now compare that village with the future that Greg Carr sees in a village called Vinho. It lies near the Pungue River, which runs along Gorongosa Park. A couple hundred of the villagers work for the park as rangers, cooks, and the like.

Carr wanted to show Pelley the difference in Vinho village.

"You know, I have to think that there was a temptation for a big deal IT guy from America to come in and say, 'Okay. We're gonna put the school here. We're gonna put the clinic there. We're gonna put a road here…and this is where the wells are gonna go.' Right?" Pelley asks.

"That's right," Carr says. "If you come here with a American CEO mentality, 'We're gonna make a plan! We're gonna do it! Let's go!' And give out orders, that is the wrong way to do development in a rural place like this. Because this is their village. They want schools. They want health clinics. They want water. They want businesses. They want jobs. They need to make those choices."

When Carr first visited four years ago, school met underneath a magnificent baobab tree. After villagers told him they wanted a new school, Carr spent $100,000 helping them build it.

And just across the road, there was a line waiting at the new clinic they asked for, built for $200,000. "Mozambique needs 750 of these rural clinics to serve the people who now don't have any health care at all," Carr explains.

So far Carr has built only one clinic, but he and his foundation want to build 25.

Among the villagers, Carr is treated like a rock star. One woman told him she could never go to school before, but now thanks to an adult education class, she can write her name.

But even with all the wealth that 200 jobs, a clinic and a school have brought Vinho, Carr still has to convince villagers to help Gorongosa to succeed. "We need to decrease the amount of poaching of animals in the park because tourists want to see animals," he tells villagers during a meeting.

The tourists are returning to Gorongosa in small numbers, but to attract more, Carr knows he needs animals - a lot more animals.

He has one thing in abundance: crocodiles, which the 60 Minutes team spotted as they skimmed over the lake.

Likewise, the park has hundreds of thousands of exotic birds. But the problem is big game are scarce, so Carr is trucking new animals in from all over Africa.

Asked what animals he has introduced so far, Carr tells Pelley, "Last year, we did wildebeest. And they've already started having calves. So that's exciting. We're doing hyena this year."

"We're doing some more hippo this year. I really want zebra. But I can't get them right now. Because I need to get zebra from Zimbabwe, and the political problems in that country, you can't get something out of there," he adds.

Carr has brought in scientists to make sure he's importing the right species and to better understand the animals he already has.

They've been tracking one Gorongosa elephant herd with radio collars. 60 Minutes went along on a mission to replace a collar that had a dead battery. Dr. Cobus Raath had come from South Africa to help in this operation.

First, he prepared a tranquilizer. Dr. Raath explained the tranquilizer should wear off in 40 minutes, more than enough time to change a collar.

A pilot flew Raath in. He fired the dart, then it was a matter of waiting until the dose knocked her out. While they waited, they drove off her calf so they wouldn't have to knock it out too.

The ground crew moved in, taking off the old collar, and getting blood samples. Understanding the health of these elephants will help ensure the success of a herd Carr is bringing in from South Africa.

They put a blindfold over the elephant's eyes to keep her calm and they were pouring water on her to keep her cool. The new radio collar was going on around her neck.

You could tell that she was doing reasonably well, because you could feel her breath coming out of her trunk. "Very strong, very hot, very well," Pelley commented.

A short time later, they injected her with an antidote. It took her little more than two minutes to stagger back to her feet.

Once animals are back in abundance, Carr expects big tour operators and hotels to invest in Gorongosa, creating thousands of jobs and throwing off enough cash to bring in more schools, clinics, roads, and electricity.

"You know, one of the most interesting animals in the park, for my money, is you," Pelley jokes. "And I wonder what it was about being in the technology business, and making $200 million at it, that you found, ultimately, so unfulfilling?"

"Actually, it was fun and exciting. But I wanted to give back. But, you know, this project has done a lot more for me than I'll ever do for it," he says. "Coming to Africa, spending time here, learning from their culture, which is rich and beautiful, is a blessing."

He intends to double the size of the park and leave it completely self sustaining - no longer a charity - but an economic engine attracting investments, creating jobs, and in the end standing on its own without Greg Carr.

Produced by Rebecca Peterson and Henry Schuster
Thanks for reading CBS NEWS.
Create your free account or log in
for more features.