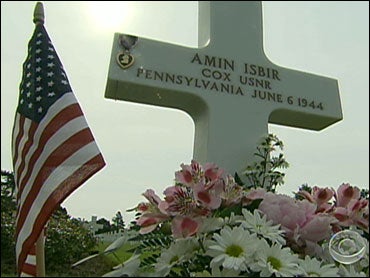 On D-Day, Setting The Record Straight
On D-Day, American soldiers came to France to save the world.
They did -- but the cost was high: D-Day's fallen, 9,387 men and women in uniform now lying in the American cemetery in Normandy.
As CBS News correspondent Mark Strassmann reports, 65 years later, Eric Montgomery has also landed here -- on a mission of his own.
"These men came here and gave all. I just wanted to give a little bit back," said Montgomery.
Montgomery's great-uncle, Amin Isbir, died on Omaha beach.
Video shows Isbir's landing craft, just before he hit the beach. Once ashore, he sought cover behind a truck. But a German shell found him anyway.
Veterans Ed Marriott and Robert Giguere remember the scene. "The shell hit at an angle to where it lifted up the vehicle and turned it over on him," said Marriott.
Giguere recalls, "He was killed instantly right there."
But Isbir's body wasn't found for two days. So all these years, his headstone had it wrong. It said he died on June 8th, not June 6th, D-Day itself. Finally, workers at the cemetery were able to make it right.
Eric Montgomery finally found the proof he needed in the form of Tom Beaty, an Atlanta businessman who liked war stories. In his spare time, he started interviewing aging vets on camera. "The things these people saw are just amazing," said Beaty.
On his website, "Witness to War," Beaty has recorded 200 vets so far.
---

For more about "Witness to War" click here.


---
Marriott and Giguere landed with Amin Isbar on D-Day, and helped to set his history straight.

"The broader history may or may not be concerned with the death date of one particular individual when so many died and so many were lost. But to the family it means an extraordinary amount," said Beaty.

It does to Eric Montgomery. He spent five years proving family legend was right. A legacy reflected in one headstone -- and shared by so many.

Thanks for reading CBS NEWS.
Create your free account or log in
for more features.