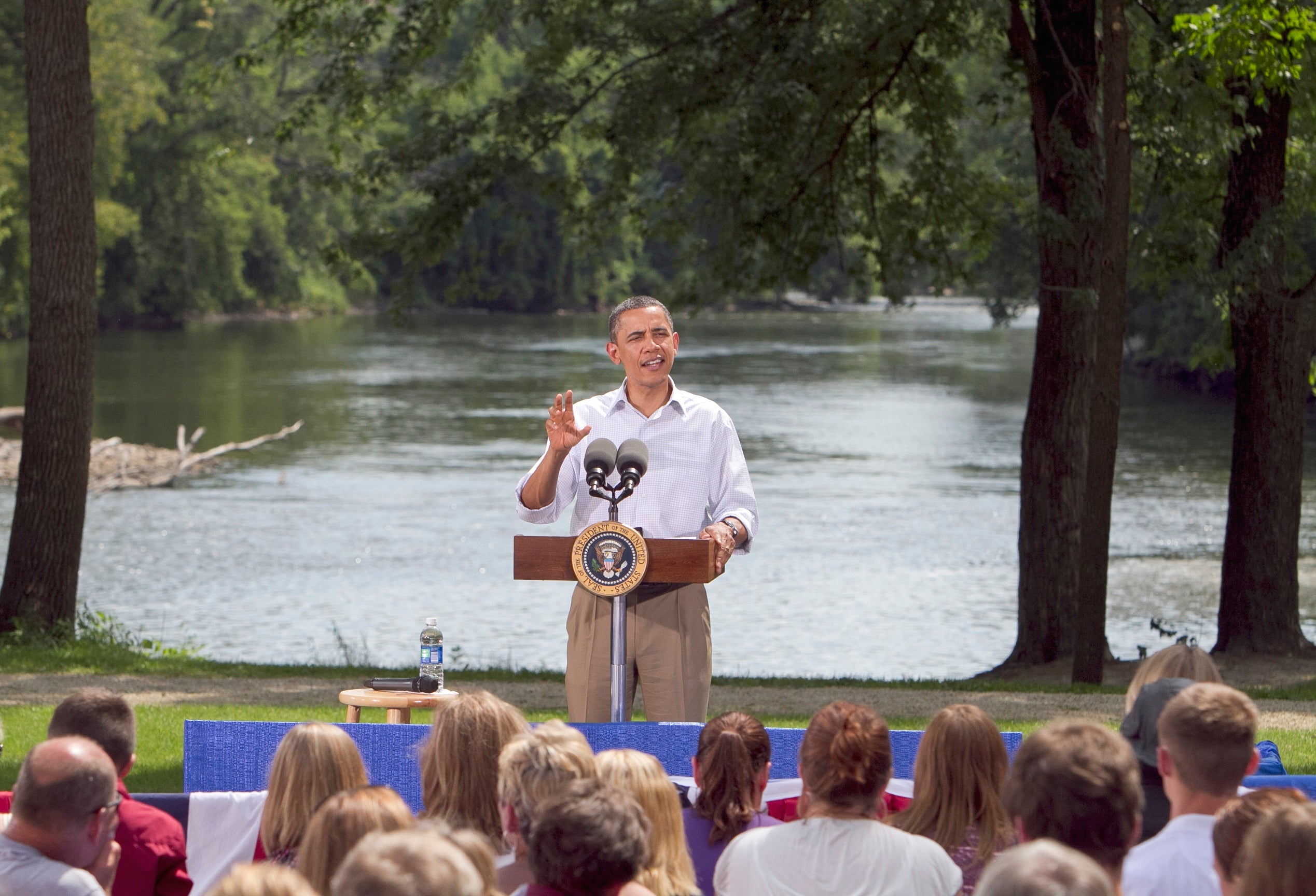 On bus tour, Obama embraces "Obamacare," says "I do care"
Updated: 3:28 p.m. ET

In the first stop on President Obama's week-long midwestern bus tour, the president appeared to attempt to take ownership of the term "Obamacare" - a phrase Republicans have been lobbing at him as a pejorative since the 2008 passage of his controversial health care bill - telling audience members, "I have no problem with people saying Obama cares."
"I do care," he pointed out. "If the other side wants to be the folks who don't care? That's fine with me."
Dressed casually in khakis a white button-down at the event in Cannon Falls, Minnesota, Mr. Obama reiterated his argument that America's broken political system, rather than an inability to come up with solutions, was guiding the nation's economic woes.
"There is nothing wrong with America that can't be fixed," Mr. Obama said. "What's broken is our politics."
He continued: "What's been happening over the last six months - and a little bit longer than that if we're honest with ourselves - is that we have a political culture that doesn't seem willing to make the tough choices to move the country forward... The question is, can we break out of that pattern?"
The president pointed to a number of initiatives he has proposed to create jobs and spur economic growth - including renewing payroll tax cuts, building up infrastructure programs and giving tax breaks to companies that are hiring veterans - but said "Congress needs to move."
"There's no shortage of ideas to put people to work right now," he said. "What is needed is action on the part of Congress... a willingness to put the partisan games aside and say, we're going to do what's right for the country - not what we think is going to score some political points for the next election."
Mr. Obama also referenced a Monday morning opinion piece by Warren Buffett, who urged politicians in Washington to raise taxes on the "mega-rich" who have been "coddled long enough by a billionaire-friendly Congress."
"Solving our debt and deficit problems simply requires all of us to share in a little bit of the sacrifice... to do a little bit more to get this country back on track," he said. "And that's not too much to ask."
"We are fighting for the future of this country," he said.
Cannon Falls is the first of five small Midwestern towns Mr. Obama will visit this week. From there he'll travel to Iowa, and then to northwestern Illinois.
The itinerary will provide Mr. Obama with an audience that's likely to be receptive; in 2008, Mr. Obama won four of the five congressional districts he's visiting and only lost Minnesota's district by 1.5 points. Moreover, all five cities are faring relatively well economically.
Asked about the fact that Mr. Obama's bus tour will take him to areas with relatively low unemployment, White House Press Secretary Jay Carney told reporters Monday that the president wants to observe economic strategies that are working and potentially apply them to the rest of the country.
Thanks for reading CBS NEWS.
Create your free account or log in
for more features.