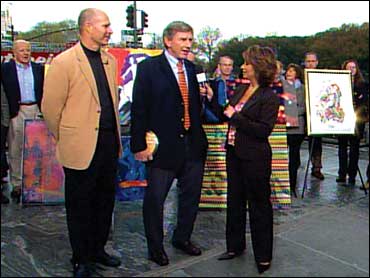 Olympic Greats Exhibit Their Art
Al Oerter won his first Olympic gold medal in the discus in 1956. His athleticism was something of an art as he took home the top prize in the next three Games.
In the years since, Oerter has been creating art on canvas, sometimes with the help of his discus. He and a number of Olympians have been showing their work across the country in an exhibit entitled "Art of the Olympians."
Oerter, first athlete to win a gold medal in four straight Olympics, is getting exposure of his second passion. His, and the art of four other Olympians, was shown at the New York Athletic Club. On Tuesday night, the exhibit will be shown by the National Arts Club, and Wednesday it moves to the United Nations. Some of the work is also being shown on the Panasonic screen Times Square.
Oerter's entry into the art world came unexpectedly. In 1980 he was asked to create a piece of art using a discus.
"I created an abstract piece of art by throwing it into acrylic paint," he said. "That day was so exhausting. I took 21 years off and came back in 2002 and started a true art career."
He now has over 200 pieces and is approaching 300.
"I'm very prolific," he said.
Four-time Olympian Liston Bochette said the program is also educational. When the artists come to a city, they meet with children to teach them about achieving their goals.
Learn more at ArtoftheOlympians.com.
Thanks for reading CBS NEWS.
Create your free account or log in
for more features.