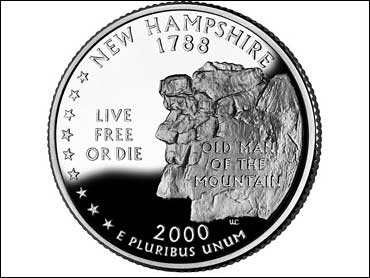 Old Man Of The Mountain Collapses
New Hampshire awoke Saturday to find its stern granite symbol of independence and stubbornness, the Old Man of the Mountain, had collapsed into indistinguishable rubble.
The fall ended nearly a century of efforts to protect the 40-foot-tall landmark from the same natural forces that created it. Only stabilizing cables and epoxy remained Saturday where the famous ledges had clung.
"There's only so much you can do," said Mike Pelchat, a state parks official who hiked up the mountain Saturday to make sure there were no signs of foul play.
"With heavy rains and high winds and freezing temperatures, the combination was just right to loosen him up," he said. "We always thought it was the hand of God holding him up, and he let go."
It was unclear when the outcropping actually fell from Cannon Mountain because clouds had obscured the area Thursday and Friday. A state park trails crew reported Saturday morning that the Old Man of the Mountain was gone.
Gov. Craig Benson quickly declared that the face should be "revitalized" and said he was meeting with state officials to determine how it should be done and planned to form a fund to take donations.
"This closes a very long chapter in New Hampshire history, but we'll begin a new chapter immediately," Benson said. "The old man is counting on us not to forget his legacy, and we won't let him down."
The Old Man was New Hampshire's most recognizable symbol, appearing on the state quarter, license plates, state road signs and countless souvenirs and tourist brochures.
Millions of tourists have traveled through Franconia Notch to view the profile, 1,200 feet above Interstate 93 about 65 miles north of Concord. In the 19th century, the profile inspired New Hampshire statesman Daniel Webster to write: "In the mountains of New Hampshire, God Almighty has hung out a sign to show that there He makes men."
Dick Hamilton, president of White Mountain Attractions, a tourism group, has commuted through the notch every day for more than 30 years, and said goodnight to the Old Man every night when he drove by.
On Friday, with his view blocked by the clouds, he said, "Good night, boss, wherever you are."
"I've just lost my number one attraction," he said Saturday.
The state had used cables and epoxy to try for years to keep the rock profile from falling from erosion and the natural freeze-and-thaw cycle. Those who did the work had warned that a collapse was inevitable, but few thought they would live to see it.
David Nielsen, whose father was the profile's official caretaker for decades before passing the job on to his son a few a years ago, had tears in his eyes as he looked at the mountainside Saturday.
"The oldest person in my family just died," he said.
Nielsen's father Niels told an interviewer in 1999 he thought the Old Man would outlive him by many years.
"My gut feeling is that any baby that's born on this date, today, will not see the Old Man come down," he said.
Amy Bahr, president of the Franconia Heritage Museum, said she has long been aware that the natural profile could slide.
"I knew it would go sometime, I just didn't think it would happen in my lifetime," Bahr said.
Paul Hayward's family has operated an inn in nearby Sugar Hill since 1780. He said he was devastated by the loss.
"I'm glad my grandmother didn't live to see this," Hayward said.
:
Thanks for reading CBS NEWS.
Create your free account or log in
for more features.