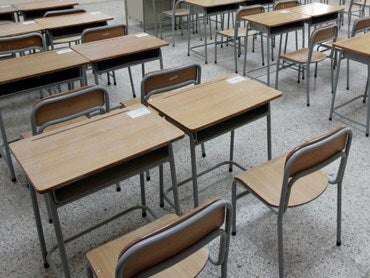 Oklahoma lawmakers target A.P. history courses
OKLAHOMA CITY -- Oklahoma state legislators, already at odds with the controversial common core curriculum, have raised questions about the legality of teaching Advanced Placement courses in the state's public schools.
An Oklahoma House Common Education Committee hearing was held Monday on a bill targeted at A.P. history guidelines. Under the measurement, the state's Board of Education would review the guidelines and bar the use of state funds for the A.P. history courses, the Tulsa World reported.
During committee debate, legislators suggested that A.P. courses bear similarity to Common Core, which they feel could be seen as an attempt to establish a national curriculum on schools across the country. In addition, legislators believe A.P. courses violate a repeal of Common Core and that legislation gives control of the curriculum to the state.
The bill being debated on Monday, H.B. 1380, was authored by Rep. Dan Fisher, who said the A.P. U.S. history course places emphasis on "what is bad about America," and along with teacher Larry Krieger said it pays no attention to "American exceptionalism," according to the Tulsa World.
Advanced Placement is a series of tests and courses developed by the College Board, the private, non-profit corporation that also administers the SAT college admissions exam. It was developed with the help of high school and college educators and it allows high schoolers to earn college credit. It is not required for graduation and public schools are not mandated to offer the courses.
But John Williamson, of the College Board called Fisher and Krieger's contentions "mythology" and that the A.P. courses are for students who are able to do college level classwork.
After discussion Fisher's bill passed 11-4, with all Republican members of the committed in favor.
Thanks for reading CBS NEWS.
Create your free account or log in
for more features.