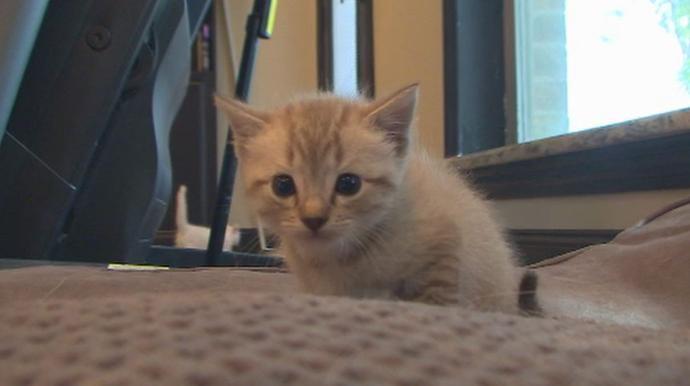 Okla. kids save kitten from drowning just seconds before certain death
BOSWELL, Okla. -- A group of fourth graders in Boswell, Oklahoma, are being credited with saving a kitten from drowning, just seconds away from certain death. Their story is now serving as an example for the whole community, CBS affiliate KXII reports.
The kids were playing outside after school when they heard a loud cry. But when they went over to see what was going on, they were shocked by what they saw and knew they needed to help.
"They found a kitten in a bucket," Tiffany Rubio said.
"I was scared," one of the kids said.
That loud cry turned out to be a kitten fighting for her life as an elderly woman is about to drown it.
"I thought she was gonna hurt the cat," the kid said.
That's when the group of kids, who live with foster parents, stepped up to make sure the kitten would find a home.
"They were pretty distressed, they didn't want anything bad to happen to it," Rubio said, who is a teacher at their school, Boswell Elementary School.
Though we don't know how many were killed, the kids begged for the one kitten they saw and brought it to Rubio.
"Whenever they told me what had gone down, I was like I can't believe someone would do this to an animal. The kitten was covered in fleas and starving."
Rubio, who also sits on the city council, said the stray cat problem is so extreme, they didn't bother to file a police report. The elderly woman is not facing charges.
But their story does not end here.
Rubio contacted Linda Arnold, who fosters kittens in Sherman, and now Arnold is taking care of the kitten at her house until she is healthy enough to be adopted.
"We decided that we would use it as an educational tool to work with the other children in the class and let them see what a difference these kids made by doing the right thing," Arnold said.
The right thing that saved a life, and now Arnold is sending pictures and videos two to three times a week for Rubio to share with her class.
"It's teaching them that this kind of behavior to an animal is unacceptable," Rubio said.
Thanks for reading CBS NEWS.
Create your free account or log in
for more features.