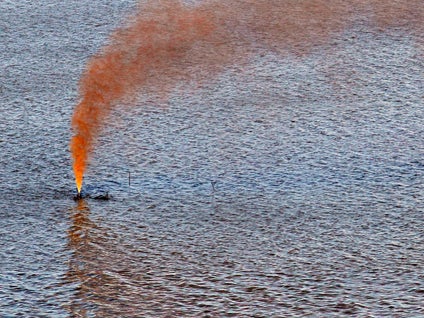 Oil & gas industry spills happen "all the time"
Next week marks the anniversary of the beginning of the BP oil disaster. It should have been a wake-up call for the industry and the federal government. Instead, spills, leaks and explosions still happen every day.
A six month CBS News investigation found that spills of crude oil and toxic chemicals last year alone were three times the amount of the Exxon Valdez spill.
CBS News chief investigative correspondent Armen Keteyian discovered, federal officials have no idea how big the problem has become.
---
GRANVILLE SUMMIT, Penn.- A CBS News investigation has found that dangerous spills and leaks by the U.S. oil and gas industry are happening all the time across the country.
"Everyday there's numerous releases happening throughout just this country," said oil and gas safety expert Mike Sawyer. "Sometimes every couple of hours there's a new incident."
(Scroll down for an interactive map of spills in the U.S. in 2010)
Truman Burnett says his dream home in rural Pennsylvania was destroyed by a spill at a nearby gas well that killed everything in a pond.
"The fish were dead in two weeks," Burnett said. "Two nests of wood ducks, that was my wife's favorite animal - but they're all gone now."
We've learned that no one in the government knows just how many incidents there are.
Slideshow: Oil spills, leaks, fires and explosions
Dr. Sam Mannan of Texas A&M University said, "If you don't even know how many releases are occurring, if you don't even know what the overall consequences are, you can not answer the question of whether we are safe enough."
CBS News collected reported incidents for 2010 at wells and pipelines from three federal agencies and 23 of 33 oil and gas producing states. Not counting the BP disaster, we found at least 6,500 spills, leaks, fires or explosions nationwide - that's 18 a day. Overall, at least 34 million gallons of crude oil and other potentially toxic chemicals were spilled. That's triple the size of the 1989 Exxon Valdez spill.
Video: Watch tap water catch fire
While exactly how much was cleaned up isn't known - the impact certainly is - poisoned drinking water. Dead wildlife, destroyed land, illness, injury, and people being forced from their homes.
Last July, a nearly one million gallon pipeline spill in Marshall, Mich., turned John Laforge's backyard - and miles of rivers and streams - into an oily mess. Today, Canadian oil giant Enbridge is still cleaning up the crude oil, and the legal mess that followed.
"The full creek was solid packed with oil," Laforge said. "I don't want to leave here but I haven't got any choice."
(Scroll down to read a statement from the American Petroleum Institute.)
The issue of oil and gas spills is so touchy, both the lead industry trade group and the Environmental Protection Agency (EPA) wouldn't speak to CBS News on camera.
Former Shell Oil president John Hofmeister however did speak with us.
"Very few people in the scheme of things, are impacted," Hofmeister said. "But nobody should be impacted."
"But 34 million gallons, in one year, that's a pretty significant number," Keteyian said.
"It's big, it's big. And this is a big country with 300 million consumers," Hofmeister replied. "That's not to excuse it. One gallon lost is one too many."
"It doesn't seem like they're doing a very good job John."
"I don't want to sound insensitive. But you have an industry that knows how much could happen. And relative to what could happen, from their perspective, very little does happen."
Video: Sen. Menendez: Gov't not holding oil companies accountable
As for Truman Burnett, his dreams are shattered. "We were hoping to spend quite a bit of time here with our children and grandchildren. My wife doesn't want to come up anymore."
They're innocent victims of an unquestionable threat, only now becoming clear.
---
Note: Data was not provided by all states. States that did provide data to CBS News may not have included all incidents
Oil & Gas Spills at Wells and Pipelines - How Much Spilled in Your State in 2010?
---
Statement below from API, the American Petroleum Institute
"The oil and natural gas industry consistently demonstrates a strong safety record while providing the energy America needs. Domestic production of oil and natural gas is critical to our economy, supports 9.2 million American jobs, provides billions of dollars of revenue to the government, and helps to strengthen our energy security.
"Our oil spill data, which is publicly available and was provided to CBS, is compiled by a third party. It shows that we have made significant progress reducing spills. Proportionally, if the amount of oil used in the U.S. each year was equivalent to the amount of water in a backyard swimming pool, the amount spilled would be less than half of a teaspoon. We think that is still too much. Our goal is to reduce that amount further as we strive for zero incidents."
Thanks for reading CBS NEWS.
Create your free account or log in
for more features.