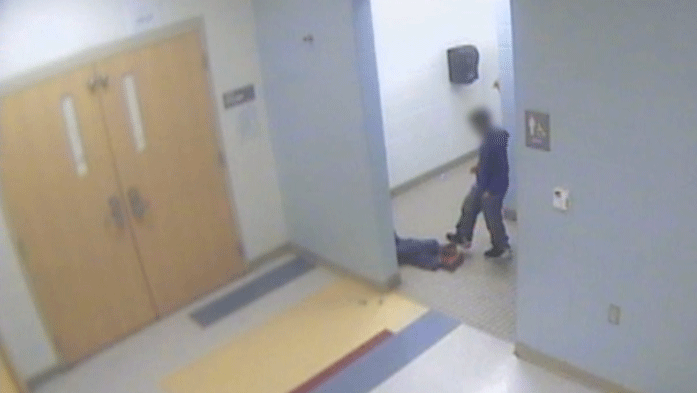 Ohio school releases video of 8-year-old two days before suicide
CINCINNATI -- Cincinnati Public Schools has released some of the video surrounding an incident involving an 8-year-old who later committed suicide, reports CBS affiliate WKRC.
The children's faces are blurred and it's hard to see exactly what happened, but the video appears to show a boy hitting another boy and do something to a third boy that left him on the ground for several minutes. That boy was Gabriel Taye.
An assistant principal at Carson Elementary School in Cincinnati found Gabriel unconscious inside the boys' bathroom on Jan. 24. He was sent to the nurse's office, then taken home by his mother. That night, he was complaining of stomach pains. He was diagnosed at a hospital with the stomach flu.
Within 48 hours, he hanged himself in his bedroom, prompting an investigation by Cincinnati police.
According to the Cincinnati Enquirer, a homicide detective said the surveillance video captured "bullying and could even rise to the level of criminal assault" and noted in his report that after Gabriel fell to the ground, "many students step over, point, mock, nudge [and] kick" him.
Cornelia Reynolds, Gabriel's mother, declined an interview Friday and referred questions to her attorneys.
According to her attorneys, Reynolds didn't learn of the bullying until the attorneys received a copy of a police investigative file that contained an email from a homicide detective to school officials describing the surveillance video.
The district said administrators asked Reynolds to pick Gabriel up from school and take him to a hospital. The attorneys dispute that. They said Reynolds decided herself to pick him up from school and that she didn't take him to the hospital until her sister, who was babysitting while Reynolds was at work, called to say Gabriel had vomited and was complaining of stomach pains.
School officials have not said what has happened to the student who pushed Gabriel down.
Thanks for reading CBS NEWS.
Create your free account or log in
for more features.