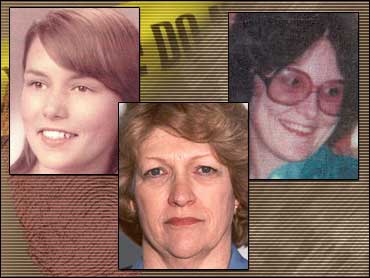 Ohio Horror: 1 Man, 3 Dead Wives
On a Sunday morning nearly 24 years ago, Lois Willis drove to her daughter's house to help with a cousin's bridal shower. The door was locked, so she left a note and went for breakfast.
An hour later, she returned to find the door ajar, her note on the ground, a stereo playing and no one in sight.
Willis walked through the house calling for her daughter, Lori. She couldn't bring herself to look in the basement.
"The first wife had been murdered there," she said. It was also where an in-law would later find Lori's body.
Last week, Lori's widower, Gerald "Bobby" Hand, 54, was convicted of murder in the deaths of his fourth wife, Jill, and a friend. Though he was charged only in the two Jan. 15, 2002, slayings, prosecutors suspect Hand of having also been involved in the deaths of Lori and his first wife, Donna.
Prosecutors said he was mired in debt and eager to collect on insurance. Hand's defense attorneys said the state lacks evidence to link him to their killings.
During the trial, Hand testified that he heard Jill cry out, saw a figure in the hall and grabbed two .38-caliber revolvers - firing as he rushed from his bedroom. The "intruder" turned out to be longtime friend Walter "Lonnie" Welch.
Hand acknowledged shooting Welch but denied any involvement in the deaths of his wives.
"I did kill Lonnie Welch after he was shooting my wife," Hand testified. "I can't explain why. I feel like I'd do it again if I could."
Prosecutors contended that Hand, owing more than $200,000 on 33 credit cards, shot Jill to collect about $700,000 in life insurance. They say he lured Welch to the house and shot him to keep him from telling people how the two men had successfully plotted to kill Hand's first two wives.
Hand "could eliminate a man who knew too much about the defendant's murderous past," prosecutor David Gormley told jurors.
Hand's first wife was Donna Anderson, whom he met in the late 1960s.
"He had a Corvette, she was kind of smitten with that," said her brother, Steven Anderson.
The couple married in 1968. But around Thanksgiving 1975, Donna wrote her sister Connie, saying she was concerned for her safety and wanted a divorce.
In March 1976, Hand told police he returned from the YMCA one night to find Donna's body in the basement, a plastic dry cleaner's bag over her head and spark plug wire around her neck.
Detectives said she had hung herself, and insurance companies and the state agreed. Hand received $17,386 in life insurance and $50,000 from the state's Victims of Crime Compensation Fund.
Meanwhile, Lori Willis married Hand in 1977. Welch, an on-and-off employee at Hand's radiator shop, was the best man at their wedding.
"She was unhappy and she wanted out of the marriage," said Terri Sizemore, a friend of Lori's.
When Lois Willis couldn't find Lori that Sunday morning in 1979, Hand's mother came over with another son, Samuel, who made the grisly discovery. Police say Lori had been strangled with a plastic dry cleaner's bag and shot twice in the head.
A police detective recalled Hand didn't show much emotion.
"He wasn't crying," Sam Womeldorf said.
Hand collected $81,598 from insurance but was denied a crime-victim claim. It is unclear why. Ten years later, Hand married wife No. 3, Glenna Castle, who left him.
Right around the time of Lori's death, Jill Randolph moved with her husband, Gary, from Clarksburg, W.Va., and raised three daughters. After Gary Randolph died of cancer in 1989, the widow met Hand at a dance. He courted her lavishly, but friends were worried.
"I said, 'Jill, you can do so much better than this,"' said Sandy Moore, 57. "She said, 'But Sandy, I can't help it, I love him."'
In October 1992, Hand married Jill on her lunch break from the state Bureau of Motor Vehicles.
She was happy at first but seemed to grow sadder, co-workers said. Hand sold his business and was working as a security guard. By early 2002, Jill wanted a divorce.
"I said, 'I know you're going to leave and divorce him,"' Moore said. "And she said, 'I have to."' Jill was dead within a month.
Welch's relatives say he was haunted by the deaths of Hand's first two wives.
A cousin, Pete Adams, testified that in September 1979, "He started crying, and he said, 'I killed Lori and I killed Donna Hand.' He said he did it for Bob."
Another cousin said Welch told him he had sneaked into the house through a basement window and killed both women.
Hand's attorneys say those relatives are repeating media accounts. Attorney Terry Sherman says evidence shows no signs of entry through a basement window, and describes Welch as a cocaine addict prone to irrational acts.
Hand's family declined to comment. Rob Hand, Gerald and Lori's son, has previously said he believes his father is innocent.
At the arraignment last summer, Jill Hand's friend, Sandy Moore, hugged Hand's only surviving ex-wife, Glenna Castle. Moore says she told Castle: "I'm so glad you're alive" and Castle told her: "I only am, because I got out with the clothes on my back and I hid."
By Andrew Welsh-Huggins
Thanks for reading CBS NEWS.
Create your free account or log in
for more features.