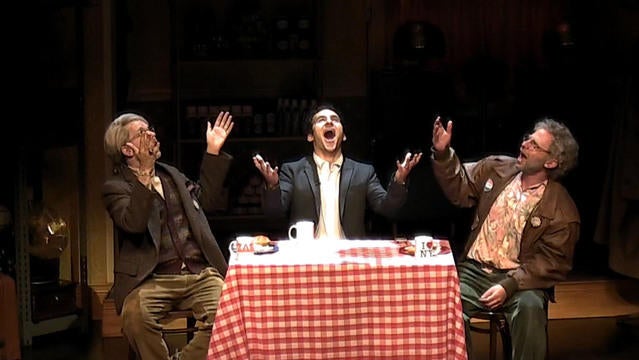 How Nick Kroll, John Mulaney turned an inside joke into a Broadway hit
After a national tour, two of the hottest voices in comedy, Nick Kroll and John Mulaney, are bringing their alter egos to Broadway. The show, "Oh, Hello" is one of the most sought-after tickets on Broadway. And the camaraderie between characters Gil Faizon and George St. Geeland on screen and now onstage applies to their creators in real life as well, reports CBS News contributor Jamie Wax.
"One of the things people really like about the show is that they really do genuinely feel like friends," Kroll said. "And John has paid me a ton of money to say that we are indeed friends."
"In real life. I think it helps the marketing of this show. And I'm willing to pay him a small amount of money to keep that alive. We don't speak though, obviously," Mulaney added.
"Did you see anything of yourselves in these two men?" Wax asked.
"At first it was, like, a character. But as we've grown into them, I think we've really grown into them. Someone made the observation that they really get to the heart of who we are as people – and that Nick is a baby and I'm an ass****," Mulaney said, laughing.
Their play, which grew from early live sketches that became popular videos, tells the story of two older men who are roommates on New York's Upper West Side. One is an actor and the other a writer. Both are very opinionated and painfully out of touch.
"How did 'Oh, Hello' begin?" Wax asked.
The duo says they got the idea for "Oh Hello" while walking through the Strand, a bookstore in New York. There they saw two guys buying hardcover copies of Alan Alda's autobiography, "Never Have Your Dog Stuffed."
"And we sort of watched them, fascinated," Kroll said. "They leave the bookstore. We followed them to a diner. And they both sit there at a diner reading their individual copies, like, because these guys share a Murphy bed, but they would not share their Alan Alda autobiography."
That was about 10 years ago. Since then, Gil and George have become fan favorites on Comedy Central's sketch series, "Kroll Show," where the duo's fake prank show parody "Too Much Tuna" was born.
"It's an international passport for these characters. Everyone gets why it's funny," Mulaney said.
"It's very wet. It's the wettest of all sandwiches," Kroll said.
"It's a mess. It's never – you've never seen a tuna sandwich and gone, 'Oh, that's well made,'" Mulaney said.
"Yeah, and you smell it and you're like, 'Oh, boy.' But then you're also like,'Yeah, I'll eat it,'" Kroll said.
"I want that," Mulaney added, laughing.
Want it or not, each night, a special celebrity guest – anyone from Bobby Cannavale to Fred Savage – gets pranked with an oversize tuna sandwich.

"I think the most fun for us was Marcia Clark," Kroll said.
Clark was the head prosecutor in the O.J. Simpson murder case.
"We had Bill Hader on the show, and then we bumped him up for Marcia Clark," Mulaney said. "Who was so fun."
Also fun is watching them revel in their own enjoyment while taking aim at each other on stage.
"You guys, when you see this show, it appears the two of you are throwing surprises at each other. Is that part of what's happening up there?" Wax asked.
"Yes," Mulaney agreed. "We're doing this show every night. And we're so undisciplined. We have to mess with each other."
"We improvise within the show. And then just about every night, John will throw a joke at me that I've never heard before, a new description. And it makes me laugh," Kroll said.
Mulaney has been making Kroll laugh from the day they met in college.
"We both went to Georgetown and I was the director of the improv group. And John auditioned. And he was immediately the funniest, the funniest audition," Kroll said.
"Thank you, I've always wondered what you thought of me," Mulaney joked.
Since then, each of them have had their own TV shows and comedy specials. But they say very little compares to performing these characters together on Broadway.
"Almost nothing brings me as much joy – as the idea that – that the thing that we always thought was the funniest, most fun thing to do has continued to grow," Kroll said.
"It's not lost on us how much we do not deserve to be on Broadway. We truly are honored to be here," Mulaney said.
"Do you see the future – continuing to do these characters until maybe you don't need the age makeup anymore?" Wax asked.
"Well, that is the goal, is to keep doing these guys until it's just like, 'No more makeup.' We just get to just physically just show up on set," Kroll said.
"I'd like to keep doing 'em until I don't get what's funny about it," Mulaney said. 'Why are people laughing that I exercise by lifting cans of lentil soup. That's not funny. That's regular."
Thanks for reading CBS NEWS.
Create your free account or log in
for more features.