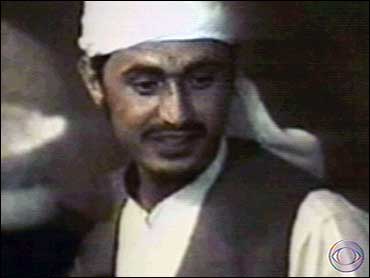 Official: Al-Zarqawi Caught, Freed
Iraqi security forces caught terror leader Abu Musab al-Zarqawi in the Fallujah area last year but released him because they didn't realize who he was, the deputy interior minister said in an interview broadcast Friday.
The deputy minister, Maj. Gen. Hussein Kamal, told the Lebanese Broadcasting Corp., that Iraqi police "suspected this man" and detained him "along with other members" of his group.
"Afterward, he was released because we did not know the identity of this criminal," Kamal told LBC. The station said the remarks were made Wednesday but were aired Friday.
"He was not armed," Kamal said. "He was like any other citizen who was suspected. There was a simple interrogation with him and he was released."
Kamal said the incident occurred "about a year ago, approximately." U.S. forces overran Fallujah in November 2004, ending domination of the city by insurgents and Islamic extremists, including al-Zarqawi's al Qaeda in Iraq group.
Thousands of people were rounded up after the city fell. Most were interrogated and released.
CNN broadcast a similar report late Thursday, but it could not be confirmed. But a U.S. official said in Washington that American intelligence believed it was plausible. The official spoke on condition of anonymity in compliance with office policy.
There have been several reports of missed opportunities to capture al-Zarqawi, including an April 28 raid by U.S. forces acting on a tip from local informants that militants reportedly including the terror leader were hiding in a hospital in Ramadi.
Al Qaeda in Iraq and Iraqi officials also denied reports last month that al-Zarqawi was among those killed in a raid and gunfight in the northern city of Mosul.
Al-Zarqawi, who has claimed responsibility for several attacks in Iraq along with the kidnappings and beheadings of foreigners, has a $25 million bounty on his head.
He also drew criticism in his home country of Jordan after his insurgent group claimed responsibility for the deadly Nov. 9 attacks on hotels in Amman.
Jordan sentenced al-Zarqawi to death in absentia for planning a terror plot that led to the 2002 killing of U.S. aid worker Laurence Foley. He has claimed responsibility for several other plots in Jordan, including a foiled April 2004 chemical attack.
Thanks for reading CBS NEWS.
Create your free account or log in
for more features.