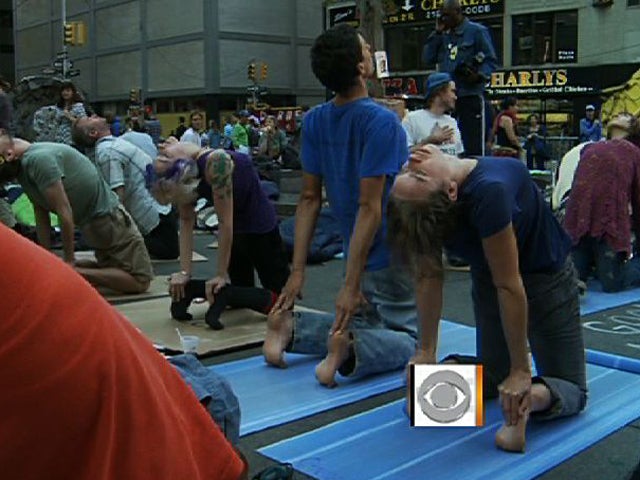 Occupy Wall Street "isn't your average protest"
The "Occupy Wall Street" protests that started in New York are now in their fourth week. Hundreds of protesters -- some of whom have been camped out for weeks -- say they have no plans to leave the site in New York's Financial District.
The protest has spread to at least two dozen cities around the country, and protesters say they're in it for the long haul.
More than 50 arrests in Boston "Occupy" protests
But this isn't your average protest, CBS News correspondent Bigad Shaban observed on "The Early Show" after getting an inside look at the protesters' camp in lower Manhattan.
Reporting from Zuccotti Park, Shaban shared a look at the makeshift village set up by the demonstrators. Yoga classes are taught in "off" hours. A makeshift library has at least 1,500 books. The camp even has a medical tent, and its own newspaper, called The Occupy Wall Street Journal.
Shaban noted that what began as a protest has morphed into a self-operating mini-community, with a complimentary breakfast buffet of fresh fruits and bagels.
Amy Hamburger, 29, of Queens Village, N.Y., manages the meals. She's an out-of-work teacher's aide who has been at the protest from the start -- 25 days and counting -- with food donations from around the world. She says they've received pizzas from Mexico and Alaska, gifts from Scotland, and "all kinds of stuff."
The 1960s feel of music and dance brought her in, but it's the deep frustration over the economy, she says, that's kept her there.
Hamburger said, "It's time to get together and re-evaluate, not necessarily do away with the system, but figure out where we went wrong and figure out how we're going to do it right now."
In the process, many protesters have been split into groups to help run the site, from running a live web feed to recycling and trash pick-up.
James Jordan, 26, is nearly a year into his search for a full-time job. He works overnight shifts at a hotel, but now spends his days at the protest.
"It's not easy, it's not easy," Jordan told CBS News. "I mean, I got a college degree, I'm thousands of dollars in debt, tens of thousands of dollars in debt."
He and others are ready for a change. Hamburger says she'll be there to make sure they get the food they need to see it through.
Hamburger said, "Right now, this is my life, and it's going to be my life until it's not anymore."
Still, Shaban added, organizers admit their movement is without long-term direction, making the day-to-day operation of its headquarters perhaps more organized than the protest itself.
New York City Mayor Michael Bloomberg said Tuesday he'd allow the Wall Street protesters to stay indefinitely, as long as they obey the law.
Thanks for reading CBS NEWS.
Create your free account or log in
for more features.