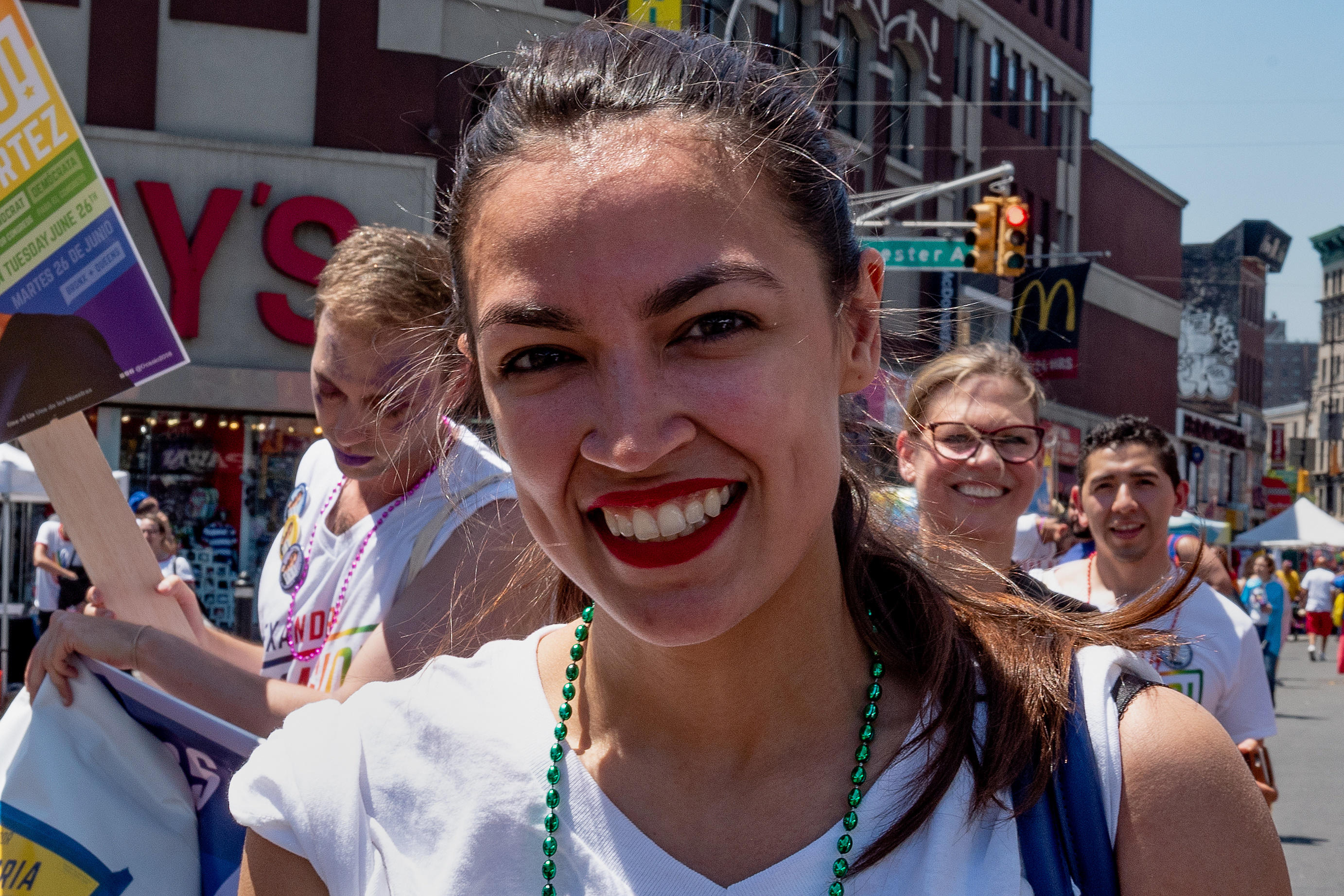 Ocasio-Cortez fires back at conservative TV host who shared photo of her childhood home
Right-wing TV host John Cardillo's tweeted take-down of New York congressional candidate Alexandria Ocasio-Cortez had at least one error. The right-wing host of "America Talks Live" on NewsmaxTV posted a photo of Ocasio-Cortez's childhood home, and observed that it's "a far cry from the Bronx hood upbringing she's selling."
In describing the small one-story ranch home, he tweeted, "This is the Yorktown Heights (very nice area) home @Ocasio2018 grew up in before going off to Ivy League Brown University.
"A far cry from the Bronx hood upbringing she's selling."
While the picture of the Yorktown Heights home is indeed the one Ocasio-Cortez grew up in, Cardillo incorrectly stated that she went to Brown University. But Ocasio-Cortez attended and graduated from Boston University -- which is not an Ivy League school -- in 2011. The nominee responded in a tweet with two points: "1. I didn't go to Brown or the Ivy League. I went to BU. Try Google." And "2. It is nice. Growing up, it was a good town for working people. My mom scrubbed toilets so I could live here & I grew up seeing how the zip code one is born in determines much of their opportunity."
The 28-year-old Democratic socialist made headlines last week after defeating incumbent Rep. Joseph Crowley, D-New York, in the primary election for New York's 14th Congressional District, which encompasses the Bronx and Queens.
Ocasio-Cortez also elaborated on her time growing up in the home by saying that it was a good area for working class people and that her mother cleaned toilets to be able to afford living there. She ended the conversation with one more tweet, eviscerating Cardillo for questioning her authenticity. "Your attempt to strip me of my family, my story, my home, and my identity is exemplary of how scared you are of the power of all four of those things," she tweeted.
Soon afterward, Cardillo admitted flubbing Ocasio-Cortez's alma mater but added, "that said, you're not a girl from the Bronx."
He then extended her an invitation to come on to his show for a "respectful debate," writing on Twitter that "anyone who knows me or has watched or listened to me on air knows I'm fair."
Ocasio-Cortez's campaign website says that she was "born in the Bronx to two working-class parents" but because of the state of Bronx public schools she ended up going to school 40 minutes away, in Yorktown.
"It was clear to her, even then, that the zip code a child was born in determined much of their destiny," the website reads. "The 40 minute drive represented a vastly different quality of available schooling, economic opportunity, and health outcomes."
Cardillo is still tweeting about Ocasio-Cortez a day later. On Monday, he posted a tweet with pictures of lavish homes he says are also in Yorktown Heights. "Sure, her house was small, but to claim it's not an affluent area is dishonest," he tweeted. "To claim it's similar to the Bronx is ridiculous."
Ocasio-Cortez's brother's description differs from photos of the houses tweeted by Cardillo: "I owned & sold that home. It's less than 1,000 sq.ft... 3 small bedrooms & 1 bathroom for 5 people. (5 w/o family). Terrible winter drafts, leaky roof, etc. I watched my parents skip dinner so we could eat. Don't even try it."
This latest bout of Twitter drama has also drummed up a lot of attention, and it has even spawned a new meme format where users riff on Cardillo's original tweet.
Thanks for reading CBS NEWS.
Create your free account or log in
for more features.