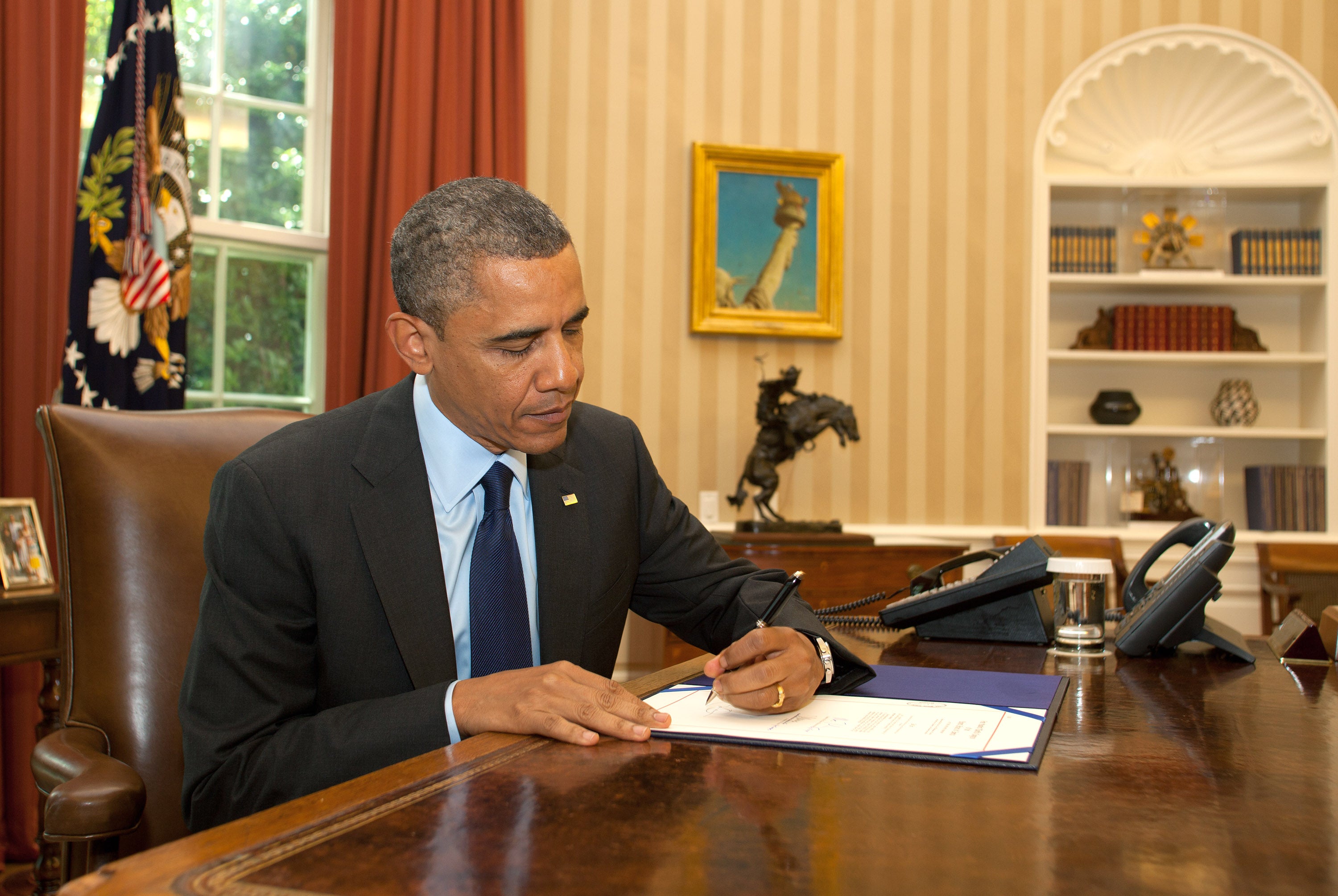 Obama's first term: By the numbers
As President Obama's first term nears an end, the numbers reflect a chief executive who cast few vetoes, was tightfisted with pardons, granted hundreds of interviews, spent over a year on the road and is an avid golfer.
Other numbers show that the economy recovered from its recession on his watch but annual federal deficits topped a trillion dollars four years running, the National Debt soared. Unemployment had its ups and downs as did the stock market and economic growth markers during the course of an upward trend.
By no means do these numbers tell the whole story of a four-year term in office, but they serve as snapshots and provide on-the-fly insight into the priorities, problems, policies and pastimes of a presidency.
Economic indicators

National unemployment rate - Jan. 2009: 7.8 percent; Jan. 2013 (Dec. 12, 2012): 7.8 percent (Hit high of 10 percent in Oct. 2009, then slow decline over 35 months back to 7.8 percent)
National debt - Jan. 2009: $10.616 trillion; Jan. 2013: $16.432 trillion (At $5.8 trillion, it's the largest increase in the national debt under one president. Mr. Obama says $1.3 trillion was waiting for him on the day he took office. The debt equals 104 percent of GDP)
Gross Domestic Product - Jan. 2009: $13,939 trillion; Jan. 2013 (Q3 2012): $15,811 trillion (current dollar) (Quarter-to-quarter economic growth went negative in 2009 but returned to the positive side by the end of the year and then recorded lackluster quarterly hikes between 2 percent and 3 percent)

Dow Jones Industrial Average - Jan. 2009: 8,077; Jan. 2013 (1/18/2013): 13,616 (It's a 58 percent increase on Mr. Obama's watch)
Other numbers from the Obama presidency

Bills signed into law: 654 (90 of which named U.S. Post Offices)
Bills signed into law by Autopen: 3
Cabinet meetings: 19
Commencement speeches: 15
Visits to Camp David: 29 (spanning all or part of 72 days)
Foreign trips: 25
Nations visited: 35 (several more than once)

Golf outings: 113 (Most frequent venue: 52 rounds at Joint Base Andrews)
Media interviews: 591 (The major TV networks got 104 interviews)
News conferences: 21 formal, solo, full-length White House news conferences (Mr. Obama had 108 press availabilities of all varieties including 57 joint sessions with foreign leaders)
Meetings with foreign leaders: 131 (multiple meetings with many of them over 4 years)
State dinners at the White House: 6 (India, Mexico, China, Germany, South Korea, Great Britain)
Addresses to the nation: 8
Addresses to Joint Sessions of Congress: 6
Flights on Air Force One: 836
Flights on Marine One: 801
Evening outings (dinner, theater, shows): 57
Days with no public or press appearances: 93

Presidential pardons: 22 - This is the fewest of any president to date since James Garfield in 1881 who served only 200 days until his death. Asked why the president has granted so few so far, a spokesman said Mr. Obama "takes his Constitutional power to grant clemency very seriously and each recommendation received from the Department of Justice is carefully reviewed and evaluated on the merits."

Most recent numbers from the Office of the Pardon Attorney at the Justice Department show 1,306 petitions for pardons were received during his term, 1,019 have been denied. 392 were closed without presidential action. The 22 pardons granted does not include the 2 pardons each year for the National Thanksgiving Turkey and alternate
Number of speeches, remarks and comments: 1,852
Number of speeches delivered with Teleprompter: 699
Number of speeches in which he referred to Slurpees®: 35 (During the 2010 midterm election campaign, Mr. Obama often portrayed Republicans as "sippin' Slurpees®" while Democrats struggled to pull the U.S. economy out of a ditch.
Number of domestic trips as president: 245 (spanning 417 days; this does not include local outings in the DC area)
Number of states visited to date: 44
States not yet visited: 6 (Arkansas, Idaho, North Dakota, South Carolina, South Dakota, Utah)
Town hall meetings: 58
Vacations: 13 (spanning all or part of 83 days)
Vetoes: 2 (December 30, 2009: H.J. Res. 64 - a continuing resolution passed by Congress in case the Defense Appropriations bill wasn't enacted in time. But it was, so H.J. Res. 64 wasn't needed and Mr. Obama declined to sign it; October 7, 2010: Pocket vetoes H.R. 3808, the Interstate Recognition of Notarizations Act of 2010)
Thanks for reading CBS NEWS.
Create your free account or log in
for more features.