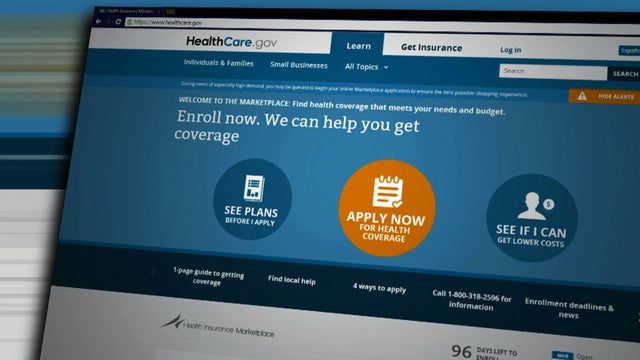 Obamacare working? Uninsured rate lowest in years, poll finds
In what may be a sign that the central aim of the Affordable Care Act is working, a new Gallup survey finds that the percentage of Americans without health insurance is on track to reach its lowest quarterly rate since 2008.
The uninsured rate has fallen to 15.9 percent, Gallup reports, after conducting 28,000 interviews with Americans from Jan. 2-Feb. 28. By comparison, the uninsured rate in the fourth quarter of 2013 was 17.1 percent. If accurate, that translates to a difference of about 2.5 million adult Americans. The survey's margin of error was one percent.
The survey shows that the uninsured rate has dropped for almost every major demographic group so far this year. The rate has fallen the most -- 2.8 percent, to 27.9 percent -- among uninsured Americans with an annual household income of less than $36,000 a year. Hispanics remain the subgroup most likely to be uninsured, at the rate of 37.9 percent.
The slight decline in the uninsured rate corresponds with the new Obamacare requirement, which went into effect on Jan. 1, that all Americans obtain health coverage. The state-based Obamacare marketplaces also opened in January, giving people on the individual market a place to shop for insurance.
President Obama late last month said that about 4 million people have signed up for coverage through the Obamacare marketplaces. The last official administration report said that about 3.3 million people had signed up as of the end of January. Open enrollment on the new marketplaces closes at the end of this month.
The Gallup survey also showed that the percentage of Americans getting insurance through an employer has fallen nearly two points this year to 43.4 percent, while slightly more Americans have insurance they pay for themselves or that a family member pays for. Medicaid coverage is also up slightly, corresponding with the Obamacare expansion of Medicaid in some states.
While the most significant pieces of Obamacare are now in effect, there are other policy changes on the horizon that could further impact the nation's uninsured rate. For instance, starting in 2015, businesses with more than 50 workers will be required to provide health care coverage or pay fines of $2,000 per employee. Additionally, the administration announced last week that it will let insurers renew existing plans that aren't Obamacare-compliant for another few years.
Thanks for reading CBS NEWS.
Create your free account or log in
for more features.