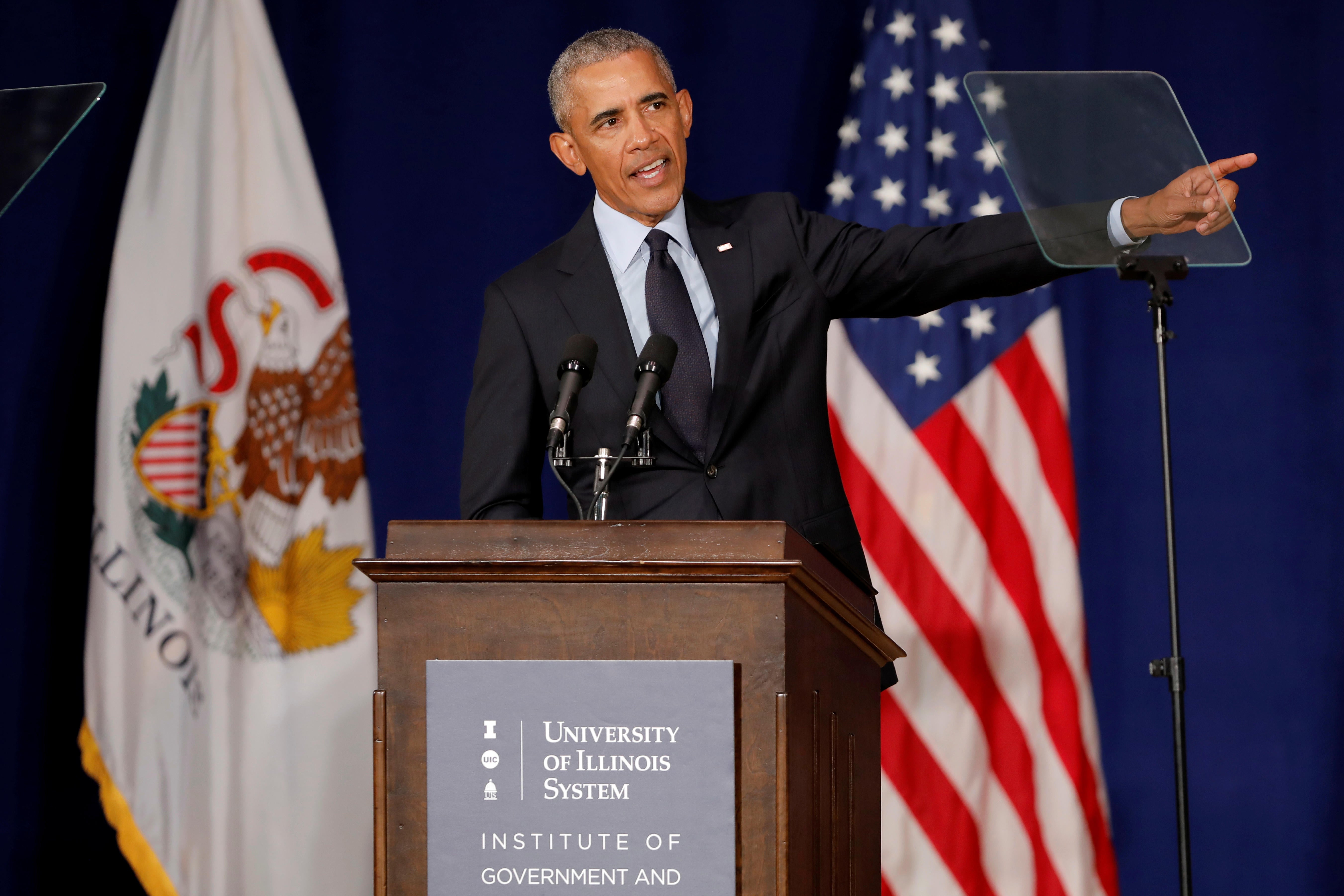 Obama speaks at rally for Democratic congressional candidates in California
Former President Barack Obama spoke at a rally in Anaheim, California, on Saturday afternoon to support seven Democratic congressional candidates running for office in districts that Hillary Clinton won in 2016.
The rally, Obama's first appearance on behalf of specific candidates, came a day after the former president spoke at University of Illinois at Urbana-Champlain. In that speech, Obama criticized President Trump and the Republican members of Congress in the most explicit terms since leaving office eighteen months ago.
"As a fellow citizen, not as an ex-president but as a citizen, I'm here to deliver simple message and that is that you need to vote because our democracy depends on it," Obama said on Friday. He also said that Mr. Trump was a "symptom, not the cause" of divisions in American society.
The rally on Saturday was more focused on the specific candidates he was supporting.
"Today what I really want to do is highlight the extraordinary collection of candidates who have decided to step up and bring out the best in our country," Obama said.
Obama criticized politicians who "scapegoat" people, leading citizens to get demoralized and stop participating in politics. "When people don't participate, that vacuum is filled with lobbyists and special interests," he said. He then listed issues that he and Democrats will fight for, such as gender equality, better education services and better treatment for veterans.
"This is a government for everybody, it's not for sale, that's what we believe in," Obama said, to loud cheers. He then praised the candidates he was in California to support. "They stepped up, they're fired up, they're ready to go," Obama said, repeating a campaign slogan from his 2008 campaign.
Obama's appearance in Anaheim benefited Democrats running in the traditionally Republican Orange County. He spoke individually about each candidate -- Josh Harder, TJ Cox, Katie Hill, Gil Cisneros, Katie Porter, Harley Rouda and Mike Levin.
Obama made the case that the midterm elections were a chance to "restore sanity" by flipping the House of Representatives to Democratic control.
"All across the country, you can feel the energy. 'We're going to kick off our bedroom slippers and put on our marching shoes,'" he said about people who were politically engaged for the first time. The main theme of this speech, as with the previous one, was to encourage voters who may not have participated in 2016 to be active in 2018.
"Are you ready to get to work?" Obama asked the audience three times at the end of his speech, to enthusiastic cheers of "yes."
The rally was organized by the Democratic Congressional Campaign Committee.
Thanks for reading CBS NEWS.
Create your free account or log in
for more features.