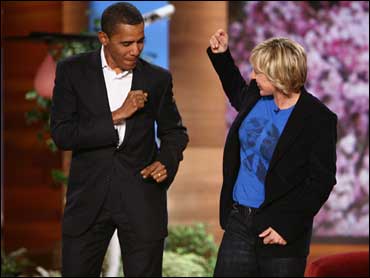 Obama Shows Off Dance Moves On "Ellen"
Sen. Barack Obama made his first appearance on "The Ellen DeGeneres Show" on Monday. Obama showed off his dance moves, as is customary for guests on the show.
"You're the best dancer so far of the presidential candidates," DeGeneres told Obama.
"It's a low mark," Obama replied. "But I'm pretty sure I've got better moves than Giuliani."
Obama also took a few shots at a speed bag on the set to raise funds for the Susan G. Komen Foundation For The Cure. The presidential hopeful raised $800 in the fight against breast cancer by giving the bag a strong enough punch to make it swing back and forth 8 times.
Apparently, he hit the bag so hard that his watch went flying, but he quickly retrieved it.
DeGeneres asked if Obama was surprised to learn he was related to Vice President Dick Cheney.
---

Photos: Ellen DeGeneres

---
"You know we kept it hidden. He's the black sheep in the family," he said.

DeGeneres, who is openly gay, also asked Obama about his policy on gay marriage.

"You know what I would do is immediately set up a civil union that is equal in federal rights so that all the states, all the rights that are conferred by the states are the same for gays and lesbians, same sex couples as for any other couple," he said. "In terms of marriage, what I would do is I would say each religious denomination can make their own decision."
Thanks for reading CBS NEWS.
Create your free account or log in
for more features.