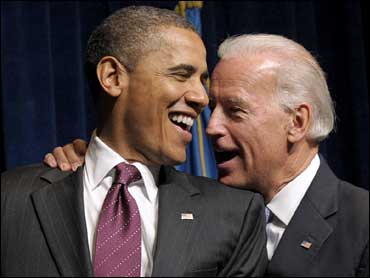 Obama seeks to bring in big bucks for 2012 campaign
What Barack Obama did better than any other presidential candidate in U.S. history was raise money. No one can deny it played a key role in his 2008 victory.
Final numbers on file at the Federal Election Commission show the Obama campaign took in over $778 million. That's over three-quarters of a billion dollars and more than double the amount taken in by Republican rival John McCain: nearly $384 million.
Today, as he launches his bid for re-election, incumbent Obama again has his eye on the prize and knows the prize costs big bucks.
In his early morning email to supporters, President Obama told them they need to "begin mobilizing for 2012." By "mobilizing" he means raising money.
In fact, at the top right-hand corner of the homepage of the Obama campaign re-election website, visitors are encouraged to click on the words "Donate Now."
It then displays a page inviting you to make an individual contribution of up to $5,000, the legal maximum for the 2012 campaign. Half that sum would be assigned to the primary campaign and half to the general election. The FEC treats them as separate elections.
Another page on the website notifies supporters of three Obama Victory Fund fundraising events already on the calendar for later this month:
April 14 in his hometown of Chicago: Top ticket $250.
April 20 in San Francisco: Top ticket $2,500.
April 21 in Los Angeles: Top ticket $2,500.
The Obama campaign is also ready to sell merchandise. A $30 contribution gets you an "official" and "limited-edition" Obama-Biden re-election campaign t-shirt. All major credit cards accepted.
Being president cuts into a candidate's fundraising time, but it also facilitates travel. As chief executive, Mr. Obama is entitled to use Air Force One for political trips, though his campaign must reimburse the government for a relatively small portion of the $100,000-per-hour operating costs of flying aboard the 747-version of Air Force One.
Obama faces two opponents as he launches re-election bid
Obama launches 2012 campaign with web video
GOP attacks as Obama announces re-election bid
For two-years, CBS News has been trying to get the White House to disclose the costs of political travel by the president and the amount the government is reimbursed by the candidates and political committees for whom he was raising money. For two years, the White House has declined to disclose the data.
The Clinton and Bush-43 White Houses had also declined to make those disclosures, but they did not bill themselves as bringing new standards of open and transparent government to the White House.
During his first two years as president, Mr. Obama did 97 political fundraising events for various Democratic candidates and committees, generating at least $95.9 million dollars.
That was more fundraising events in his first two years than his immediate predecessor George W. Bush, who did 74. But Mr. Bush raised more money in fewer events: $193 million.
Some analysts estimate that Mr. Obama could set an all-time fundraising record of a billion dollars for his 2012 campaign.
Below, CBS News chief White House correspondent Chip Reid and senior politics producer Rob Hendin discuss how Obama will try to keep the campaign and White House separate:
Thanks for reading CBS NEWS.
Create your free account or log in
for more features.