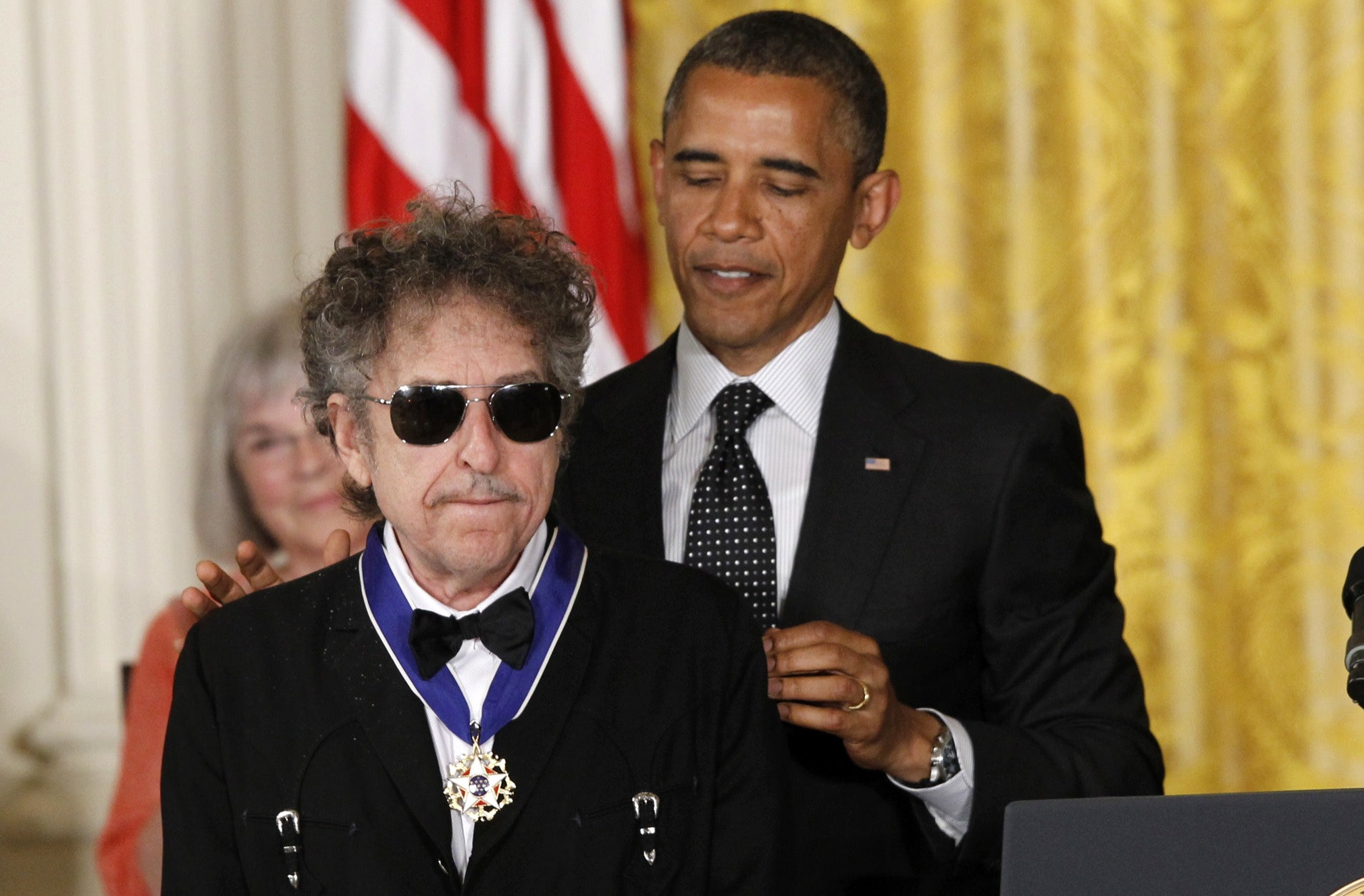 Obama honors Bob Dylan, Toni Morrison, Madeleine Albright and more at Medal of Freedom ceremony
Updated: 5:14 p.m. ET

(CBS News) In a ceremony honoring 2012 recipients of the Medal of Freedom, President Obama on Tuesday said he was "extremely grateful" to be able to personally thank the honorees "for the great work they have done" in America and worldwide.
In remarks at the White House, the president celebrated each honoree for "the incredible impact they have had on so many people, not in short, blinding bursts, but steadily over the course of a lifetime."
"What's wonderful about these events for me is so many of these people are my heroes individually," Mr. Obama told the honorees before the presentation of medals. "I know how they impacted my life."
Among this year's Medal of Freedom recipients were: folk singer Bob Dylan; Nobel Prize-winning novelist Toni Morrison; former Secretary of State Madeleine Albright; public servant John Doar, who led efforts in the 1960s to protect and enforce civil rights; physician and epidemiologist William Foege, who helped lead the successful campaign to eradicate smallpox; astronaut and former Senator John Glenn; Gordon Hirabayashi, who openly defied the forced relocation and internment of Japanese Americans during World War II; Dolores Huerta, co-founder of the National Farmworkers Association; Jan Karski, an officer in the Polish Underground during World War II; Girl Scouts founder Juliette Gordon Low; Israeli President Shimon Peres; former Supreme Court Justice John Paul Stevens, and University of Tennessee women's basketball coach Pat Summitt.
Citing the work of Morrison, Mr. Obama spoke of how the recipients onstage had informed his intellectual development and world vision. He also declared himself a "really big fan" of Dylan, who accepted his medal, stony-faced, in dark sunglasses.
"I remember reading 'Song of Solomon' when I was a kid, and not just trying to figure out how to write, but also how to be and how to think," the president said of Morrison's book. "And I remember, you know, in college listening to Bob Dylan, and my world opening up, because he captured something about this country that was so vital."
"Everybody on this stage has marked my life in profound ways," Mr. Obama continued. "Somebody like Pat Summitt, you know, when I think about my two daughters, who are tall and gifted, and knowing that because of folks like Coach Summitt, they're standing up straight and diving after loose balls and feeling confident and strong, then I understand that the impact that these people have had extends beyond to me. It will continue for generations to come."
The Medal of Freedom is America's highest civilian honor, which the president remarked was reflected in how many people showed up for the awards ceremony.
"I have to say, just looking around the room, this is a packed house, which is a testament to how cool this group is," he quipped. "Everybody wanted to check 'em out."
Thanks for reading CBS NEWS.
Create your free account or log in
for more features.