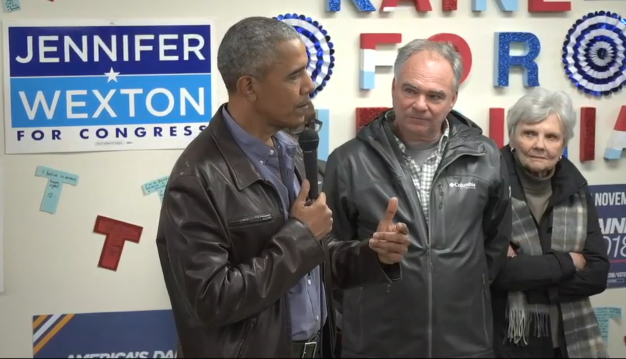 Obama: "The character of this country is on the ballot"
Former President Obama came bearing donuts at an appearance in Fairfax, Virginia with Virginia Democrats Sen. Tim Kaine and State Senator Jennifer Wexton Monday. Kaine is running for re-election to the Senate, and Wexton is challenging incumbent Rep. Barbara Comstock in Virginia's 10th Congressional District.
The president surprised campaign volunteers in Fairfax, Virginia with an appearance and a box of donuts. He called Wexton "part of this remarkable wave of candidates running across the country," and quipped, "Lord knows we need more women in charge."
Obama reminded the campaign workers that he, like Wexton, had also been a state senator, which he called "great training" for Congress.
"You remind me of me when I was your age," Obama told the young campaign workers, and he recalled that he had been "kind of a goof-off until my junior year," when he recognized that there was more to life. It seemed, he said, "like the people I respect live their lives for some larger purpose."
He said he didn't know at the time what that path would be, but he had to "hitch my wagon to something larger than myself."
Though Obama didn't mention President Trump by name, his riff on what's on the ballot was an argument that the midterms are a referendum on Mr. Trump. "The character of this country is on the ballot," he said. "Who we are, what kind of politics we expect is on the ballot. How we conduct ourselves in public life is on the ballot. How we treat other people is on the ballot."
The former president has been appearing at rallies in recent weeks for gubernatorial, House and Senate Democrats across the country, leading up to Election Day.
CBS News rates the Comstock-Wexton race "lean Democrat" and Kaine's race against GOP challenger Corey Stewart "likely Democrat."Sen.Obama's presidential campaign in 2007.
Thanks for reading CBS NEWS.
Create your free account or log in
for more features.