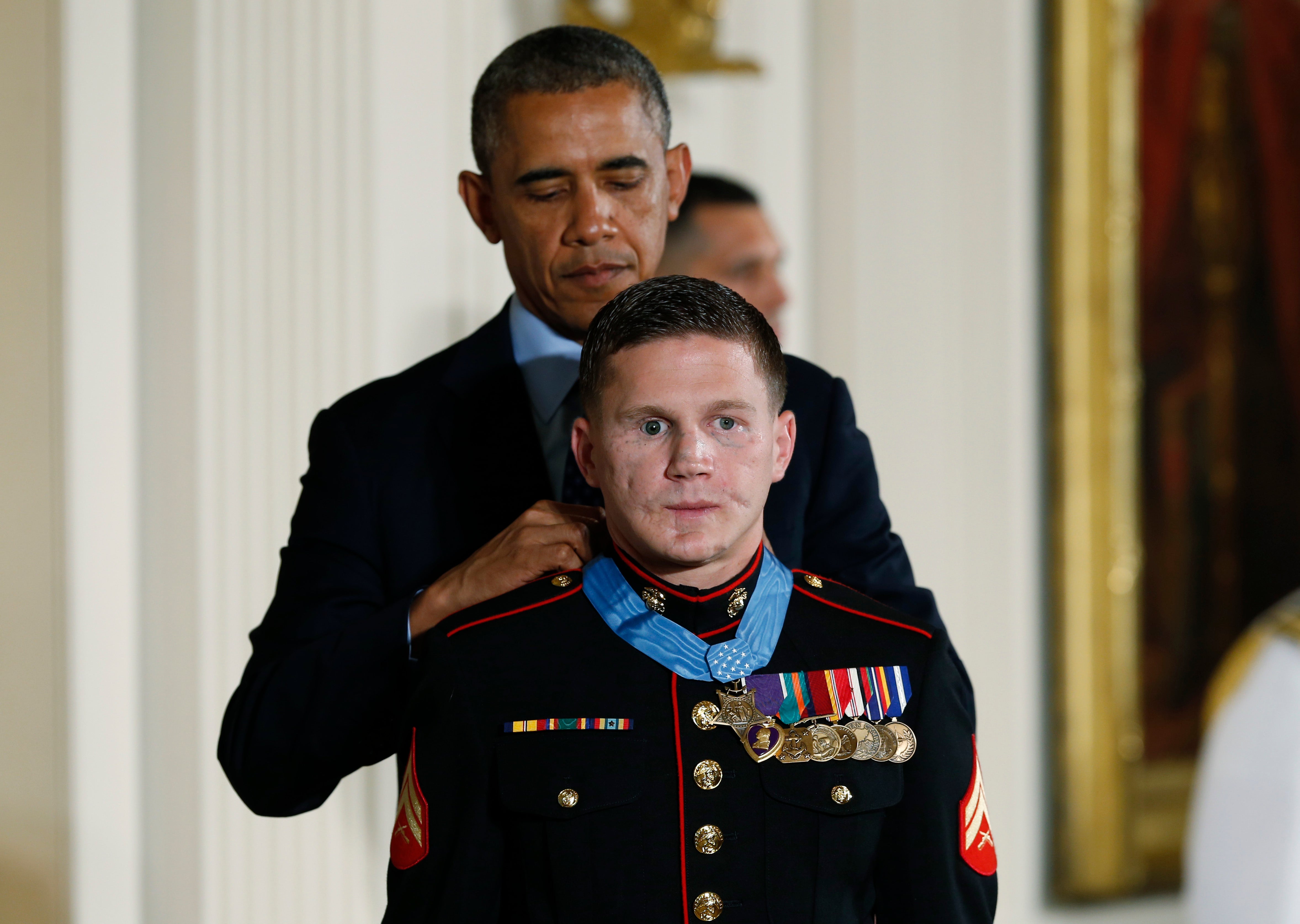 Obama awards Medal of Honor to Marine Kyle Carpenter
Lance Cpl. William "Kyle" Carpenter and Lance Cpl. Nicholas Eufrazio were on a rooftop in Helmand Province in Afghanistan in November 2010 when they were attacked by enemy fighters. A live grenade landed on the roof next to both men, and Carpenter threw himself between the grenade and his fellow Marine.
Eufrazio "received a shrapnel injury to the head from the grenade," while Carpenter's body "absorbed a majority of the resulting explosion," according to the official Marine Corps' account of the incident.
Carpenter sustained an almost unbelievable array of injuries, including a skull fracture and a punctured lung. Doctors at a nearby military hospital pronounced him dead on arrival, sure he wouldn't survive.
But roughly 40 surgeries and almost four years later, Carpenter visited White House on Thursday to receive the Medal of Honor, the nation's highest military honor, from President Obama. The award is given to those whose personal acts of valor and bravery go above and beyond the call of duty. At 24 years old, Carpenter is its youngest living recipient.
"The man you see before you today, Cpl. William "Kyle" Carpenter, should not be alive today," Mr. Obama said at the ceremony.
Describing the killing force of a hand grenade, the president said, "We are here because this man, this United States Marine, faced down that terrible explosive power, that unforgiving force, with his own body, willingly and deliberately, to protect a fellow Marine."
"With that singular act of courage, Kyle, you not only saved your brother in arms, you displayed a heroism in the blink of an eye that will inspire for generations -- valor worthy of our nation's highest military decoration," he added.
Carpenter, now a retired corporal and college student, told CBS News National Security Correspondent David Martin that he never expected to get hit on that day in 2010, though he'd come under fire at that location the day before. (In 2012, Carpenter was also featured in correspondent Chip Reid's report on combat sketch artists. Watch here.)
"All the grenades the day before had actually come inside the compound that they had thrown over the walls," he said. "None had hit the roof or landed on the roof yet."
After the grenade landed, he threw himself at it, and it went off just a moment before he landed on it. "The first thing I remember is just feeling like my entire body, and especially my face just got hit really hard with a 2x4," he recalled. "Like a TV without cable, just like the white and gray static screen -- that's what my vision looked like."
When other Marines arrived on the scene, Carpenter said, "I told them I was not gonna make it, and I kept telling them over and over that I was gonna die."
The doctors at the nearby military medical facility agreed. "I was labeled 'P-E-A,' which is patient expired on arrival," Carpenter recalled. "I guess that's the politically correct way of saying you didn't make it."
In addition to his skull fracture and punctured lung, Carpenter was blinded in his right eye, both of his eardrums were both ruptured, the carotid artery in his neck was punctured, he'd suffered 30 fractures to his right arm, shrapnel in both legs, and he lost most of his lower teeth.
Through a succession of more than three dozen surgeries, Carpenter said the staff at Walter Reed National Military Medical Center did a "phenomenal" job of making him whole again.
"I'm very pleased with how far I've come, and I see my injuries and my scars and all my buddies and everybody that was at Walter Reid with me, you know I see it almost as a form of character," he said. "I'm totally fine knowing that I gave part of myself to a bigger purpose and a bigger cause, to not only serve my country but try to make a better way of life for other people and much less fortunate people."
The president praised Carpenter's medical team, saying their example of excellence should inform the ongoing efforts to reform the troubled Veterans Affairs medical system.
"So many of our wounded warriors from today's wars are alive not just because of remarkable advances in technology, but primarily because of the extraordinary dedication and skill of our military and our VA medical professionals," he said. "So we need to keep doing everything we can in our power to give our wounded warriors and those who treat them the support that they need."
During the attack in 2010, Eufrazio sustained a traumatic brain injury due to shrapnel from the grenade explosion, and his recovery continues.
"He's come a long way," Carpenter said of his fellow soldier. "He's recovering and I'm very proud of him."
Mr. Obama also saluted Eufrazio at the ceremony on Thursday.
"Nick also suffered grievous wounds. As a result of traumatic brain injury, he couldn't speak for more than a year. He also endured multiple surgeries. Today, his recovery continues. He lives at home with his family in Plymouth, Massachusetts, where he is watching this ceremony," the president said. "So, Nick, on behalf of all of us, I want you to know we honor your sacrifice as well. Your perseverance is an inspiration."
Despite the recognition he's received, Carpenter insisted his actions were well within the ordinary scope of a Marine's duty.
"You always hear 'band of brothers,' and that's exactly what we are," he said. "I'll say I'm not surprised and no way patting myself on the back, because I know that if you put a thousand Marines in that situation, they would all do the same exact thing for me."
Thanks for reading CBS NEWS.
Create your free account or log in
for more features.