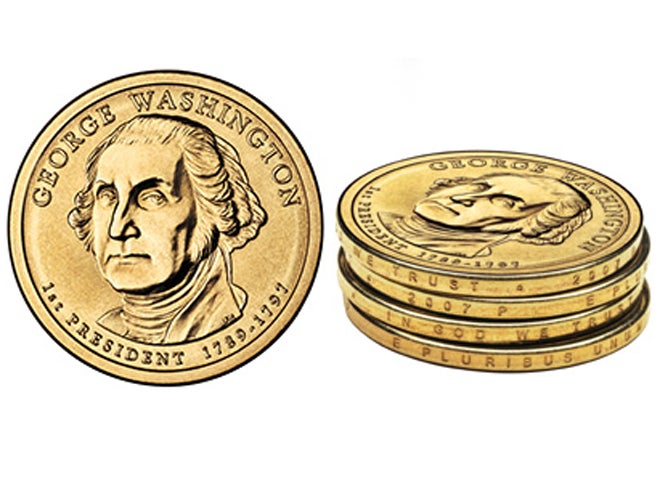 Obama administration halts production of $1 presidential coin
The Obama administration announced today that it's suspending the production of presidential dollar coins as part of its efforts to cut government waste.
Officials said today they expect to save at least $50 million per year in production and storage costs for currency that apparently no one wants to use: More than 40 percent of the $1 coins issued by the U.S. Mint have been returned to the Federal Reserve, leaving the Fed with an excess of nearly 1.4 billion of the coins.
"In these tough times, Americans are making every dollar count, and they deserve the same from their government," Treasury Secretary Tim Geithner said in a statement. "We simply shouldn't be wasting taxpayer money on money that taxpayers aren't using."
The 2005 Presidential $1 Coin Act requires the U.S. Mint issue new presidential $1 Coins with the likeness of every deceased president. Until today, the Mint was on pace to produce an additional 1.6 billion $1 coins through 2016, even though the current excess should meet demands for the coins for more than a decade.
The law still requires some coins to be produced, but the administration will only make enough to be sold to collectors.
The nonpartisan Government Accountability Office reported in March that the government would actually save $5.5 billion over 30 years by replacing dollar bills with dollar coins, but the GAO noted that polls in the past decade found that the public doesn't support the idea.
Dollar coins are more expensive to make but last much longer than the paper bills, which last an average of 40 months, the GAO reports. The presidential dollar coin series is just one of the dollar-coin designs in circulation: the Eisenhower coin, the Susan B. Anthony coin, the Sacagawea coin, and the Native American $1 coin series are also in circulation.
The administration today announced other developments in its "Campaign to Cut Waste" today, including increased efforts to crack down on fraud. The Justice Department recovered more than $5.6 billion in fraud government-wide in 2011, a 167 percent increase in recovery from 2008.
Thanks for reading CBS NEWS.
Create your free account or log in
for more features.