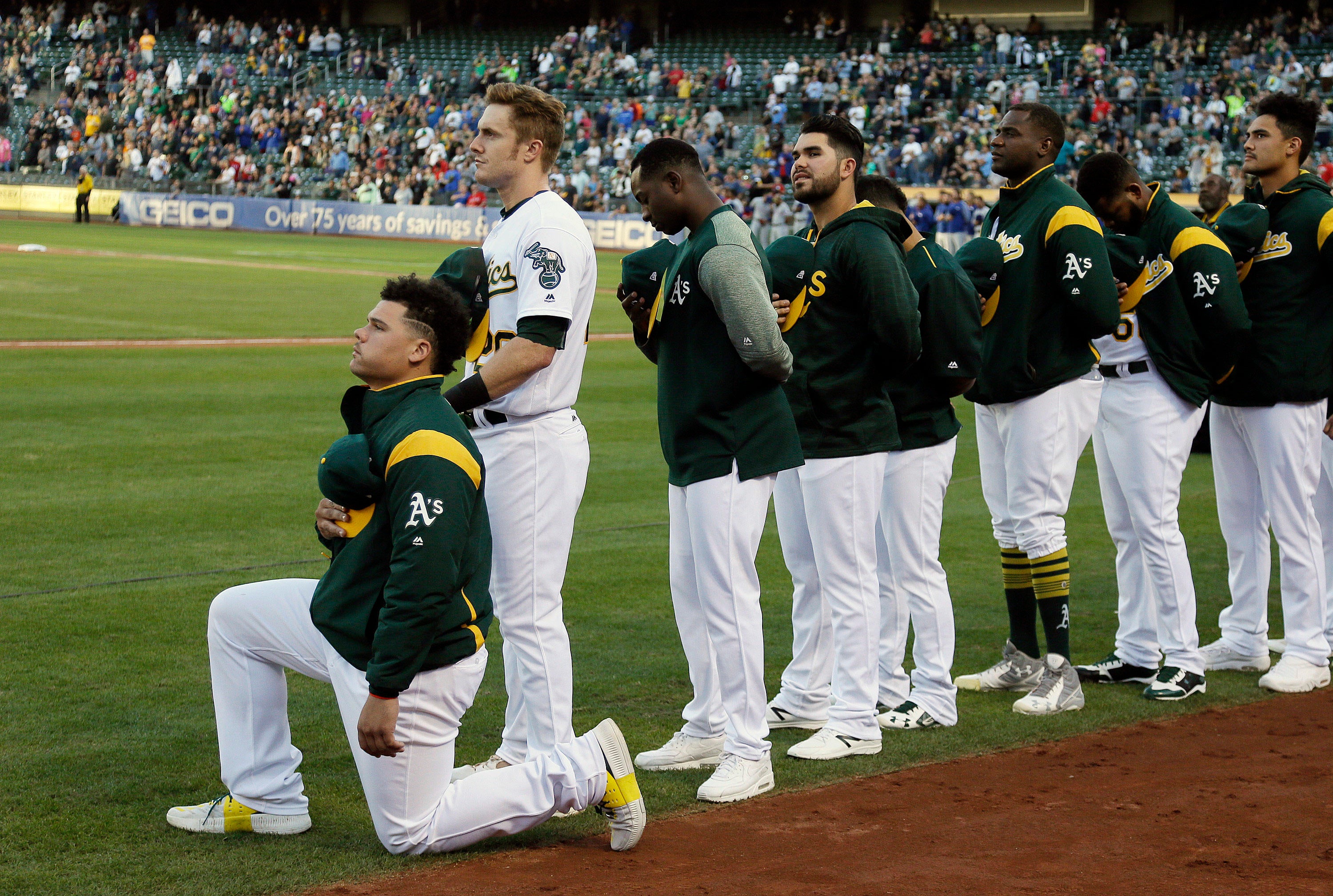 Oakland A's player becomes first MLB player to kneel during national anthem
OAKLAND, Calif. -- Bruce Maxwell of the Oakland Athletics has become the first major league baseball player to kneel during the national anthem.
Maxwell dropped to a knee just outside Oakland's dugout on Saturday before a game against the Texas Rangers, adopting a protest started by former San Francisco 49ers quarterback Colin Kaepernick in response to police treatment of blacks. Maxwell's teammates stood in a line next to him. Teammate Mark Canha, who is white, put his right hand on one of Maxwell's shoulders.
The Athletics released a statement on Twitter shortly after the anthem, saying they "respect and support all of our players' constitutional rights and freedom of expression" and "pride ourselves on being inclusive."

Maxwell's protest comes after President Trump denounced protests by NFL players and rescinded a White House invitation for NBA champion Stephen Curry in a two-day rant that targeted top professional athletes.
"That's a total disrespect of everything that we stand for," Mr. Trump said of kneeling through the anthem. He added, "Wouldn't you love to see one of these NFL owners, when somebody disrespects our flag, you'd say, 'Get that son of a b--- off the field right now. Out! He's fired."
League executives and star players alike condemned Mr. Trump's words on Saturday, and Maxwell predicted on Twitter that athletes would begin kneeling in other sports following "comments like that coming from our president."

A few hours later, he followed through.
"This now has gone from just a BlackLives Matter topic to just complete inequality of any man or woman that wants to stand for Their rights!" Maxwell wrote.
Maxwell was born in Wiesbaden, Germany, while his father was stationed there in the Army. He later moved to Alabama, where he attended high school and college. Maxwell's agent, Matt Sosnick, told The Associated Press that "the Maxwells' love and appreciation for our country is indisputable."
"Bruce has made it clear that he is taking a stand about what he perceives as racial injustices in this country, and his personal disappointment with President Trump's response to a number of professional athletes' totally peaceful, non-violent protests.
"Bruce has shared with both me and his teammates that his feelings have nothing to do with a lack of patriotism or a hatred of any man, but rather everything to do with equality for men, women and children regardless of race or religion."
Thanks for reading CBS NEWS.
Create your free account or log in
for more features.