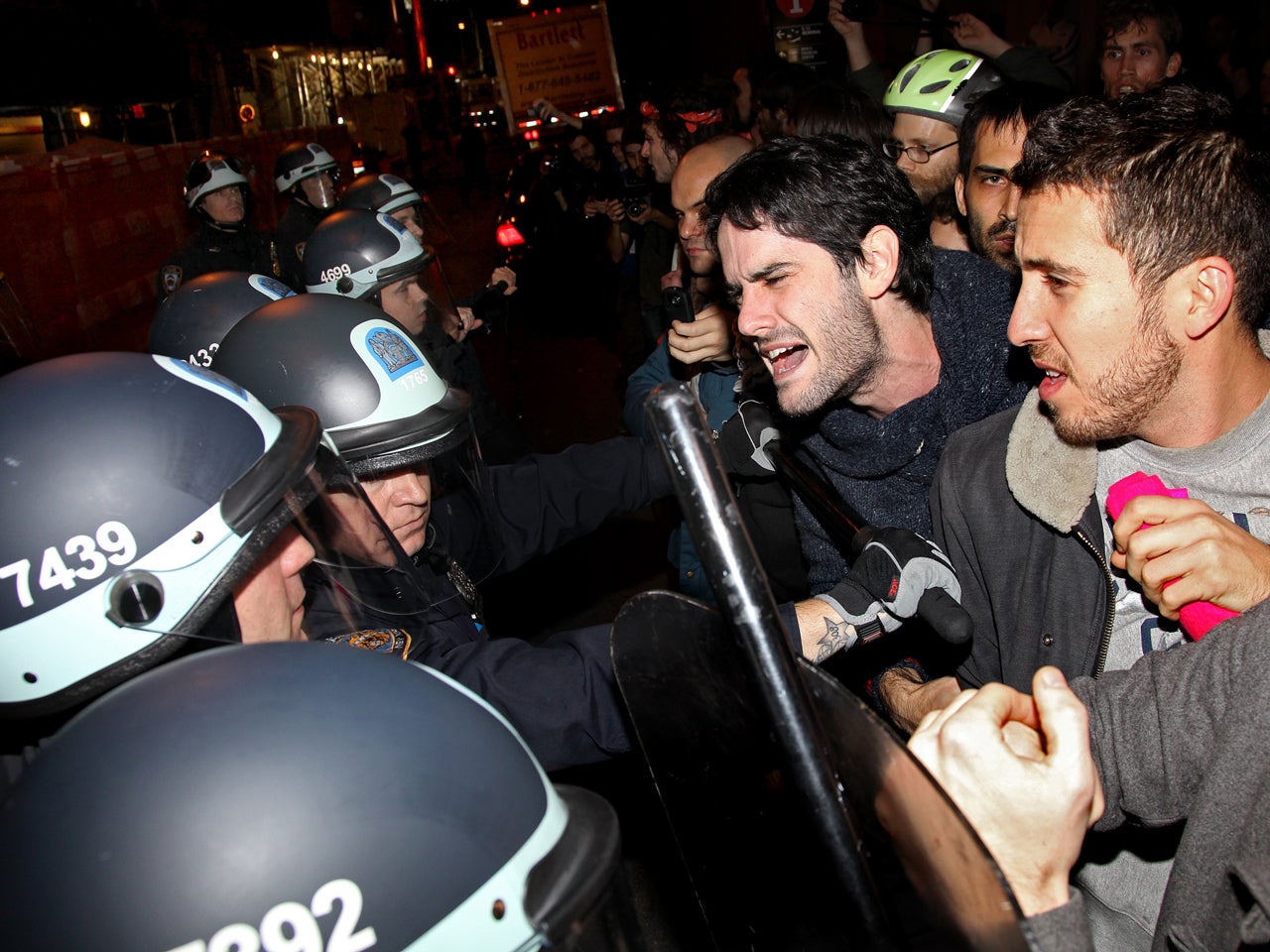 NYC police clear "Occupy Wall St" camp
Last Updated at 10:19 a.m. Eastern
NEW YORK - About 200 Occupy Wall Street protesters - and a New York City Councilman - were arrested early this morning as police cleared New York's Zuccotti Park (including some protesters who had chained themselves together) so that sanitation crews could clean it.
New York Police Commissioner Ray Kelly said about 200 were arrested - 142 in the park, and 50 to 60 in surrounding areas.
Concerns about health and safety issues at Occupy Wall Street camps around the country have intensified, and protesters have been ordered to take down their shelters, adhere to curfews and relocate so that parks can be cleaned.
At about 1 a.m. Tuesday, New York City police handed out notices from Brookfield Office Properties, owner of Zuccotti Park, and the city saying that the park had to be cleared because it had become unsanitary and hazardous. Protesters were told they could return in several hours, but without sleeping bags, tarps or tents.
New York City Mayor Michael Bloomberg said that an "unfortunate minority" of Occupy Wall Street protesters had made conditions at the movement's encampment at Zuccotti Park "intolerable," and that the city was required to evict protesters for their own health and safety.
At a press conference this morning Bloomberg said in addition to complaints about health, safety and fire hazards at the Occupy Wall Street tent city, it had become increasingly difficult for police to monitor conditions at the encampment.
"Some have argued to let them stay indefinitely. Others said to wait for winter and hope it drove the protesters away, but inaction was not an option," he said. "We could not wait for someone in the park to get killed, or to injure another first responder, before acting."
Bloomberg said the majority of protesters have been "peaceful and responsible," and respectful of police commands when they have marched. "But an unfortunate minority has not been. As the number of protesters has grown, this has created an intolerable situation."
Mayor: Everyone's rights at stake in Zuccotti
Occupy protesters to regroup in NYC
Oakland cops in riot gear clear "Occupy" camp
Those who were evicted from the Occupy encampment regrouped at Foley Square near City Hall, and vowed to reoccupy the park.
"This movement can't be contained in one square block in lower Manhattan. It is bigger than that," read an announcement on the Occupy Wall Street web site. "You can't evict an idea whose time had come."
On Tuesday morning a judge issued a temporary restraining order preventing the owners of Zuccotti Park from enforcing rules about occupying its public space, or from preventing protesters from re-entering the park with tents.
Temporary restraining order (pdf)
Mayor Bloomberg said this morning, in response to the restraining order, that the park would not be re-opened until the city had an opportunity to address the restraining order.
Paul Brown, a spokesman for the New York Police Department, said the park had been cleared by 4:30 a.m. and that about 70 people who'd been inside it had been arrested, including a group who chained themselves together. One person was taken to a local hospital for evaluation because of breathing problems.
Police in riot gear filled the streets, car lights flashing and sirens blaring. Protesters, some of whom shouted angrily at police, began marching to two locations in Lower Manhattan where they planned to hold rallies.
According to The New York Post, more than 1,000 police officers - many of them rookies - took part in the raid.
Mayor Bloomberg's office issued a statement after the clearance operation was declared over. The following is an excerpt:
Unfortunately, the park was becoming a place where people came not to protest, but rather to break laws, and in some cases, to harm others. There have been reports of businesses being threatened and complaints about noise and unsanitary conditions that have seriously impacted the quality of life for residents and businesses in this now-thriving neighborhood. The majority of protestors have been peaceful and responsible. But an unfortunate minority have not been - and as the number of protestors has grown, this has created an intolerable situation.

No right is absolute and with every right comes responsibilities. The First Amendment gives every New Yorker the right to speak out - but it does not give anyone the right to sleep in a park or otherwise take it over to the exclusion of others - nor does it permit anyone in our society to live outside the law. There is no ambiguity in the law here - the First Amendment protects speech - it does not protect the use of tents and sleeping bags to take over a public space.
Some protesters refused to leave the park, but many left peacefully.
Ben Hamilton, 29, said he was arrested "and I was just trying to get away" from the fray.
Rabbi Chaim Gruber, an Occupy Wall Street member, said police officers were clearing the streets near Zuccotti Park.
"The police are forming a human shield, and are pushing everyone away," he said.
Jake Rozak, another protester, said police "had their pepper spray out and were ready to use it."
Notices given to the protesters said the park "poses an increasing health and fire safety hazard to those camped in the park, the city's first responders and the surrounding community."
It said that tents, sleeping bags and other items had to be removed because "the storage of these materials at this location is not allowed." Anything left behind would be taken away, the notices said, giving an address at a sanitation department building where items could be picked up.
Alex Hall, 21, of Brooklyn, said police walked into the park "stepping on tents and ripping them out,"
The New York Times reported that the clearing out of Zuccotti Park came as protesters announced on their website that they planned to "shut down Wall Street" with a demonstration on Thursday to commemorate the completion of two months of the beginning of the encampment, which has spurred similar demonstrations across the country.
On Monday, a small group of demonstrators, including local residents and merchants, protested at City Hall. In recent weeks, they have urged the mayor to clear out the park because of its negative impact on the neighborhood and small businesses.
Occupy encampments have come under fire around the country as local officials and residents have complained about possible health hazards and ongoing inhabitation of parks and other public spaces.
Anti-Wall Street activists intend to converge at the University of California, Berkeley on Tuesday for a day of protests and another attempt to set up an Occupy Cal camp, less than a week after police arrested dozens of protesters who tried to pitch tents on campus.
The Berkeley protesters will be joined by Occupy Oakland activists who said they would march to the UC campus in the afternoon. Police cleared the tent city in front of Oakland City Hall before dawn Monday and arrested more than 50 people amid complaints about safety, sanitation and drug use.
Thanks for reading CBS NEWS.
Create your free account or log in
for more features.