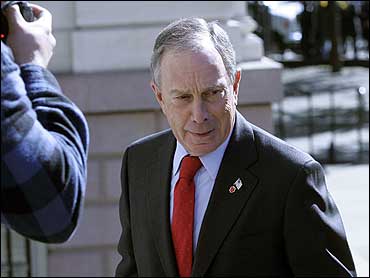 NYC Mayor Bloomberg Wins Term Limit Fight
The New York City Council has approved changes in the term-limits law that will allow Mayor Michael Bloomberg to seek re-election next year.
The council passed the bill Thursday by a vote of 29-22. The bill gives city officeholders the option of three consecutive four-year terms.
Bloomberg announced his plans to change the term-limits law and seek re-election three weeks ago. His second term ends in 2009. He had opposed changing the law earlier in his administration, but now says he needs a third term to deal with the city's financial crisis.
Earlier Thursday, the bill cleared the governmental operations committee by a vote of 6-0 before passing the full 51-member body, despite a last-minute court challenge from opponents seeking to block the council from voting.
The term-limits proposal sparked a short but loud and contentious debate ever since the billionaire mayor announced his plans to seek re-election three weeks ago.
The debate over the mayor's proposal was complicated by Bloomberg's current popularity and the fact that term limits were enacted through public referendums in 1993 and 1996, reports CBS station WCBS-TV in New York. So, while some consider it an argument against Bloomberg's performance in office, others considered the very idea of term limits to be the primary issue.
City Council Speaker Christine Quinn was also backing the mayor's plan. She said she thinks the current economic crisis makes it more important to keep experienced leaders in place.
"New Yorkers will have an option of choosing and keeping consistent leadership at the helm of city government," she said.
Bloomberg, whose wealth is estimated at $20 billion, has argued that his business background as founder of the financial data firm Bloomberg LP makes him the best leader to help the city weather the turmoil on Wall Street.
The committee held two hearings last week on the fast-tracked legislation, with testimony lasting several hours. A poll this week found that registered voters overwhelmingly believe the public should have a say on the matter, and not the council.
On Wednesday, three council members who say they are undecided on Bloomberg's bill announced they will introduce an amendment at the Thursday meeting that essentially rewrites the legislation and seeks to have the term limits issue decided by voter referendum.
The measure would establish a charter review commission with the intention of holding a special election by next spring.
Thanks for reading CBS NEWS.
Create your free account or log in
for more features.