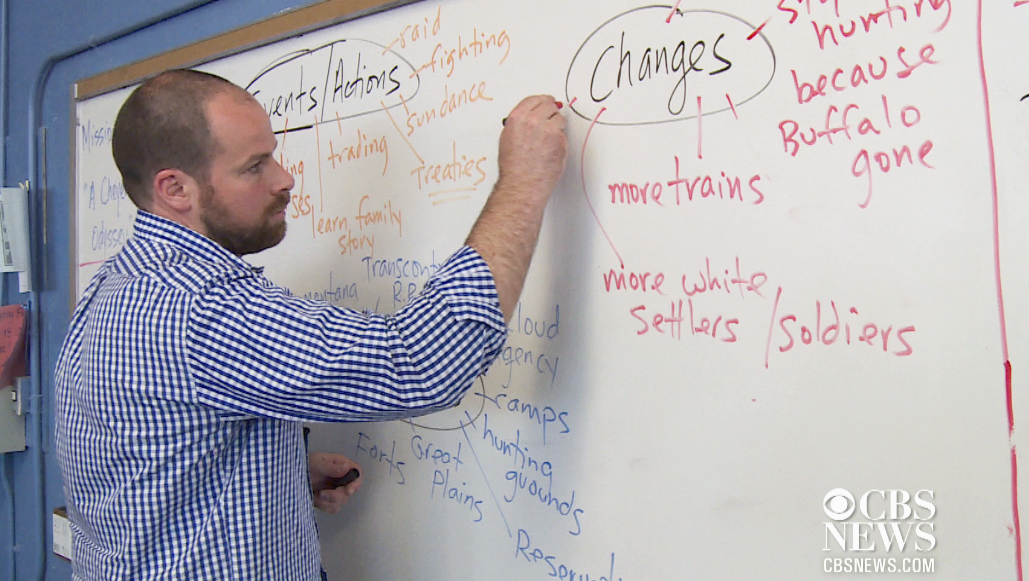 NY teacher turns to video games to encourage learning
Most history teachers rely on textbooks to cover their curriculum. But Scott Jackson is not like most teachers.
"Being a teacher you have to be unconventional"
Jackson teaches American History to 11th grade students at the Brooklyn International High School, a high school for students that have recently immigrated to the United States in the past four years.

"In a school like ours, where you have kids from over 50 countries speaking over 30 languages, not everybody has the same educational background. You have to be unconventional with ways to approach the subject with each student so every student can feel like they can participate and jump into the work."

In order to level the playing field, Jackson turned to video games.

"I think the game is a real good kind of leveler for all students. Everyone can access it, it doesn't put anyone in a certain position, it's an easy jumping off point for the content, for the topic."

When it was time to teach Native American history, Jackson turned to "Mission US, Cheyenne Odyssey." It's a video game produced by THIRTEEN Productions LLC in association with WNET about a Northern Cheyenne boy named Little Fox over the course of ten years.

David Langendoen, the developer of the game, says his biggest goal was "creating something that can be really used for the classroom that is designed for a teacher to step in ... and over the course of a week really delve into a new unit."

"A Cheyenne Odyssey" is the first game to present the Northern Cheyenne perspective on real events our people experienced," said Dr. Richard Littlebear, President of Chief Dull Knife College and advisor to the project. "However, this is much more than a game about the high and low points of our history. It teaches students how to make decisions and how to live with the consequences of those decisions, just as one has to do in real life."

Video games are being increasingly used in classrooms, Ken Weber, The Executive Director of ZYNGA.org is on the board of this years' Games For Change Festival, a three day festival that highlights video games with a social impact.

Ken says that one of the reasons video games are so successful in classrooms is that, "from a learning perspective it's a much more dynamic environment than reading a textbook or listening to a lecture or self study."

This year "Mission US, Cheyenne Odyssey" was the winner for game with the most significant impact.

While accepting the award, Langendoen read a letter that he recently received from Scott Jackson that describes how Jackson uses the game to teach American History to ESL students at Brooklyn International High School.

Langendoen finished his award speech saying "This is what we do it for, so we're really honored that Games For Change sees the impact in what we do."
Thanks for reading CBS NEWS.
Create your free account or log in
for more features.