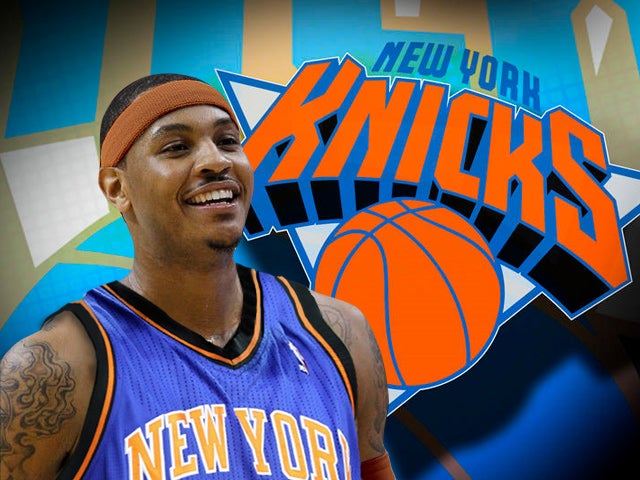 NY Knicks mega-deal: Corey Brewer, Carmelo Anthony, Danilo Gallinari, more are getting new jerseys
It seems the Knicks have followed in the grand old tradition of New York sports franchises: Don't like your team? Buy a new one!
After Monday's blockbuster three-team, 12-player deal, the Knickerbockers are going to be a lot stronger in the paint, and a lot lighter in the wallet. Obviously 'Melo is the marquee name in this deal. The four-time All-Star and showcase of the mile-high city is about to move to a city with much brighter lights. Will Carmelo be the next Mark Sanchez - adored by men and women alike? Or is he a missed jump-shot away from being basketball's Alex Rodriguez? And just how will 'Melo do in a city still smarting from missing out on Lebron James?
Ken Berger of CBSSports.com says Carmelo Anthony and new teammate Amar'e Stoudemire are set up to form "one of the most lethal scoring duos in the NBA." But what about the two-games-over-.500 Knicks' annually shoddy defense? Well, say hello to Corey Brewer. The four-year Timberwolf is leaving the frozen wilds of Minnesota for Manhattan. Sure the Knicks had to pick up two other Timberwolves and drop off $3 million in cash, but that's just big-city dealin'.
Sadly, you can't have a new team without getting rid of the old one. Hi, Danilo Gallinari. Hope you don't mind high-altitude. The big 22-year-old who's been arguably New York's best shooter this season is heading out to Denver. Also gone is Raymond Felton, replaced by the older, less pass-friendly Chauncey Billups. Trading young talent for more expensive, older players who've had success far from the east coast? Sounds like a New York franchise!
New Yorkers like winners, and winners cost money. But what do you think?
Will the Knicks new line-up become contenders? Or does New York like buying players more than watching them?
Thanks for reading CBS NEWS.
Create your free account or log in
for more features.