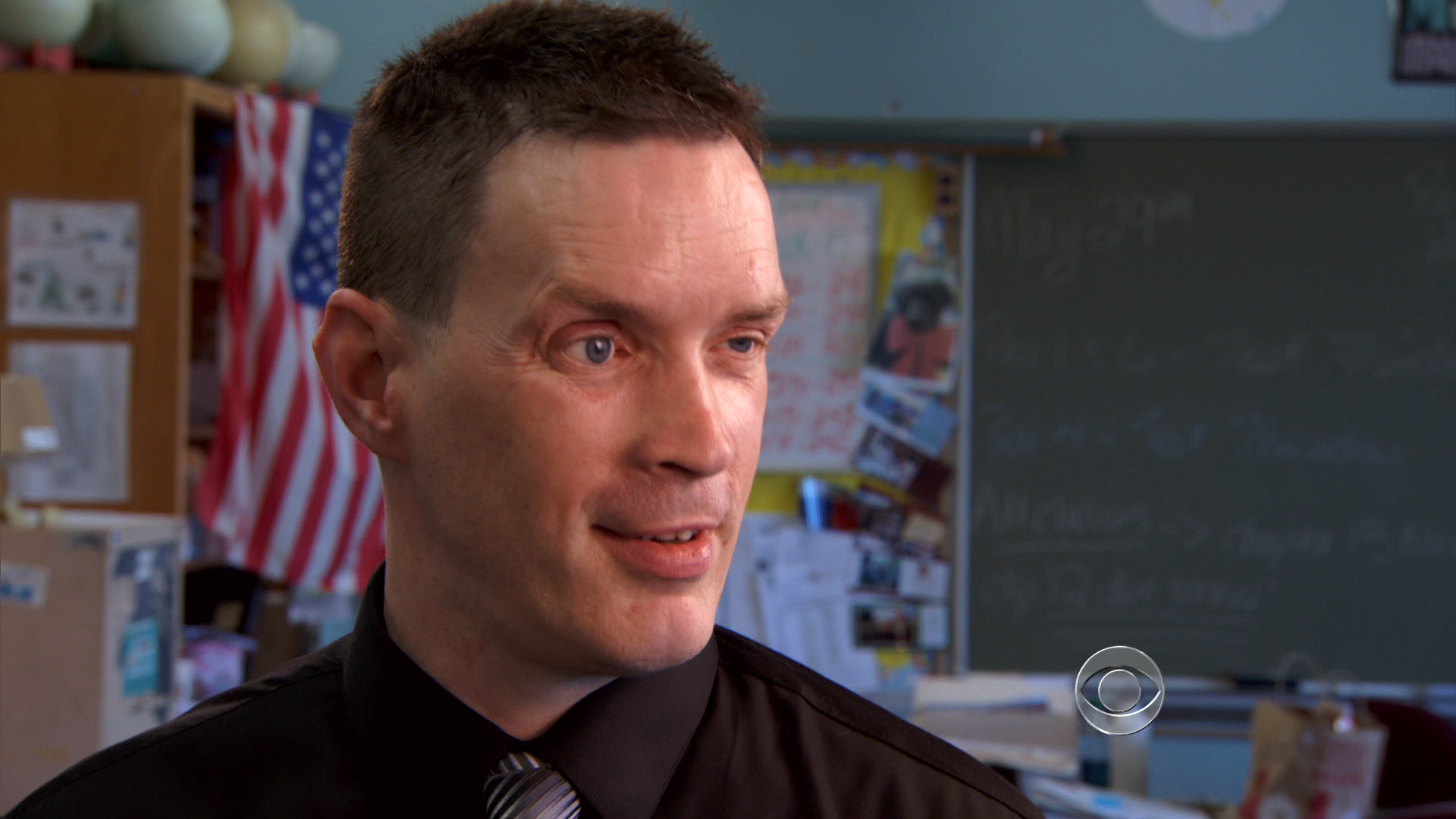 N.Y. blind high school teacher sees students like no other educator
(CBS News) FARMINGDALE, N.Y. - Jim Hughes of Farmingdale is a blind man who has better vision than just about anyone we know. Though he's been sightless most of his life, he's always known exactly where he's going.
Tight rope walker, fashion designer and crossing guard: There are still jobs blind people can't do. But, the list has been steadily shrinking, thanks to trailblazers like Hughes.
"Coming through, coming through," he said as he walked through a crowd.
Hughes' story began 20 years ago during a meeting with his college counselor.
"And, I said I'm interested in teaching. And she said, 'Oh, that's really nice,'" Hughes recalled to CBS News.
He surprised her by saying that he didn't want to teach a blind school -- he wanted to teach at a high school: a public high school.
"And she said, 'No,'" he remembered.
It wasn't bad advice. Remember, we didn't have all this assistive technology back then, and there weren't laws mandating employers to give people with disabilities a fair shot. Jim sent out 100 resumes. But Farmingdale High School was willing to give him a try.
"I'll be honest and say this was the only real interview I got," he said.
"I came across that resume and it took me by shock," Steve Kussin, who was principal Farmingdale High School at the time, told CBS News. "How could a blind teacher possibly function in a classroom?"
"And boy am I glad I took a second look at that resume, because it's made all the difference in the world to generations of students," Kussin said.
By all accounts, this history teacher has become one of the best teachers at Farmingdale High School. And, not in spite of his blindness but because of it.
"It almost helps him. He became so good at verbalizing the information to the students," one of the students said to CBS News.
In fact, the kids say it's their other teachers who can't always see.
"They're blinded by the PowerPoints and the handouts and all that," a student explained. "Every teacher should try a day with a blindfold and really learn how to talk to your students."
The other thing he's surprisingly good at is keeping them honest.
"There is no cheating whatsoever," a student observed.
"He's too respected. We respect him too much," said another. "There'll be that rare kid, but they're shamed instantly. You don't want to be that guy."
The class may be history, but these kids are getting their doctorates in integrity. And, Hughes is getting all he ever wanted -- a chance to make a difference.
"The classroom is where I belong," Hughes said. "I really believe that."
It's pretty easy to see.
Thanks for reading CBS NEWS.
Create your free account or log in
for more features.