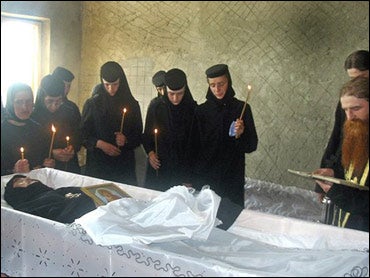 Nun Dies After Convent Exorcism
The whispers started in April in the mind of the 23-year-old nun.
In the heart of an Orthodox convent in Romania's impoverished northeast, doctors say, Maricica Irina Cornici believed she heard the devil talking to her, telling her she was sinful.
She was treated for schizophrenia, but when she relapsed, a monk and four nuns tried a different method: exorcism.
Last week, Cornici was bound to a cross, gagged with a towel and left in a dank room at the convent for three days without food where she died of suffocation and dehydration.
The case has stunned this impoverished nation where rural youths, many raised in orphanages like Cornici, have flocked to Orthodox monasteries and convents for spiritual help or food and shelter. Polls show the Orthodox Church to be the nation's most trusted institution.
In April, Cornici was admitted to a psychiatric hospital in the northeast city of Vaslui.
"She thought the devil was talking to her and told her that she was a sinful person," said Dr. Gheorghe Silvestrovici, a psychiatrist who treated her. "It's a symptom of schizophrenia, and she was probably having her first episode."
The nun was given medication and released on April 20 to the care of the Holy Trinity convent in the nearby village of Tanacu, an isolated community of about 1,000 people in a hilly area cultivated with vineyards and corn.
She was supposed to return in 10 days, but never did.
Daniel Petru Corogeanu, a 29-year-old red-bearded monk who served as the convent's priest and allegedly led the exorcism, told the media he was trying to take devils out of the nun. He said she had to be restrained because she was violent and that she refused to drink holy water.
Corogeanu and the four nuns were charged with aggravated murder on Wednesday in Cornici's death after testifying for 11 hours to prosecutors. If found guilty, they could face up to 25 years in prison.
The monk said Friday outside the courtroom that he and the nuns were innocent and blamed media pressure for their arrests.
His lawyer has asked for the case to be moved to a different location, citing the intense media and public scrutiny in the area. Romania's Supreme Court is expected to rule on a location for the trial.
"I am scared that if I went to the monastery they would crucify me, too," said Ioan Hristea, a 52-year-old former welder who suffers from epilepsy and said he was hospitalized with Cornici.
Others said the prosecutors were swayed by the public pressure and went too far by charging the suspects with aggravated murder, and that a lesser charge of manslaughter would have been more appropriate.
"Aggravated murder implies intention and committing the crime with intentional sadism," said Aurelian Pavelescu, a lawyer and member of Romania's parliament. "But they believed they were helping the woman, that they were curing her from her pains."
In Cornici's native village of Perieni, about an hour drive from the convent, her relatives demanded justice for the young woman, who they said joined the convent just days before she was admitted to the hospital.
"She was disfigured, she had marks on her hands, her ankles and her stomach," said her aunt, Anisoara Antohi, 29, standing by Cornici's grave, marked with a simple wooden cross with the words "Sister Irina" scribbled on it.
"She was a good girl. It was too cruel, God, much too cruel," her great-uncle, Gheorghe Antohi, 53, said as he burst into tears. Those who allegedly killed her "should all be crucified like her."
In Tanacu, a couple said they met Corogeanu, the monk accused in the case, when he baptized their godson at the convent, a wooden building with a metal roof that overlooks a rolling hill.
"He held a beautiful service," said Petrica Pintilie. "Who knows what happened there?"
The church has closed the convent, and its gates were chained Friday. A nearby sign warns that no men are allowed in after 4 p.m. and that only Orthodox believers who are properly dressed can enter.
"Here we only talk to God and we sing with the angels in silence and with much prayer," says another sign posted on the convent's white fence.
The Orthodox Church has strongly condemned the exorcism ritual in Tanacu as "abominable." It has banned Corogeanu from the priesthood and excluded the four nuns from the church.
Orthodox monasteries and convents have flourished in Romania since the 1989 fall of Nicolae Ceausescu's brutal communist regime, which suppressed religion.
The Tanacu convent was built in 2001 by a private donor and had not yet been sanctified by the church.
Cornici's death and the revelation that Corogeanu was ordained as a priest without having finished his theological studies have prompted the church to impose stricter rules for entering monasteries, including psychological tests.
By Alison Mutler
Thanks for reading CBS NEWS.
Create your free account or log in
for more features.