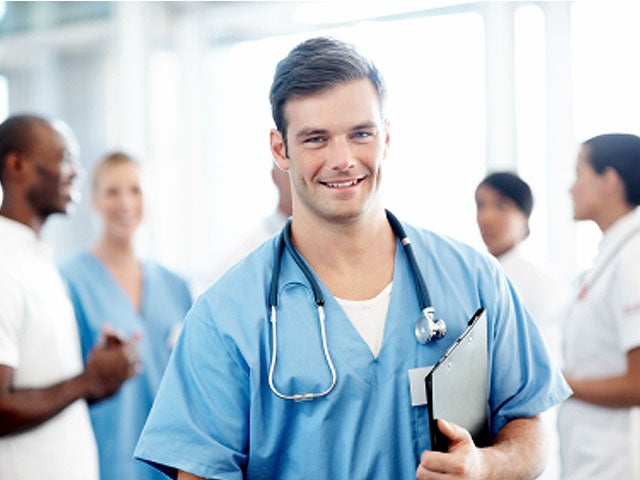 Number of male U.S. nurses triple since 1970
More men are finding their calling as nurses.
A new study from the United States Census Bureau reports the number of male nurses has more than tripled since the 1970s. Back then, about 2.7 percent of registered nurses were men. The new study, which tracked data through 2011, finds that men now make up 9.6 percent of all employed nurses in the United States - about 330,000 men in total.
The new report looked at Census Bureau data to track rates for nursing occupations including registered nurses (RNs), nurse anesthetists, nurse midwives, nurse practitioners and licensed practical and licensed vocational nurses.
Overall, there were 3.5 million employed nurses in the U.S. in 2011, 78 percent of whom were registered nurses. Recent years of shortages have led to increased recruiting efforts, according to report, which included recruiting men into the field.
Men, in fact, had been largely kept out of nursing in past decades because nursing schools often refused to admit men. The Supreme Court ruled that practice unconstitutional in 1981 after a case involving a state nursing school.
The report also noted increases in the proportion of male licensed practical and licensed vocational nurses has more than doubled from 3.9 percent to 8.1 percent since 1970.
"The relatively high wages and expanding job opportunities makes this field attractive, offering stability even during recessions," wrote the report's author, Liana Christin Landivar of the U.S. Census Bureau.
Speaking of wages, the report found male nurses on average make more money than their female counterparts. Full-time female nurses who work year-round earned 91 cents for every dollar male nurses earned. That's still less than the gap across other occupations, according to the report, where women earned 77 cents to the dollar men earned.
Men were found to be more likely to become nurse anesthetists, which is the highest paid nursing occupation, and were found least likely to become licensed practical or licensed vocational nurses, the lowest paid types of nursing. Nurse anesthetists are required to get graduate education, and are certified to give anesthesia and monitor patients recovering from anesthesia. Licensed practical and licensed vocational nurses provide patient care and may work under the supervision of a registered nurse. Registered nurses assess patient health problems and needs, develop and implement nursing care plans, maintain medical records, and administer care.
For all types of nursing, men earned, on average, $60,700 per year, while women earned $51,100 per year.
"Even among men and women in the same nursing occupations, men outearn women," wrote Landivar.
Because of high demand, nursing has low unemployment rates compared to other fields, with the lowest rates -- of about 0.8 percent -- being reported among nurse practitioners and nurse anesthetists. For registered nurses and licensed practical and vocational nurses, unemployment rates were a bit higher -- 1.8 percent and 4.3 percent, respectively - which the authors still called "very low."
Other notable findings:
Of employed nurses: 78 percent were registered nurses, 19 percent were licensed practical and licensed vocational nurses, 3 percent were nurse practitioners, and 1 percent were nurse anesthetists.
Men's representation was highest among nurse anesthetists, accounting for 41 percent of them
Male nurse anesthetists earned $162,900 per year on average, while the men's average for all nursing occupations was $60,700 per year
The report can be accessed on the Census Bureau's website.
Thanks for reading CBS NEWS.
Create your free account or log in
for more features.