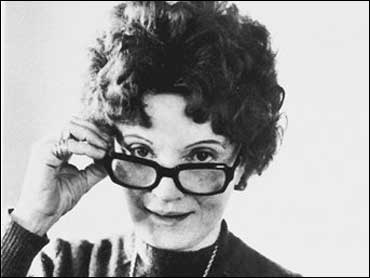 Novelist Muriel Spark Dead At 88
Dame Muriel Spark, whose spare and humorous novels made her one of the most admired British writers of the postwar years, has died in Tuscany, Italian officials said Saturday. She was 88.
Spark died Thursday in a hospital in Florence, said Massimiliano Dindalini, the mayor of the Tuscan village of Civitella della Chiana, where Spark had lived for almost three decades.
Spark wrote more than 20 novels, including "The Prime of Miss Jean Brodie."
She had lived in Italy since the late 1960s, first in Rome and later in a converted 13th-century church in Tuscany with her friend of many years, painter and sculptor Penelope Jardine.
But she retained the accent of her birth and youth in Edinburgh, Scotland, where she attended James Gillespie's High School for Girls and was taught by the prototype for her most famous character: Miss Jean Brodie.
That 1961 book, later adapted for a very successful theatrical play and movie, made her famous internationally. But she already had written seven novels, three volumes of poetry and, since 1950, had been producing respected biographical and critical work about the Bronte family, Mary Shelley and John Masefield.
"The Girls of Slender Means," considered by many to be her best novel, was published in 1963, drawing on her experience as a young woman struggling to make ends meet while writing in London.
Most of Spark's novels are short and spare, with the plots often bizarre or macabre, satirical or blackly humorous.
In 1970's "The Driver's Seat," the main character searches for someone to murder her.
And "The Abbess of Crewe" a 1974 satire written after Watergate, is about the political machinations in an ecclesiastical community.
Spark had a very individual way of writing. She wrote longhand, with little if any revision, straight into spiral-bound notebooks she got from a stationer in Edinburgh. She would never use a pen anyone else had touched.
She was made a dame in 1993, the female equivalent of a knight. In 1963, she became a fellow of The Royal Society of Literature, and in 1978 an honorary member of the American Academy of Arts and Letters.
She received the David Cohen Literature Prize for lifetime achievement in 1997.
Among Spark's poetic works are 1952's "The Fanfarlo and Other Verse" and 1982's "Going up to Sotheby's and other poems."
Some of her best-known novels are 1959's "Memento Mori," 1960's "The Ballad of Peckham Rye," 1975's "The Mandelbaum Gate," which won Britain's James Tait Black Memorial Prize, 1981's "Loitering with Intent" and 1988's "A Far Cry from Kensington."
Spark is survived by her son, Robin.
Thanks for reading CBS NEWS.
Create your free account or log in
for more features.