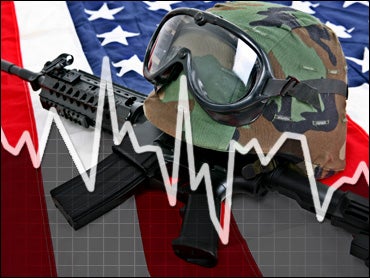 Notebook: Reporting on Disabled Vets
By Wyatt Andrews, correspondent and Jill Rosenbaum, producer
---
After eight years of war, you might think the system for delivering benefits to America's most disabled war veterans would be well organized, efficient and as caring as possible. It's not.
A two-month CBS News investigation of the Department of Veteran's Affairs' (VA) most important benefit program helping disabled vets return to work, a benefit most vets call "Voc Rehab," revealed a program which is beset with contracting and staffing problems -- which often throws needless roadblocks in front of eligible veterans, and which either tolerates or can't prevent wrongful benefit denials for some of the nation's most deserving former warriors.
And because Voc Rehab benefits are only available to disabled veterans, many of whom have already waited years, but finally received a VA disability rating, a wrongful denial coming from Voc Rehab causes an added level of bitterness and sense of betrayal.
The VA does provide Voc Rehab services and training to tens of thousands of veterans every year, but has also consistently been criticized by federal watchdogs and Congress for not tracking the program's true failure rate. The last GAO report on this point, from January of 2009, said Voc Rehab was only successful in its mission 68 percent of the time. And while generally, rehabilitation and training services are difficult to provide to veterans with medical problems or increasingly PTSD -- and are not expected to approach a 100 percent success rate-- the 68 percent figure, given the war-caused spike in applications, means that tens of thousands of veterans are falling through Voc Rehab's cracks. (Source: GAO Report: VA Vocational Rehabilitation and Employment, pages 2, 25)
Read the Story on the CBS Evening News
WHAT MANY VETERANS FACE-A SUMMARY
Some of the veterans we interviewed include:
• Two time Army veteran Jeremy Smith (he joined, left and rejoined after 9/11) is a former Army medic whose spinal cord was injured by a grenade in Afghanistan, as Jeremy raced to treat his fellow soldiers under fire. Jeremy, who is wheelchair bound, says he was turned away by a VA benefits counselor, who falsely claimed Jeremy wasn't disabled enough to qualify.
• Former Marine Sergeant Kenny Lyon's rescue from a battlefield in Iraq and subsequent recovery from the loss of much of his left leg was the subject of a profile on "60 Minutes." Kenny says on his first day of classes at Gettysburg College in Pennsylvania last year, a VA counselor called to deny the Voc Rehab tuition benefits Kenny long thought had been approved. On his first day of class, in other words, he was being asked to turn around and find another college.
• Former Army Lt. Greg Modica was wrongly told by his Voc Rehab counselor the VA would not allow disabled vets to attend flight school. After Greg presented notes of this conversation to the office of Arkansas Rep. Mike Ross (D), the congressman demanded an accounting. Within days, the VA's Little Rock office quickly changed gears, approved Greg for flight school and transferred his case file to a higher level counselor. But during that first conversation, the Little Rock counselor, who is white, told Greg, who is African American, that while flight school was out of the question, Greg could always take his plea for help to Oprah.
• Former Marine Cpl. Brandon Frazier is a veteran of the sustained 2004 Marine assault in Fallujah. Brandon has enough hearing loss and PTSD to meet Voc Rehab's disability requirements, but was falsely told by a VA counselor that Voc Rehab benefits do not cover college level pre law. They do. And since the time of Brandon's improper denial, he's borrowed $40,000 to pay for college himself.
We found cases of wrongful denials and unacceptable benefit delays easy to find, and a remarkable sameness in what most insiders see as the basic problem. Dozens of experts, many of them strong supporters of the program, uniformly described the Voc Rehab bureaucracy as cumbersome and unevenly managed across the VA's 57 regions. The role of Voc Rehab's counselors, an increasing percentage of whom are outside contractors is crucial: some are excellent, others are not; some are even seen as mean spirited. And the counselor is the gatekeeper and mentor behind every Voc Rehab application.
We found that a mind boggling 2008 contracting error -- in the main contract the VA was using to hire outside counselors to serve the sharply rising number of applicants -- is still causing delays in many Voc Rehab services. Some of those affected include disabled veterans about to be discharged from Walter Reed, the nation's premier Army Hospital, where you might expect VA services to operate at the highest possible level.
For more on the current status of the vets mentioned above, see "Since We Asked" below.
IT CAN BE AN IMPRESSIVE PROGRAM
Voc Rehab is part of the Montgomery GI Bill and is technically known by it's acronym (VR&E) or Vocational, Rehabilitation and Employment. Many insiders call it Chapter 31, shorthand for that section of the bill where the rules for Voc Rehab are spelled out. While Voc Rehab is indeed a subsection of the old GI Bill, which most Americans associate with college benefits, Congress intended for Voc Rehab to be more expansive.
The program's two part mission is literally to give eligible veterans (usually 20 per cent disabled or higher, with many rules attached) whatever kind of training they might need to live independently or to find a job. The veteran must first pass a battery of aptitude tests, and must sometimes prove that a job market exists for the training he/she wants, but when those hurdles are cleared, Voc Rehab's reach is impressive.
In the course of our interviews, we heard first person, or counselor accounts of training benefits that include sign language lessons, computer classes, flight schools, audio tech academies, two year technical schools, four year colleges and several graduate schools. Seven Voc Rehab veterans are in Harvard, including one attending Harvard Law School.
In fairness to Voc Rehab's management and workers, the program does return thousands of disabled veterans to the work force or to a functioning apartment or home every year. And given the dense regulations, and wide variety of benefits, this can't be easy work.
Every one of our sources, including those otherwise inclined to denounce the VA, told us there are hundreds of dedicated and caring Voc Rehab counselors who do their jobs efficiently and well. If the veteran is not eligible for the program, these counselors can cite chapter and verse of why not - and are usually right.
That's important for protecting the taxpayer and the resources of the system. But when the veteran is found eligible, then these same counselors get the job done. The aptitude tests are given, the veterans' capabilities are matched with their goals, a training program is found, the paperwork gets filed on time and the veteran moves on to the approved training. On Ben Krause's Facebook page, (more on him later) several veterans have posted comments like: "Chapter 31 saved my life." These stories reflect the veterans and counselors who are achieving that 68 per cent. This cant be overstated. In the places where Voc Rehab works, most Americans would be proud.
But the fact that Voc Rehab can and does work well -- is precisely why is it's so scandalous when applications are ignored, or lost, and a veteran is wrongly turned away. For those veterans, at that moment, the failure rate is 100 per cent, and their outlook turns bitter. Why is this service not more uniform? Why are there so many Jeremy Smiths and Kenny Lyons?
THE REAL NUMBERS
In the TV piece we wrote for the "CBS Evening News with Katie Couric," we do not include the 68 percent success rate listed in the GAO report above. Why? Because we found a much more dramatic number and the underlying "counting" controversy is the same.
In 2008, the VA's Office of Inspector General raised a red flag, pointing out that previously the VA, in determining its success rate, wasn't counting total the veterans turned away by counselors at the outset of the process, or the veterans who entered the system, begin a training program and dropped out. (Source: VA Report: Audit of Vocational Rehabilitation and Employment Program Operations, page 6)
Since the time of this report, the VA has made two basic changes. It now documents the number of veterans who apply and enter the program, and it has contracted to have the veterans who do drop out of Voc Rehab surveyed for the reasons why. The largest segment of drop outs (39 percent) leave Voc Rehabs for medical or family reasons. But a sizable number (8 percent) walk away because of undefined "problems" -- with the counselor.
Both the Inspector General and the GAO have accepted the VA's basic response to that stunning 18 percent figure. The VA argued convincingly that any veteran who leaves Voc Rehab for reasons beyond the department's control (those medical and family reasons for example) should not be counted against the rate of success. So, in the last two years, the VA has reported to Congress a successful rehabilitation rate of 75 and 74 per cent.
However, the GAO still faults the methodology of that reporting (which led to its 68 percent figure). More important, the VA still does not document the number of veterans turned away before submitting a formal application.
SINCE WE ASKED…..
What's happening now with the veterans we profiled? The VA, by law, is required to have any veteran who wants a specific response to a problem sign a privacy waiver, allowing the VA to discuss their issue with the media. This was hard. Several veterans rejected the request out of hand, with almost all of them saying they live in fear of VA reprisals. However, four veterans agreed, and as the releases came in, the VA began asking its local offices about what happened.
• Jeremy Smith is one of the vets we could not persuade to sign a waiver. His reason was not fear. He wanted to stop his cooperation with us -- to "move on" with his life, he said. But Jeremy only called to ask if we would not use his story -- several days after we taped his on camera interview. CBS News standards do not permit consent retractions of this kind and we pleaded with Jeremy to understand. Independent sources confirmed that Jeremy in fact applied to Voc Rehab in Chicago, but that left the VA unable to respond to his denial.
• Kenny Lyon signed a waiver, and ever since we taped the interview, Kenny reports he's being well treated by Voc Rehab. The VA denies that Kenny was denied his benefits on his way to class, as he says. But a very dedicated counselor at the non profit Wounded Warrior Project, RJ Meade, confirms Kenny's account in every detail. RJ is the Walter Reed "connection" we mention in the TV story, and the Wounded Warrior Project, like other Veteran Service Organizations has a strong, constant presence at Walter Reed, helping these vets navigate the benefit process and their medical care. Kenny Lyon took a break from school for medical reasons, but plans to return.
• Greg Modica, the former Army veteran who was told he could go on Oprah, has also been well treated, but with even added attention. He is very close to completing flight school. In his case, the VA admits his counselor made the Oprah comment, but insists the remark was intended in a helpful way. The VA also denies that Greg was denied flight training during that first interview. However, because Greg took such detailed notes, and because the VA moved quickly to help Greg and assign a new counselor after being challenged by Congressman Ross -- frankly, we believe the veteran here. Greg took the Oprah comment as a belittling insult.
• Brandon Frazier also signed a waiver and in his case, it's all good news so far. When the VA investigated his denial, officials not only confirmed his account, they moved Brandon to the head of the application line in Washington, and assured him he would get his benefits, including all legal reimbursement he is due for the $40,000 he's borrowed. The VA's explanation for the denial, was that the counselor, this one in Detroit, moved too quickly, and was simply wrong to assert that qualified vets are precluded from taking pre law.
As we began asking VA officials for comment about what we were finding, the VA's Press Secretary Katie Roberts kept challenging us to interview at least some veterans who were pleased; those who got the training they needed and were out in the economy.
We thought she had a point. Seven vets in Harvard?? These folks are doing something right. So, in addition to the well-pleased veterans we'd reached on our own, Katie put out feelers inside the department and sent us the names of five Voc Rehab graduates. Of the four we were able to reach, one worked for the VA anyway, another for the Navy.
Of the remaining names, one Marine veteran, Thomas Bear, was the only vet whose name came from the VA, to give the program unqualified praise. Bear got the treatment most Americans would expect. A resident of eastern Pennsylvania, Bear saw a VA counselor, who drove up from Philadelphia to meet him. She determined his eligibility and helped Bear get into and out of a two year training program in Electrical and Construction Technology. Bear is now employed at the Albarell Electric company in Bethlehem, where he repairs all manner of electric motors. This is how it's done.
WHAT CAN VETERANS DO?
In the TV interview with Voc Rehab's director, Ruth Fanning, she invites dissatisfied veterans to call the VA. "If a veteran is out there who is not happy or who feels he or she wasn't well served," Fanning says, "we want to hear from them."
When we asked Katie Roberts how veterans should do that, she gave us the normal call line and Web sites, but for vets who may not know these options exist, here's what she sent:
"Information about the VR&E program and other VA benefits is available at www.va.gov or from the toll free VA number at 1-800-827-2000. Veterans can visit www.vetsuccess.gov to get more information about VR&E benefits available, to use job search tools, and to search job postings."
HOW WE REPORTED THIS
We interviewed 25 veterans personally, including those veterans well served by the VA, heard stories from insiders and counselors about the general application status of hundreds more, reviewed hundreds of pages of Congressional testimony, GAO and Inspectors' General reports and spoke, mostly on background, to numerous VA counselors, (in house and on contract) congressional aides, state veterans' officials, volunteers in the various Veterans Service Organizations, especially the Wounded Warrior Project, and one admissions officer at a leading Midwestern University.
Ben Krause, the disabled veteran mentioned above, runs a Facebook page called "Disabled Veterans, Chapter 31," and was especially helpful in helping us make sense of the many types of complaints he receives through the page. Ben, on this Web site, donates a great deal of his time helping veterans navigate the ups and downs of the Voc Rehab application process -- and is himself trying to use his own Chap. 31 benefits to attend law school this August.
Finally, we were privileged to meet and interview Coach Jim Glatch of Edinboro University in Pennsylvania, who in 2008 tried to help two of his wheelchair basketball players (both disabled veterans) apply to Voc Rehab. Jeremy Smith was one of those players. We are withholding the name of the second player at his request, and because of this, decided not to use Jim's interview in the TV version of our coverage.
We regret this because his tale -- even when told in general -- is one that generates outrage. Jim took these players to a Pennsylvania state veterans' office in Erie, which in theory is supposed to be part of the Voc Rehab application network. Because the VA cannot be everywhere that eligible veterans live, state officials are essentially deputized to receive Voc Rehab applications and are supposed to forward the applications to the nearest VA regional office.
Coach Glatch, Jeremy and the second veteran, all told Producer Jill Rosenbaum the same story of that day, and Jill later confirmed their account with Pennsylvania authorities. Basically, the state official who saw the two veterans had no clue what to do with them and told them so. But he took their applications anyway, destination unknown, and despite his lack of knowledge, later called to tell the veterans, both in wheelchairs, to say they had been denied.
At a minimum, the episode exposes a problem we heard elsewhere -- that the process for applying through state offices works well in some areas of the country, but is broken or non-existent in others.
Coach Glatch may have failed to help those veterans crack the VA bureaucracy that day, but he was a huge help to us. And a great human being. Every month, Coach Glatch volunteers at Walter Reed, teaching the basics of wheelchair basketball to interested disabled vets. He is also serving this year as head coach of the U.S. Men's Wheelchair Basketball team, which will represent the USA at the upcoming World Championships; some call it the World Cup, starting June 13 in Birmingham, England.
Thanks for reading CBS NEWS.
Create your free account or log in
for more features.