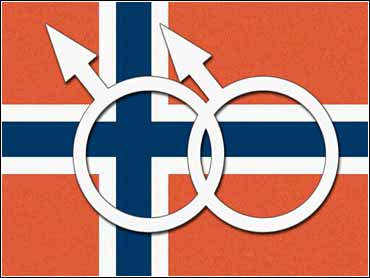 Norway Minister Marries Gay Lover
Norwegian Finance Minister Per-Kristian Foss has married his gay companion, becoming the first member of a Norwegian government to enter a binding homosexual partnership.
Under a 1993 law, gays and lesbians can enter legal partnerships with all the rights and obligations of marriage, except adoption and church weddings.
Foss, a Conservative, married long-term partner Jan Erik Knarbakk in a ceremony at the Norwegian Embassy in Stockholm, Sweden.
The Norwegian Finance Ministry confirmed the wedding, but said Foss was giving no interviews or comment because it was a personal matter.
"Yes, we entered a partnership at the embassy in Stockholm on Friday, Jan. 4," Foss told the Norwegian business newspaper Dagens Naeringsliv. "But beyond that, it is a private matter."
Knarbakk is a top manager in the Schibsted publishing concern, and the two have been described in the news media as being among Norway's most powerful couples.
Foss is a member of a three-party coalition government led by Lutheran clergyman Kjell Magne Bondevik of the Christian Democratic party, which opposes homosexual marriages.
Nonetheless, Foss was openly gay and living with his partner when he joined the government, and it was not an issue in his appointment to the powerful post of finance minister.
Norwegians are broadly tolerant of homosexuals and traditionally respect the private lives of public figures; therefore, the wedding was simply noted briefly, without comment, by the news media.
About 100 couples a year enter gay partnerships in the capital city of Oslo.
©MMII The Associated Press. All Rights Reserved. This material may not be published, broadcast, rewritten, or redistributed
Thanks for reading CBS NEWS.
Create your free account or log in
for more features.