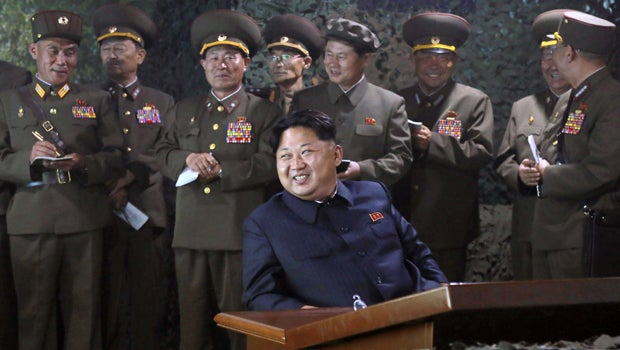 U.S. institute: New work seen at N. Korea nuke site
WASHINGTON -- Recent satellite imagery shows not only construction work at North Korea's nuclear complex, but also signs that its existing reactor is not fully operating, a U.S. research institute said Wednesday.
The Nyongbyon complex is North Korea's only publicly known nuclear facility. International monitors were expelled in 2009, but commercial satellite photos offer a partial window into its operations.
The U.S.-Korea Institute at Johns Hopkins School of Advanced International Studies says an image from late May shows construction next to its uranium enrichment facility, and work on what appears to be a structure related to the electricity supply of a still-incomplete light-water reactor.
Its existing plutonium reactor appears to be operating at low power levels or was not operating on the day the image was taken. The reactor was restarted in 2013 after a yearslong shutdown, as North Korea backtracked on a commitment of previous aid-for-disarmament negotiations, raising fresh alarm over its nuclear ambitions.
The reactor can be used to produce fissile material for nuclear weapons. The institute's assessment says the reactor appeared to have been operating irregularly since fall 2014.
"While North Korea has not conducted a nuclear or a long-range missile test recently, Pyongyang is clearly determined to push forward with its nuclear programs," said Joel Wit, a former State Department official and editor of the institute's website, 38 North.
"However, the fact that the North has had trouble operating its 5-megawatt reactor highlights the reality that everything is not likely to go smoothly," he said.
International concern is growing over North Korea's weapons development, which continues apace, even as the impoverished nation struggles to feed itself. North Korea said Wednesday it has been hit by its worst drought in a century, resulting in extensive damage to agriculture.
There's speculation the North may be planning a rocket launch to mark the 70th anniversary this October of the ruling Korean Workers Party. The United States is concerned about such launches because technology used for rockets may help North Korea develop a missile capable of reaching the U.S.
North Korea has been building the light-water reactor at Nyongbyon since 2010. It says it is for electricity generation. The 38 North analysis says the reactor has appeared externally complete for some time but isn't operating yet. The May 24 satellite image of the site suggests that electrical equipment is probably being installed.
The analysis by William Mugford, a retired U.S. government satellite imagery analyst, also detects what it says could be the construction of thick-walled rooms designed for the remote handling of radioactive nuclear material for either civilian or military purposes next to the uranium enrichment facility at Nyongbyon.
North Korea revealed the facility to visiting U.S. academics in late 2010, showing it has a second way to produce fissile material for bombs in addition to its plutonium reactor.
Thanks for reading CBS NEWS.
Create your free account or log in
for more features.