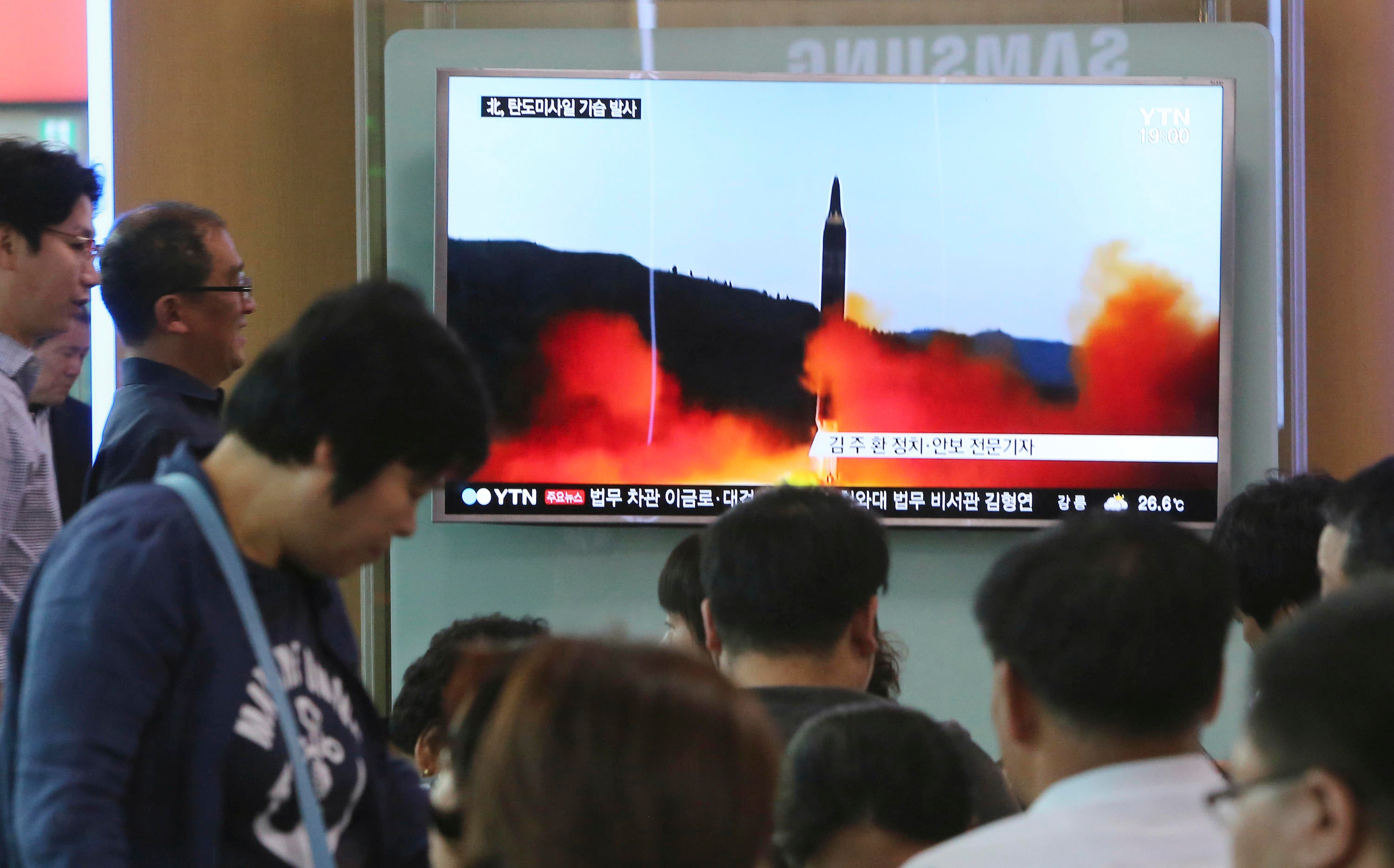 North Korea fires medium-range missile in latest test
SEOUL, South Korea -- North Korea on Sunday fired a medium-range missile, U.S. and South Korean officials said, in the latest ballistics test for a country speeding up its development of nuclear weapons and missiles.
One U.S. official said it appeared to be a successful test of the land-based version of North Korea's sub-launched missile, CBS News national security correspondent David Martin reports.
The solid-fuel missile that was launched was the second successful test of a missile that the U.S. calls KN-15, Martin reports.
The rocket was fired from an area near the North Korean county of Pukchang, in South Phyongan Province, and flew eastward about 310 miles, South Korea's Joint Chiefs of Staff said. It did not immediately provide more details.
White House officials traveling in Saudi Arabia with President Trump said the system, which was last tested in February, has a shorter range than the missiles launched in North Korea's most recent tests.
U.S. Pacific Command said it tracked the missile until it landed into the sea.
The United Nations Security Council plans to hold urgent consultations following the missile test. Council diplomats say the closed discussion was requested by the U.S., Japan and South Korea and will take place Tuesday. The diplomats spoke on condition of anonymity because the meeting has not been officially announced.
"The North American Aerospace Defense Command (NORAD) assessed that the missile launch from North Korea did not pose a threat to North America," Commander Dave Benham, director of media operations for U.S. Pacific Command, said in a statement.
"U.S. Pacific Command stands behind our ironclad commitment to the security of our allies in the Republic of Korea and Japan," the statement said.
South Korea's Joint Chiefs of Staff said in a statement that the country's military "is closely monitoring the North Korean military for any further provocation and maintaining readiness to respond."
In February, North Korea used a launcher truck to fire a midrange solid-fuel missile that it calls the Pukguksong (Polaris)-2, a land-based version of a submarine-launched missile the country revealed earlier. That missile traveled about 500 kilometers before crashing into the sea, according to South Korean and U.S. officials.
The February launch, the North's first missile test after Trump took office, alarmed neighbors because solid-fuel missiles can be fired more quickly than liquid-fuel missiles, which need to be fueled before launch and require a larger number of vehicles, including fuel trucks, that could be spotted by satellites.
The North's latest launch came a week after North Korea successfully tested a new midrange missile that Pyongyang said could carry a heavy nuclear warhead. Experts said that rocket flew higher and for a longer time than any other missile previously tested by North Korea, and that it could one day reach targets as far away as Hawaii and Alaska.
That missile launch showed that North Korea's technology seems to be getting more sophisticated, and it represented a significant advance for Kim Jung Un and his nuclear weapons program, Martin reported. U.S. officials said it appeared to have been a test of a reentry vehicle, a key technology North Korea must master before it can develop an intercontinental ballistic missile capable of striking the U.S. mainland with a nuclear weapon.
Under the watch of third-generation dictator Kim Jong Un, North Korea has been aggressively pursuing a decades-long goal of putting a nuclear warhead on an intercontinental ballistic missile capable of reaching the U.S. mainland.
North Korea conducted two nuclear tests last year alone, possibly improving its knowledge on making nuclear weapons small enough to fit on long-range missiles. The country has also conducted a slew of rocket launches as it continues to advance its arsenal of ballistic weapons, which also include midrange solid-fuel missiles that could be fired from land mobile launchers or submarines.
Such tests present a difficult challenge to new South Korean President Moon Jae-in, a liberal who took office on May 10 and has expressed a desire to reach out to North Korea. Pyongyang's aggressive push to boost its weapons program also makes it one of the most urgent foreign policy concerns for the Trump administration, though Washington has struggled to settle on a policy.
Sunday's missile launch came hours after Moon named his new foreign minister nominee and top advisers for security and foreign policy.
Moon held a National Security Council meeting at the presidential Blue House to discuss the launch, his office said.
Thanks for reading CBS NEWS.
Create your free account or log in
for more features.