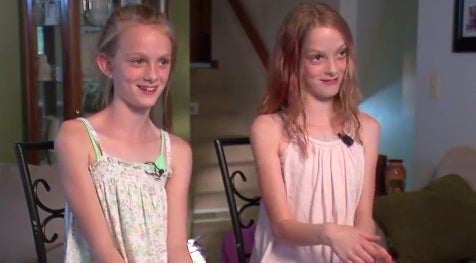 North Dakota conjoined twins celebrate 10 years apart
MINNEAPOLIS -- Minnesota doctors called them miracle babies, twins joined at their chest at birth.
This month, the Carlsen twins are celebrating 10 years of living their own lives, CBS Minnesota WCCO reported.
Abigail and Isabelle were successfully separated by a team of Mayo Clinic surgeons when they were six months old.
Now, they're in the fourth grade, living in Mandan, North Dakota.
WCCO caught up with the girls whose medical story captured worldwide attention.
They are sisters that share an infectious spunk but not much else, if you ask them.
"Every night we look in the mirror in our room, and we're like, how do people get us mixed up?" Abby said.
Isabelle and Abby spent their first six months in Minnesota hospital rooms. They were conjoined from the chest to the stomach at birth. Isabelle's heart was more into Abby's chest and other organs were twisted together.
Medical teams at Mayo Clinic trained for months for the marathon separation surgery.
On May 12, 2006, the operation lasted 12 hours and required 17 surgeons.
Two weeks later, they went home to North Dakota, as two.
Their parents have watched them grow into giggly little girls. They're into gymnastics, clothes and competition.
Their parents, Jesse and Amy Carlsen, see it every day.
"They don't want to be confused for one another," Jesse said. "They're their own person."
In their classrooms, the Carlsens are simply Isabelle and Abby.
Tiffany Moos is Abby's fourth grade teacher.
"I can't imagine how healthy they are, nothing stops them," she told WCCO. "They are academically at an advanced level, and socially they are friends with everyone."
Still, there are subtle signs of the time they spent together.
"In the mall, we like grab each other's hands. It's weird," the girls said.
What's easier to see is the freedom that once seemed far off. There's also the family grateful for what happened a decade ago at the Mayo Clinic.
"Words can't express how thankful I am for what they did for our girls," Amy Carlsen said.
"It's just priceless," Jesse added.
Until a few years ago, the girls wore protective clothing on their chests. It was a bigger concern for Isabelle since she had just a thin layer of skin over her heart.
Doctors replaced it with a Gore-Tex patch. The girls will be back at Mayo Clinic this summer for a checkup. They usually go back every couple of years just to make sure everything is okay.
Thanks for reading CBS NEWS.
Create your free account or log in
for more features.