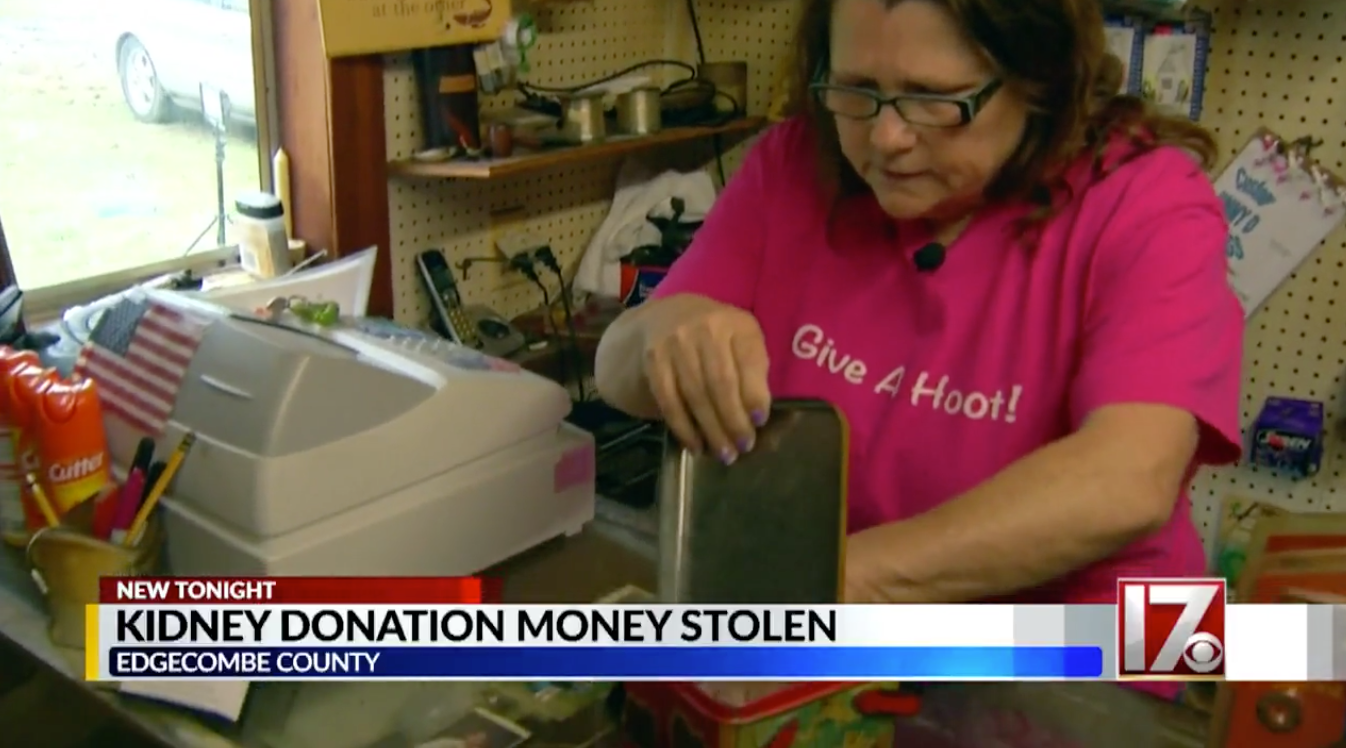 Thieves steal money raised for North Carolina woman's kidney transplant, police say
Thieves stole all the money raised by a North Carolina woman desperate to help ease the cost of a kidney transplant for her daughter-in-law, local police said Tuesday. Becky Joyner owns a bait and tackle shop in Rocky Mount, and she spent the last two months gathering funds from customers who donated to her daughter-in-law, Stephanie Joyner. That's all gone now, according to Becky.
"When I first saw the screen of the window out, my heart just sunk," Joyner told CBS News on Wednesday. "I knew without even going into the building something bad happened."
When Becky Joyner arrived at the shop Tuesday, the window screen was broken and the tin box with the $220 she had raised for the transplant was gone, she said.
Even with insurance, medical bills are piling up for Stephanie, who is in Stage Four kidney disease.
"I am two points away from total renal failure, and I am in desperate need of a life-saving kidney transplant," she told CBS affiliate WNCN.
With medical bills estimated to be more than $20,000, Becky started raffling off two top of the line fishing rods at her shop to help alleviate costs.
"She had to have blood transfusions every other week. They have to pay that money out of pocket," she said, adding that her son, the family's main financial provider, has to pay $240 a week for the procedure.
Becky managed to raise $220 over the span of two months, but when she walked in her shop on Tuesday, she noticed the cash register wasn't touched and none of the merchandise was missing. However, what was taken was more meaningful.
"We're trying to make money every way we can to help," she added. "It took me so long. Two months over two months, just to save that little bit."
Edgecombe County Sheriff's Office confirmed the burglary took place and continue to investigate.
Despite the burglary, Becky said it could be a "blessing in disguise."
"Wonderful friends matched what we lost," she said. "More people are aware of her situation. People have stepped up in my neighborhood."
"It just shows how wonderful people are in horrible situations," she added.
A GoFundMe was set up by one of Stephanie's friends, with the goal of reaching the $20,000 amount.
Thanks for reading CBS NEWS.
Create your free account or log in
for more features.